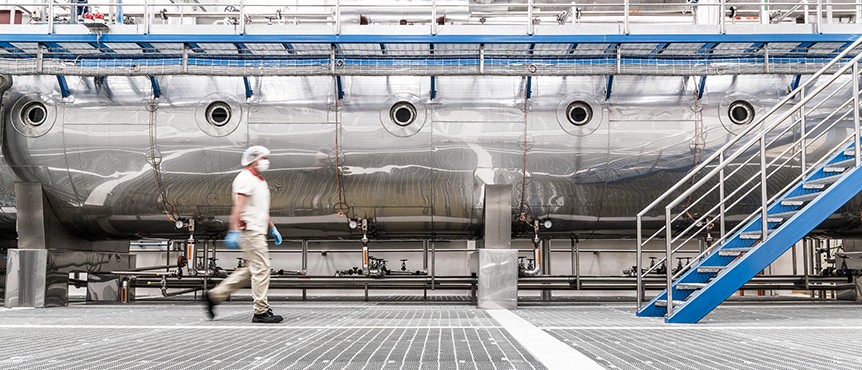 PHOTO: Courtesy of Jebsen & Jessen
Singapore continues to redefine itself 53 years on since independence. From the city-state's humble beginnings, it emerged as one of the four Asian tigers before consolidating its position as a global logistics and business hub. Now, finely poised between the East and West, it is leveraging on dynamic shifts affecting the Asia-Pacific region. Exponential population growth and changes in consumption behavior in China, India and the Association of Southeast Asian Nations (ASEAN) are increasing demand for a range of chemicals. Subsequently, Singapore is seeing growing demand for high value-added derivatives including lubricants, dyes, synthetic rubbers and coatings. Moreover, Singapore's strategic location, well-defined regulatory landscape, and advantageous business conditions have primed the country to capitalize on regional growth. It is increasingly being seen as the ideal regional HQ location, a global destination for research and development (R&D), and as the Asia-Pacific logistics hub. "Although Singapore is a small market in terms of chemicals consumption, it is a good regional hub where we can easily serve the surrounding countries," said Henri Nejade, president and CEO Asia, Brenntag.
Jurong Island remains Singapore's centerpiece for refining, petrochemical, and specialty chemical activity. Its integrative design and strong logistical capabilities have made it home to most of the major chemicals manufacturers. The chemicals sector has seen sustained growth of 6.2% in 2017 with petrochemicals growing by 23% and specialties by 6.2% in Q4 2017. However, the industry has not been without its share of challenges: "The evolving regulatory landscape, organizational restructuring to a leaner workforce and demands for higher productivity are still prevailing challenges faced by the industry," said Terence Koh, executive director of the Singapore Chemical Industry Council (SCIC).
Recently ranked 2nd as a driver of production in the World Economic Forum's 2018 Readiness for the Future of Production Report, Singapore's government has underlined productivity as one of its priorities. Key to the Singapore's Economic Development Board (EDB)'s plan has been the implementation of industry 4.0 technologies, driven by the Energy and Chemicals Industry Transformation Map (ITM). Sustainability is another key priority for the government, with 2018 being named as Singapore's Year of Climate Action. The government is seeking to raise the level of national consciousness and encourage efforts towards ensuring a sustainable Singapore. This has been coordinated with the passing of legislation on the carbon tax, which will come in to effect in 2019, and will be initially set at S$5/t of CO2.
Singapore has shown its ability in the past to adapt to market volatility by creating robustness, optionality and optimization. Moving forward, the adoption of digitization and technological advancement will be pivotal to improve productivity and increase sustainability.
Jurong Island prepares for Industry 4.0
The Fourth Industrial Revolution is triggering structural changes towards value chains across the globe and Singapore's manufacturing industry, which grew by 10% in 2017 (Ministry of Trade and Industry), is going through a dynamic shift fronted by Industry 4.0 technologies. The government has prioritized funding for Advanced Manufacturing and Engineering (AME) and by 2020, Minister for Trade and Industry, Lim Hng Kiang, plans to have 20 energy and chemical plants adopt advanced manufacturing technologies. A key component to the government's strategy will be the Energy and Chemicals Industry Transformation Map (ITM), which aims for a manufacturing value added (MVA) of S$12.7 billion as well as 1,400 new jobs by 2025 (EDB). The ITM's two-pronged strategy focuses on transforming Singapore's existing base of chemicals manufacturing through the adoption of innovative solutions and, in doing so, grow into new markets.
Success in technological advancement and digitization will be underpinned by the industry's readiness to adopt such dramatic changes, given its conservative nature with certain manufacturers yet to embrace Industry 3.0 level technology. As Industry 4.0 gathers momentum, companies are grappling with its concept and the value it could bring. Consequently, the Smart Industry Readiness Index has been developed to address these challenges, serving as a diagnostic tool that companies can use to facilitate greater understanding.
The vast majority of Jurong Island's producers are already in the process of adopting advanced manufacturing solutions. A success story has been Chevron Oronite, which, at their Jurong Island plant, has piloted Industrial Internet-of-Things (IIOT) solutions into their manufacturing processes. With the use of a tracker system to boost worker safety and efficiency, the company has started to save 30,000 man hours a year. Chevron Oronite is expected to expand its pilot scheme to include energy efficiency improvements and predictive maintenance solutions. Chevron Oronite is just one of a number of companies embracing the benefits of digitization.
Solution providers are seeing growing opportunities in the industry. Yokogawa Engineering Asia, understanding that the process industry is set to undergo tectonic shifts, has been driving value creation through its Artificial Intelligence (AI) business concept – Synaptic Business Automation. "The government plays an integral role in connecting technology providers, like Yokogawa, to our end users. They proactively engage with companies and provide support to transform their operations and boost productivity, to generate growth. These initiatives enhance Singapore's position as a global center for business and innovation. With more technology companies developing their R&D centers in Singapore, technology providers like Yokogawa have the best possible environment to focus on real industry challenges whilst customers are provided with the latest technologies," said Joseph Lee Ching Hua, head of co-innovation centre & general manager of Singapore development centre, at Yokogawa Engineering.
A center of intelligence and excellence
The city-state is cementing its status as a global hub for R&D with its highly-skilled talent pool and top research institutions. Singapore, through its Research, Innovation and Enterprise (RIE) 2020 plan, is pumping S$19 billion into R&D to drive economic growth through value creation, increase the adoption of technology and translate research into solutions. Moreover, the Energy and Chemicals ITM is targeting the construction and/or expansion of 20 new application development centers by 2025, with US$55 million added in business expenditure on R&D (Ministry of Trade and Industry).
A wave of new innovation and digitization centers have opened in Singapore in the past year. McKinsey & Company, in partnership with the Advanced Remanufacturing and Technology Centre (ARTC) has launched a digital capability center (DCC) as a key hub for South-east Asian companies. Siemens launched its first fully integrated digitalization hub in MacPherson and Linde Gas has recently set out a S$30 million initiative to develop an Asia Pacific Digitalization Hub – the first such center outside of Germany. Mitsui Chemicals has been working closely with the Agency of Science, Technology and Research (A*STAR) to develop advanced materials, as well as chemical and biotechnological processes that improve sustainability and productivity.
Academic excellence continues to be core to Singapore's foundation. Former Prime-Minister, Lee Kuan Yew, often remarked that his strategy was "to develop Singapore's only available natural resource: its people." Singapore is constantly reinventing itself in a time of dynamic change and uncertainty. From a tiny swamp with no natural resources, to a leading regional economy, there is no doubt that Singapore will keep forging ahead.