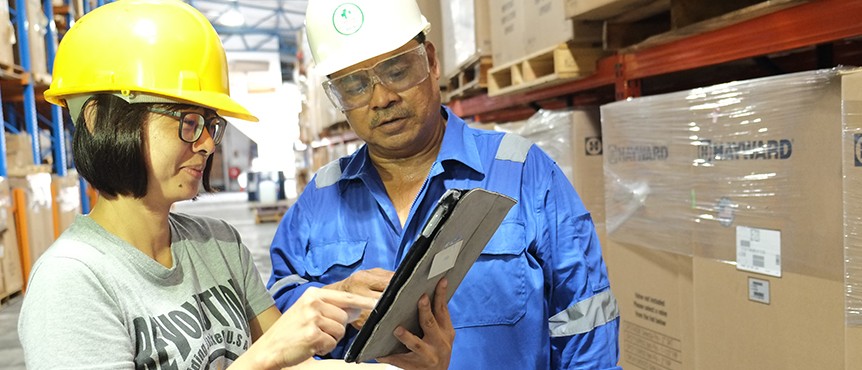 IMAGE: Courtesy of Unilite
In recent years, there has been an awakening in specialty chemical distribution across the globe. From 2012 to 2017, specialty chemical distribution increased by a compound annual growth rate (CAGR) of 5.6%, which was far greater than the chemical industry's growth of 2.9% and specialty chemicals consumption of 4.9% over that same period, according to Boston Consulting Group (BCG). Moreover, during this five-year period, Asia Pacific distributors experienced the fastest growth globally at a CAGR of 6.8%. This is expected to remain high at 6.2% from 2017 until 2022.
But what lies behind the increase in specialty chemicals distribution? The central reason is that there is still a relatively low share of sales through distributors for specialty chemicals (17%) compared to 80% in pharmaceuticals, according to BCG. Singapore's market itself is also changing, which presents opportunities for companies that are thinking ahead. Moving away from simply being a 'middle man' to reach small customers in the value chain, distributors can now add value to suppliers and consumers alike through their expertise in market research, application laboratories, increased R&D capabilities, and logistics services. For distributors operating in the ASEAN, this means understanding each country's differing regulatory framework, meeting the growing demand from customers and suppliers for value-added services, and streamlining distribution relationships. At the same time, these opportunities to serve the entire ASEAN region and further afield pose serious challenges. The region's customer base is quite diverse, and so applying a one-size-fits-all approach cannot carry the day. Instead, distributors must build trust and long lasting partnerships with the major chemical producers across a range of jurisdictions.
In many cases, this landscape gives family-owned businesses and small and medium- sized enterprises (SMEs) advantages. Behn Meyer, the first German company to arrive in Singapore in 1840, founded an R&D company, Behn Meyer R&D services, to support its business units across the region and carry out quality assurance/quality control (QA/QC) for its production units. The company has grown its capacity for co- development with its customers by opening a number of application laboratories across the region. These include rubber and latex and food laboratories in Malaysia as well as an aquaculture research center, WetLab, in southern Vietnam. Dirk Lorenz-Meyer, member of the board at Behn Meyer, highlighted that, despite the company's growing R&D and production capabilities, its identity will remain as a specialty distributor. "This is our DNA. But the addition of own production signals to our partners that we are truly committed to these industries, and that is why we are willing to increase our investments," said Lorenz-Meyer.
Jebsen and Jessen Ingredients has also moved away from the traditional distribution model and recently invested in three new regional innovation laboratories for Asia. Marc Deschamps, regional managing director for Jebsen & Jessen Ingredients, underscored the company's movement further down- stream and into new jurisdictions: "We have set up a new strategy, expanded from six to nine countries and brought in new technologies. We have moved further into food ingredients, personal care, pharmaceuticals and agrochemicals as we opened the emerging markets of Myanmar and Cambodia in 2010," said Deschamps.
More discerning and upscale customer preferences are also driving Brenntag to expand its service offerings. "There is a real demand in the food and beverage space driven by changes in consumption behavior. Upward trends include the pharmaceutical, personal care, coatings, lubricants and blending industries: these are spaces in which we provide services to our customers and our suppliers. There is added regulatory demand from our customers and suppliers. One place where we see a good opportunity is supporting SMEs, as we can offer safety and technical services," said Henri Nejade, CEO and president of Asia at Brenntag.
Supply: the fickle factor
In the past, distributors would generally source their products from the West and developed Asian nations such as Japan and Taiwan, but distribution channels have shifted somewhat over the past decade. China now portends as a supply source due to its cheaper, more efficient product offerings. The Chinese government's anti-pollution drive, however, upended this calculation and prompted the closing of numerous refineries and plants and a supply shortage. Lim Chin Leong, managing director at Vistachem, identified these contradictory developments as the greatest difficulty that distributors face in planning for the future. Although we constantly monitor the situation and prepare in advance, it has become increasingly difficult. However, due to our strong international network, with connections in India and China, as well as our diverse product offering, we have been able to survive," said Lim Chin Leong.
Nicholas Lim, managing director at Unilite, also mentioned China's new strict laws on pollution as a key factor in altering the company's strategy. At the end of the day, however, he sees this development as an enabler rather than a hindrance. "As prices have increased and supply has decreased, we have not had to compete with the lower- cost Chinese chemical products as much in the market," said Lim.
Teng Chen Ji, country head for Singapore at WWRC, notes that supplies from Europe and the United States are even returning to the market as a result. More producers have also moved into Southeast Asia to take advantage of the ASEAN Free-Trade Agreement. "We are increasingly sourcing our products from outside of China. One example is India, which continues to underline its capabilities especially with respect to life sciences, more specifically pharmaceuticals. Across Southeast Asia we have been utilizing a number of new local companies, for example in Thailand's petrochemicals space. We have also identified opportunities in the United States as the shale gas revolution has made US products more competitive," said Teng.