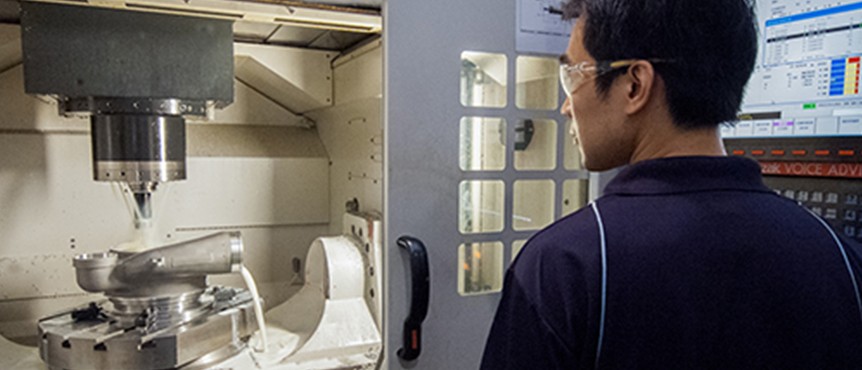 Since its independence from Malaysia in 1965, Singapore has grown on the back of a need for survival. This attitude has pushed many industries to thrive despite the multiple challenges, and the aerospace industry is no exception. Once a British colony, Singapore lost most of its market when it became an independent republic, yet retained the language and infrastructure from the colonials. The United States' fear of communism spreading throughout SEA during the Vietnam War made it eager to enter the Singapore market and Singapore found many opportunities to support their war effort. As the British withdrew their forces, this left the nation vulnerable so that creating its own defence capability was paramount for state security. The aircraft left behind by the Empire were the models after which Singapore could build and develop an aerospace industry.
With an annual output of over S$8 billion (US$5.6 billion), today Singapore is positioned as a constantly evolving and leading regional hub for aerospace. The Economic Development Board (EDB), the principal government agency that plans and executes economic development strategies for Singapore, has selected aerospace as one of eight target industries to focus on for growth in the years to come. "The EDB has a focused department for aviation, which aims to grow the sector. The government's SPRING initiative also supports commercial companies that want to develop new capabilities. All of this combined makes Singapore an ecosystem," said Chow Kok Wah, general manager, Air Transport Training College.
Singapore has grown to host one of the largest, most diverse concentrations of aerospace companies in Asia. With 130 companies in the sector and 20,000 employees, the country has now earned a quarter of Asia's MRO market, which represents 90% of the country's aerospace sector. The remaining 10% is devoted to manufacturing activities. Advanced manufacturing and engineering have been identified as a key technological area, which is why a record of S$19 billion (US$13.3 billion) will be invested in the research and development of these topics over the next five years.
New robotics and automation technologies are being developed and implemented to position the country as an innovative technological expert, capable of serving companies and clients with the latest trends in the market. "The industry is currently moving towards a SMART factory concept, adopting automation and DATA driven systems to stay competitive in today's challenging environment. Keeping up with technology is no longer a choice but our key to survival in today's competitive market," said Soh Chee Siong, CEO of JEP Precision Engineering, a company that is currently adopting automation technologies for robotic loading and unloading.
Automation is of particular importance in Singapore due to the country's rising costs and limited labour market. Though 80% of the current aerospace sector is made up of local employees, there is not a strong enough emerging skilled-labour pool to keep pace with the industry's demands. The current annual output of over 17,000 trained aerospace graduates aims to increase with the S$30 million investment for an Aviation Academy at Temasek Polytechnic and the opening of a four-story Aerohub at the Singapore Polytechnic. Many companies are also making major investments to grow the number of students in the market. Haite Group, for instance, is investing $95 million in a civil aviation training facility with simulators near Changi Airport.
With a 6.1% projected annual air traffic growth for APAC, demand for skilled-labour will increase exponentially. The region will become the largest travel market in the world in the next two decades and will own well over a third of the global fleet. Asia will be the economic centre of gravity for at least the next 20 years. The percentage of developing nations is vast, such as Myanmar, Cambodia, Laos, Philippines, among others. Navigating a challenging landscape on the continent with the Himalayas and other mountain ranges, a general lack of infrastructure and safety concerns such as the opium-producing Golden Triangle and the South China Sea dispute, aviation is the main solution for mobility. "If we attempt to go by sea, we have the typhoon seasons and also piracy problems, which we are trying to solve[…] The only way to move the masses feasibly is by air. There is no driving or sea-route alternative," said Liang Jerry, executive VP for Excel Aerospace.
Singapore's strategic geographical location is what has drawn many companies to operate in the country, but also in this 720 sq-km island, all companies can be reached easily, is Singapore is renowned for its ease of doing business as well as possessing the necessary infrastructure for a successful aerospace industry. Changi Airport is widely acknowledged as a world leader amongst international airports and houses the Changi Airfreight Centre (CAC), a 24-hour Free Trade Zone (FTZ) with simplified customs for transfer and clearance of goods. The nine airfreight terminals have an annual capacity of three million tons per year. Initially using top-level customer service as a calling card, Singapore Airlines is now comprised of a modern 104 aircraft fleet with cutting-edge fuel efficiency. New developments for the 1,080 hectare Changi East are underway, where a third commercial runway and Terminal 5 will be operational by the mid-2020s. The target is to double passenger handling capacity to 135 million per year. "Singapore will capitalise on the rapid growth in aviation activities in Asia. This country is a key global player in aerospace MRO, with an excellent seaport, airport and infrastructure," said Lee Swee Meng, general manager of Composite Technology International (CTIPL).
Launched in 2007, Seletar Aerospace Park is also serving the sector by continuously attracting leading industry players such as Airbus Group, Bombardier and Bell. UK-based company Rolls-Royce aims to establish the first plant in Asia to manufacture commercial engines in Seletar. This cutting-edge facility will possess the ultimate operational and environmental efficiencies in the world, aiming to be a ground-breaking establishment. "Moving into Seletar Aerospace Park (SAP) will be a major milestone which allows us to build upon our capabilities in the MRO of aircraft interiors and expand into new ones. Being closer to our partners will provide shorter turnaround times while presenting a more comprehensive range of services to business jet customers that choose to use Seletar Airport for aircraft MRO services," said Tan Chii Sin, president of Excel Aerospace.
Though primarily focused on civil aviation, Singapore also has goals to have a niche role in space. The Singapore Space and Technology Association is exploring the design and construction of micro- and nano-satellites, as well as their Earth-observing and telecommunications application. With a solid remote-sensing department, Singapore will continue to develop new technologies to play a role in the sector. Certainly with the country's investment in future technologies, automation and electronics, Singapore is positioned to maintain a leadership position within the industry for many years to come.