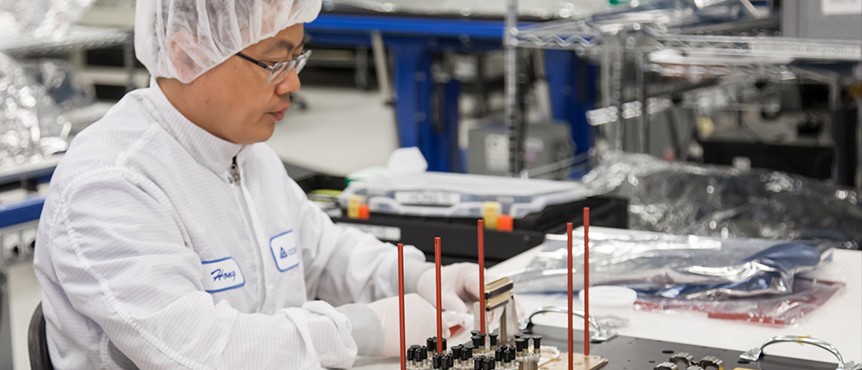 The driving force behind Ontario's aerospace activity is the network of advanced manufacturing companies. Ontario generates 37% of the national GDP, largely due to the historically thriving manufacturing industry in the region. Ontario's strong manufacturing legacy has allowed small and medium sized enterprises (SME) to grow and develop unique capabilities for the aerospace industry. Advanced materials and manufacturing are an integral component of the industry in the region. "Our strengths lie in developing and utilizing complex processes which are not easily repeatable," highlighted Michael Iacovelli, CEO of Ben Machine Products &Co.
SMEs are the backbone of the industry in the region and together they form an integral part of the ecosystem attracting 15 out of the world's top 25 aerospace companies to establish themselves in Ontario and utilize of the supply chain. Minister of Economic Growth and Development, Brad Duguid, said: "Ontario has the distinguished capabilities of producing advanced technological products, permeating from our long history of a strong manufacturing sector".
Historically, the chief manufacturing industry in Ontario has been the fabrication of automotive vehicle parts, and this trend has shifted to encompass the aerospace sector and the production of aircraft components. Exactatherm is an example of an SME with roots in the automotive industry that diversified into aerospace. President, Peter Lidster, said: "As a small company we can respond to needs very quickly, and we don't have a long chain of command that needs to be consulted in order to make an investment. We currently have parts in our furnaces being processed for Airbus and Boeing's 787, for example, and we are on most major platforms including Bombardier".
Advanced manufacturing companies in Ontario have diversified into aerospace to avoid economic hits in cyclical trends. Established aerospace companies handle international contracts, and SMEs attract OEMs from other areas in Canada and across the world into Ontario as a result of their strong capabilities. The fact that Bombardier's supply chain for its Downsview facility relies on a network of more than 500 Ontario-based suppliers proves that many SMEs in the area profit from capital intensive contracts with OEMs. For example, under the Avcorp umbrella—a company that recently landed a $579 million contract with Boeing—Comtek Advanced Structures provides the floor panels for Bombardier and feeds engineering solutions to OEMs. President Brent Collver said: "Comtek has the onsite capability to design, qualify, certify, and release a part for air worthy production. The advantage of this is that we do not have to rely on approval from OEMs. Within our scope we have the ability to receive parts, perform an analysis, design solutions and prove they work".
Other examples are SMEs such as Fleet Canada and Vertex Precision Manufacturing who both also handle contracts from OEMs by being niche players and carving out unique capabilities in the industry.
The Ontario Aerospace sector is an ecosystem offering attractive capabilities to international companies. World leading aerospace companies such as Mitsubishi Heavy Industries (MHI) established operations in Ontario and take advantages of the local supply chain. Swiss company, Böhler Uddeholm's president for Canadian operations, Martin Beaton, commented: "The advantage of being a relative newcomer in the Canadian market are the significant amount of opportunities not only in providing steel for various applications, but also additive manufacturing".
Ontario's impressive capacity in advanced manufacturing has created an aerospace cluster and paved the way for the region to develop maintenance, repair, and overhaul (MRO) capabilities. Ontario now accounts for 29% of the Canadian MRO industry's direct GDP. Flying Colours Corporation in Peterborough started off as a small, family-owned business and has grown exponentially into a multi-million-dollar company specializing in MRO service as well as aircraft interiors. President, John Gillespie, said: "We are a fully authorized facility for Bombardier at all of our facilities, and we have the capability to maintain and service their whole fleet".
Hope Aero Propellers and Components are aircraft maintenance specialists with clients in the Caribbean and Africa. Maintenance services companies attract international business into the region and showcase the range of capabilities the Ontario aerospace sector has to offer.
Ontario's aerospace manufacturers are part of the global supply chain for virtually every passenger aircraft in the world. Advanced manufacturing has allowed aerospace to flourish in Ontario and become an industry with a myriad of companies across the value chain offering a wide range of products and services. International companies establishing operations in the region have also diversified the sector and bolstered growth. However, aerospace in Ontario is facing challenges, such as a productivity gap as compared to their international competitors, as well as a lack of highly skilled workers to support the industry. In order for Ontario's long-standing aerospace manufacturing to ensure a healthy future, companies need to incorporate new technologies and increase productivity to keep up with market trends.