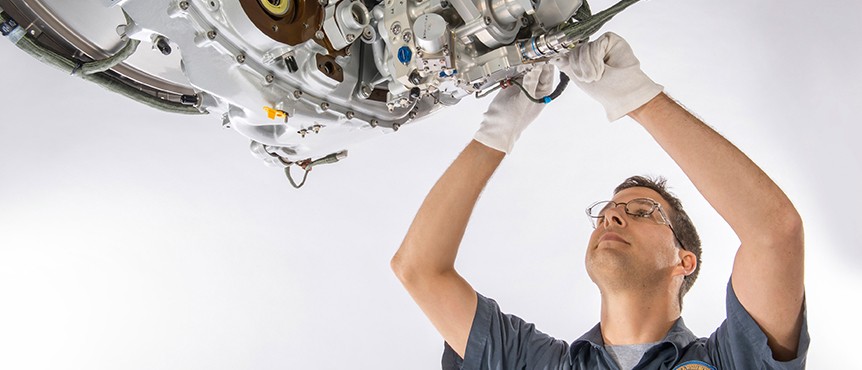 Although the bulk of aerospace activity in Ontario comes from the network of SMEs comprised of advanced manufacturing to service and equipment providers, Original Equipment Manufacturers (OEMs) and operators are the key stakeholders in the region.
OEMs are the thought leaders of the aerospace industry and they set the tone and the trends in the sector. Suppliers throughout Ontario are feeling the pressures to lower costs, increase production, shorten time to market, develop new, lighter materials for manufacturing products, and consolidate the supply chain. Airbus Helicopters Canada, Bombardier, and Pratt & Whitney Canada (P&WC)'s presence in the region will shape the trends of the supply chain, and they have a role in ensuring increased competitiveness.
OEMs benefit from Ontario's suppliers across the value chain. Airbus Helicopters Canada leverages the metallic manufacturing capabilities in the local supply chain, while Bombardier has a network of more than 500 suppliers in Ontario as well as about $800M in business for Ontario-based suppliers annually. "We have a strong supply chain based in Canada, not just in Quebec, but also in Ontario," said Marc Duchesne, spokesperson for P&WC.
In fact, OEMs in Canada all boast a presence in Ontario at the top of the supply chain. These world renown OEMs are key economic drivers for the industry, investing in their facilities as well as creating jobs and economic growth for Ontario. Bombardier alone accounts for 16% of Ontario's aerospace employment with their facility at Downsview.
Similarly, operators are at the ultimate end of the supply chain, after the OEMs, and they also serve as economic drivers. In particular, Air Canada is a stakeholder for investment in the aerospace industry in Ontario. This operator has been working along with Toronto Pearson International Airport to transform it into a global hub. Specifically, Air Canada expressed commitment of a $90 million investment in a new hangar at Pearson International. Ontario will continue to be critical for Air Canada's global business in terms of maintenance services going into the future with the hanger expansion.
Airbus Helicopters Canada has also recently significantly invested in their Ontario operations. Their facility in Fort Erie accounts for 25% of the company's total deliveries globally, and this year Airbus Helicopters invested in expanding their MRO capabilities by 65%. President and CEO, Romain Trapp, said: "Our Canadian operations are significant as we have a wide range of activities in the country. We provide overhaul services, such as dynamic component repair, to the entire Airbus Helicopter fleet flying worldwide. We also conduct composite manufacturing and we are the sole source supplier of 50 different parts installed on Airbus helicopters flying all over the world."
Both the Air Canada and Airbus investments represent the importance of Ontario for their future, long-term plans and their commitment to the growth of their presence in the region.
OEMs not only play a crucial role to fostering economic growth, but also in driving increased innovation. OEMs act as collaborative partners, ensuring that Ontario remains competitive, and they are prepared to invest to achieve that goal. Both Bombardier and P&WC are investing in the Aerospace Campus project at Downsview. Bombardier, being based in the area, is a key stakeholder for leading the project that will bolster innovation in Ontario. Similarly, P&WC, from their Mississauga operations, is investing in the development to be able to leverage the research capabilities the hub will bring.
OEMs allocate large amounts of funds to R&D in the region. Since innovation shapes the competitive edge for OEMs, they all reinvest large amounts of their revenues in R&D, and Bombardier invested over $6 billion over the past ten years in R&D. Edward Hoskin, vice president at P&WC, said: "Over $150M is invested each year in specific R&D activities at the Mississauga facility, and numerous collaborative programs are in place with universities and technical colleges to ensure a steady injection of talent and technology."
OEMs leverage the world-class academic institutions in the region in their R&D efforts. The University of Toronto's Institute for Aerospace Studies (UTIAS) engaged in a project with both Bombardier and P&WC to develop an environmentally sustainable aircraft. OEMs need to innovate to remain globally competitive, and such collaborative endeavours in Ontario bolsters their overall business.
OEMs and operators have a crucial role to play in Ontario's future growth, since their influence contributes to shaping market trends and resources to develop the aerospace sector's capabilities in the region through capital investments. Ontario's aerospace industry needs to leverage the presence and investment of OEMs and operators to strengthen its supply chain, innovate and grow the industry into the future. Romain Trapp highlights: "Aerospace has a major impact on the economy of Ontario and an immense growth potential, so the region needs to step up and highlight the importance of the industry."