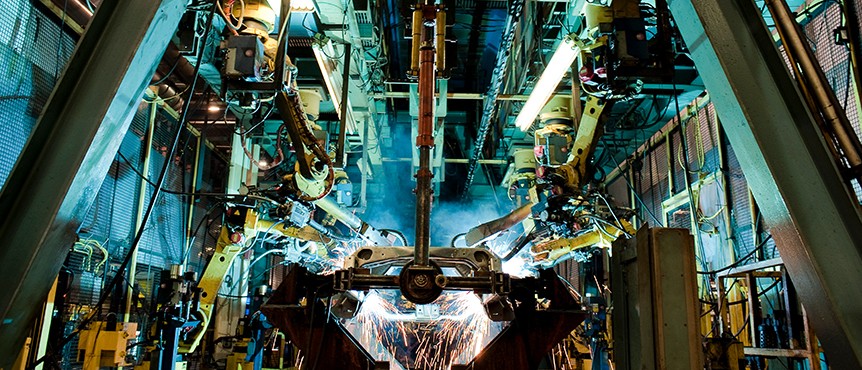 Of all the macroeconomic factors impacting Mexico's steel and iron industry, the booming automotive industry is perhaps the most important catalyst. According to the Mexican Association of the Automotive Industry (AMIA), Mexico is the world's seventh largest vehicle producer and fourth largest vehicle exporter. In terms of total vehicles produced, the country yielded 3.6 million units in 2016, marking a 56% increase from 2010, and produced 1.9 million in the first half of 2017. When large steel and iron investments are made in Mexico, the automotive industry is frequently cited as a motive. According to Rogelio Garza Garza, Undersecretary of Industry and Commerce, Ministry of Economy of Mexico: "All of the steel that the automotive sector needs is premium steel. Ternium specializes in such steel and has a new plant next to KIA Motors' supplying its needs. When we help automotive, we are also helping the steel industry."
The Mexican automotive industry's success can be largely attributed to NAFTA. Since NAFTA's conception in 1994, Mexican automotive exports have grown at an 11% compound annual growth rate. According to AMIA, Mexico exported 2.7 million vehicles in 2016, equating to US$55 billion in export revenue and 15% of the country's total exports. Mexico's top vehicle exporters in 2016 were General Motors (540,000 units), Nissan (500,000 units), Fiat-Chrysler (443,000 units), Ford Motor (377,000 units), and Volkswagen (334,000 units), and KIA recently began to produce cars in the northern state of Nuevo León in May 2016. "In 2016, Nuevo León's automotive industry exported a bit more than US$11 billion, and we are expecting to reach US$12 billion in 2017," said Manuel Montoya Ortega, general director of the Automotive Cluster of Nuevo León (CLAUT). "Until 2014, the 100% of steel products for the exterior of cars was imported. Tenigal, a joint venture between Nippon Steel and Ternium, started to produce this kind of steel in 2014 and is reducing our dependency of imported steel for these purposes."
Hitting the Gas Pedal
The steel and iron industry most directly interacts with the automotive industry when metal castings are used for vehicle components. According to the National Industry of Auto Parts (INA), Mexico currently produces about US$83 billion in auto parts per year, and the sector employs about 800,000 people. It also contributes US$25 billion to Mexico's trade balance and comprises 10% of Mexico's manufacturing GDP. In this context, Ternium and ArcelorMittal have cited the large automotive industry as the principle reason for their major investments into Mexico.
Of the 1500 auto parts factories in Mexico, about 30% are Mexican-owned. Due to the pace at which the automotive industry is growing, many Mexican foundries that supply steel and iron castings to auto parts manufacturers are finding it difficult to meet demand. Foreign companies are seeing this as an opportunity. "Foundries from around the world are coming to Mexico to install capacity to supply the OEMs here. Additionally, we are seeing many Tier 1 automotive suppliers moving to Mexico from abroad and they are also using iron castings," said Patricio Gil, CEO of Blackhawk, one of the largest foundries in Mexico. "Even though our capacity has been growing, it is still not enough to meet the demands of the industry. In the past five years, there have been at least 26 new foundries in Mexico, most of which are foreign."
This issue is staunchly different from several years ago, when low-cost metals from Asia were undercutting fair market value of steel and iron in Mexico and posed a significant threat to local mills and foundries. To combat the threat, the Mexican government implemented several anti-dumping measures since 2015, most recently a duty set between 22.2% and 76.3% on flat coated steel from China. The government also launched a probe on imported steel plates from Italy and Japan in November 2017. According to Raúl López, general director of American Axel & Manufacturing's Monterrey-based casting division: "Until 2016, there was a problem with the availability of high-quality castings and there were a lot of cheap materials coming from China and Turkey, in particular. Now, most of Mexico's imported steel comes from the United States, and the price is linked to the American metal market indexes."
Speed Bumps
Of Mexico's 3.6 million vehicles produced in 2016, 75% (2.7 million units) were exported. Furthermore, 90% of all auto parts produced in Mexico are destined for another country, whether directly or indirectly. The issue is that, compared to the rest of North America, there is very little domestic automotive demand, which limits the potential of the industry.
As it stands, domestic auto parts suppliers, many of which are family-owned, continue to struggle to meet the high demand of the automotive industry, whilst foreign automotive companies continue to bring their best suppliers with them from abroad. Thus, it will be interesting to see how Mexican SMEs plan to maintain a significant piece of the pie and keep the investment capital within the country's borders. According to Manuel Montoya: "Nuevo León is certainly the most integrated when it comes to working with Mexican suppliers, but we still import about 60% of our supplies. That is much better than other states that are importing over 80% of their supplies, on average."
Echoing these concerns, Oscar Albin, president of INA, added: "The majority of Mexican auto parts suppliers are categorized as Tier 2 suppliers, and the foreign Tier 1 suppliers are the ones making large investments. The problem is that it is very difficult to convince Mexican investors to invest in the automotive sector because it is more of a long-term investment. Mexican investors tend to prefer high-volume investments with quick returns."
To keep up with demand, Mexican suppliers must adapt to the industry's imminent trend toward ultra-high-strength steels, which are used to produce lighter-weight vehicles without sacrificing performance. "Currently, there is a lack of such steel production in Mexico, but investments are been made as we speak, so shortly we will have more availability," said Mauricio Morales, general manager of service center Galvaprime.
Down The Road
Fortunately, as OEMs continue to invest in the country, the growth rate of Mexico's automotive industry appears to be sustainable for at least the short-term. Echoing the industry's positive outlook on its future, Oscar Albin stated: "We expect to see the industry plateau around 4.5 million vehicles per year in 2020. BMW and Mercedes Benz recently built new plants in Mexico, Infiniti will complete construction of a plant by the end of 2017, and Toyota recently broke ground on their new plant. Mexico's automotive industry very much depends on demand from the rest of North America. As long as the American and Canadian economies are healthy, Mexico's automotive and auto parts industries will also be healthy."