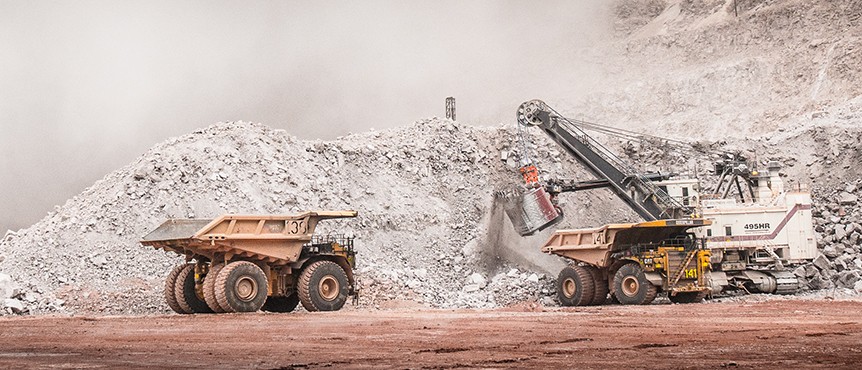 IMAGE: Courtesy of Ferreyros
The mining industry is constantly evolving. If the last downcycle was fertile ground to look for new ideas that would bring more efficiency to production processes, the current upswing in commodity prices may offer the perfect opportunity to properly test those new technologies. There is more cash available in the market and final users may be more flexible with their budgets to give the latest gadgets a try.
For the global original equipment manufacturers (OEMs), innovation is a long-term objective with a clear strategy. Epiroc, the newly-created company that is taking over Atlas Copco's mining business, has defined four areas of interest for innovation: electrification and the use of battery-powered equipment; automation, related to the possibility of remote operations; interoperability, with all machines compiling big data that will allow for fast decision-making; and new technologies for rock excavation, with the idea of potentially replacing drill-and-blast methods with continuous mining techniques. Gonzalo Díaz Pró, general manager of Ferreyros, the Caterpillar distributor in Peru, explained the impact that continuous mining could have on the industry: "Foregoing the need for blasting is the dream of all miners, because blasting drives the whole extraction process: you need to clean up, prepare, evacuate, blast and go back."
Over the years, especially since Caterpillar's DBT acquisition, the brand has been investing in this field, and it is already testing a continuous mining prototype for hard rock in Chile. Ángel Tobar, general manager for the Andean region at Epiroc, expanded on the advantages that battery-powered equipment can bring to mines, especially as underground operations move deeper and health, safety and environment (HSE) regulations worldwide become more stringent: "At this moment, the initial cost of a battery-powered machine is higher, but if you look at the total cost of operation, you can obtain significant savings in areas such as mine ventilation, by having smaller tunnel sections, and also you would avoid the operational delays related to fumes underground," he explained.
Caterpillar also has a significant presence underground with its family of load-haul-dump machines (LHDs). Díaz Pró of Ferreyros related: "Caterpillar bought Elphinstone in the early 2000s, a brand of underground equipment with traditional configurations and, little by little, Caterpillar has incorporated technologies such as sensors, payload systems and rear view cameras, for productivity and safety."
Concerning battery-powered equipment, Díaz Pró added that Caterpillar will only launch this technology at a commercial level once it is able to perform as well as diesel engines.
Komatsu Mining Corp., the company created from the merger of Komatsu and Joy Global, is also in a good position to push its technological developments across a wide variety of machines involved in mining, from the Komatsu trucks and construction equipment to the P&H shovels, Joy underground equipment and Montabert drills. Carlos Fonseca, general manager of Komatsu Mining Corp. in Peru, gave more details about the SR (Switched Reluctance) technology included in the P&H wheel loaders and the larger Joy underground loaders: "It consists of the ability to recapture energy when you put the brakes on, like in hybrid vehicles, or when you lower the bucket. This energy can be applied to propel the wheels. The feedback we have received is that it is very fuel-efficient and low on maintenance. This technology is targeted to be included in other Komatsu products in the future."
NEW PROJECT OPPORTUNITIES
The expected development of several mining projects in 2018 and 2019, with a combined capex of several billion dollars, presents enormous opportunities for equipment manufacturers. In the case of Komatsu, the company had a significant participation in the Toquepala expansion, and has also recently sold two shovels to Cerro Verde. "An area of focus for us this year is the largest P&H shovel available, the 4800, and the largest Komatsu truck, the 980. Working together, these machines have exciting potential," said Fonseca.
New mining investments also represent great opportunities for manufacturers specialized in construction equipment. Volvo Peru, for instance, offers the FMX trucks, widely used in earthmoving activities, as well as the whole range of its Volvo Construction Equipment line. In 2014, Volvo acquired the mining truck business of Terex and, starting this year, these units will be sold under the Volvo brand for the 45 to 100 short ton range. "2017 was very positive as we sold to key customers that already had Volvo trucks but not Volvo construction equipment. In 2018, we expect a positive continuation of this trend with a favorable mining environment and the commencement of new projects like Quellaveco. Even in underground mines, where we do not have a strong influence, we are selling our product range to the communities that rent equipment to the mines," affirmed Enrique Ramírez, VCE business director at Volvo Peru.
Looking specifically at dump trucks for construction, the market is finally picking up after several years of consistent decline. José Antonio Heredia, manager of the truck division at Divemotor, the distributor handling Mercedes-Benz, gave some figures that indicate a better business climate: "Although 2017 closed with just 900 dump trucks sold in Peru, the negative trend has finally been reversed. During the peak moments, the industry bought 2,500 dump trucks annually. In 2018, we should be at a level of around 1,000 dump trucks."
Divemotor has recently launched the new Actros model by Mercedes-Benz, designed for transportation activities, while there is a new truck coming up for earthmoving and off-road requirements, called the Arocs. Heredia provided an update about the new features of this model: "The new Arocs includes the Turbo Retarder Clutch, a hydraulic system that gives the driver greater reliability to overcome the steepest inclinations when the truck is loaded. When going down a slope, it acts as a retarder, giving stronger and faster braking capability. The system allows for an average higher speed, which means that the cycle times are reduced, and therefore productivity increases."
UNDERGROUND EXPANSIONS
The improvement of the market has clearly been felt across the underground spectrum. Indeed, higher base metal prices have drastically improved the economics of many mines, encouraging operators to engage in more dynamic budgeting after years of severe cuts in investment. Normet, a Finnish company specialized in underground equipment, had good results in 2017, according to Franklin Pease, its general manager in Peru: "We started to see many companies renewing their fleets, activating the investment programs they had put on hold during the crisis."
Normet is mostly known in Peru for its Alpha 20 shotcrete sprayers and its Tornado shotcrete mixers, but the company offers a wider portfolio of solutions that go hand-in-hand with the mechanization of underground mining. Peru's latest safety regulations oblige operators to mechanize certain processes, such as scaling or certain jobs at height, where Normet's range of equipment can be of help. Pease affirmed that innovation and mechanization have certain limitations, especially in narrow-vein operations: "When you have small tunnel sections, you do not have all the equipment you need to mechanize the operations. Narrow-vein mining is a very small percentage of the total underground mining in the world, but we need to adapt to the different needs of the market [...] Changes will happen sooner or later. As an example, most mines will mechanize the charging of the explosives because you will reduce the amount of explosives needed."
The lack of mechanization in narrow-vein operations opened up a business niche that the very large OEMs probably did not find to be large enough for them. Yet, it is a significant market worldwide. Resemin, a Peruvian manufacturer of underground equipment, has specialized in exactly this segment, and is capitalizing on its innovation efforts to achieve dramatic growth rates (50% in 2017) as the mining market picks up. Resemin produced 92 units last year and the company has expectations to reach the 150-unit/year mark soon. For this, however, the company will have to set up additional manufacturing capacity, as its 9,000-square meter plant in Lima is already working at full capacity. "Our most successful product lines are the roof bolters and the Muki," related James Valenzuela, CEO and chairman of Resemin. "There is now greater demand for equipment for smaller tunnels of 3 meters by 3 meters, this is why the Muki is constantly described as a game-changer. We are the market leader in narrow-vein machines and the Muki is the complete solution for that sort of environment in the fact that it has four applications: drilling, scaling, roof bolting and cut-and-fill mining. It can quadruple productivity compared to a manual drill."
Another important milestone for Resemin's corporate growth was its purchase of Schopf, a Stuttgart-based manufacturer of underground loaders. With this acquisition, Resemin received all the technology and engineering capability of Schopf as well as the brand, and now the company will begin manufacturing Schopf loaders in Peru; initially the 3.5-mt payload model and will progressively move up the product range to the 18-mt payload loaders. Valenzuela emphasized that now Resemin has the full offering: "We have a complete line of products for underground mining and the loader market is three times the size of the market for drilling rigs. It is an enormous growth opportunity for us."
ANCILLARY EQUIPMENT
Sullair del Pacífico, the company that distributes and services the Sullair compressors in Peru, is also expecting growth from the mining industry. Its general manager, Richard Rodríguez, explained that compressors are present across most mining and industrial processes, from the point of mineral extraction to the processing plant. "Compressors represent a small investment if compared to other capital equipment, but they are a critical element of the whole process, because if you have a compressor failure, you need to stop production," he explained.
Globally, Sullair was recently acquired by Hitachi, and Rodríguez explained that the merger is going to create very interesting synergies: "Hitachi has a whole set of solutions in terms of remote monitoring, connectivity and others. The combination brings the best of both worlds. American equipment has always been very robust, while Japanese companies are experts in introducing the latest technologies."
Sullair's TS line is the flagship for mining, and the company has more than 300 of these working in Peru. The next evolution of that model is the LS series, with more technology to monitor the machine's different parameters, that Sullair del Pacífico wants to market more aggressively with the larger mining customers. The company has also obtained the local distribution of Kito, a material handling equipment specialized in cranes and hoists, to complement its offering to mining and industrial customers.
EQUIPMENT COMPONENTS
The development of new projects will have an effect on expanding the different fleets across the board, offering opportunities as well for companies specialized in equipment components. Fundición Chilca (FUCSA), a recent new foundry investment in Peru, has set up capacity to provide items for both processing plants and mobile equipment. "During the downturn, the price of mill liners went down significantly," related Raúl Ferrero, general manager of FUCSA. "We expect that to change in the near future, but in the meantime we are focusing on other products."
This is how the company has secured contracts with international OEMs and multinational mining companies. Product-wise, beyond mill liners, FUCSA has specialized in manganese-based products, crushers and components for the large mining shovels. Ferrero said that the business has improved in parallel with better commodity prices: "Mining companies are currently investing in additional inventory of parts to ensure that they do not have any production stoppages. Also, they are reopening the operations that were not profitable during the downturn."
Being a relatively new foundry with modern technology, the company has been able to accommodate larger equipment (it can produce pieces of up to 20 mt), while also investing in R&D. According to Ferrero, the company has developed several types of manganese, chromium-molybdenum and white iron alloys.
Specifically in the mining truck segment, Austin is a company specialized in the design and manufacturing of truck bodies and buckets and counts more than 130 truck bodies operating in different mines around Peru. The company's latest product is the JEC LD tray, that fuses the best of Austin's JEC and Westech designs. Tim Mitchell, VP business development South America at Austin, gave more details about this product: "There is a lot of engineering behind the steel. We have optimized the JEC LD by reducing the tray weight, which has a significant effect on the payload. Over the long run, the difference in productivity is huge and can result in production increases in the millions of tonnes.
The JEC LD is already working in Colombia and Peru, in operations including Cerro Verde, Southern Copper, Constancia and Shougang.
Another important part in mobile machines and industrial equipment is the drives. Bosch Rexroth, a German company with a leading position in hydraulic drives, has been expanding its service capability in Peru over the last years through the acquisition of a local distributor and the setting up of a new service shop. Now operating as a new legal entity in Peru, the company will continue capitalizing on the after-market opportunities (many mining machines arrive in Peru with Bosch Rexroth components already installed), but also will push for the introduction of new solutions locally. Kai Rothgiesser, general manager of Bosch Rexroth, explained that the company sees a lot of opportunity in Industry 4.0: "By recording all the parameters of the different machines and components, you can make sure that the operation is running at an optimal level and that you can anticipate maintenance. These sensors, and the wiring and software associated to them, are not a big investment for the client if you compare it with the benefits you can obtain. We sell all these components, but the idea is that we also provide the service of monitoring all these parameters as well."
Mining already represents 50% of Bosch Rexroth's business in Peru. While Peru's large fleets of mining machines will continue to present significant opportunity for the company's hydraulic drive business, it is in the processing plants that the company sees greater room for development in the automation area: "Mobile machines are closed systems. The plants, however, include many components from different brands. The feeders and conveyors, for example, are huge investments that use a big amount of drives, so there is an opportunity for us to come in," concluded Rothgiesser.
COMMINUTION AND MATERIAL HANDLING
Companies involved in the technology for mineral handling and processing facilities are also gearing up towards the new wave of projects, as well as the service and maintenance contracts associated to an increasing installed capacity. Last year, for instance, 65% of Metso's sales in the Pacific Rim region came from services. Equally, FLSmidth has increased its team for the Customer Service business line, which is not an easy process for OEMs. Jesús Cabrera, general manager of FLSmidth, said: "Providing maintenance and repair services is more challenging because it requires a larger headcount to work on projects such as plant shutdowns. You need people who have certain skills and a safety culture."
The advantage of having a stronger team of people is that this can also provide synergies to offer additional services. As an example, FLSmidth has been increasingly implementing the EPC concept, with five of these projects already completed in Peru. Cabrera explained: "At Antapaccay, we did the EPC for the expansion of their flotation capacity, with the largest flotation cells available worldwide. It was a very successful project."
Large OEMs are also starting to offer mining and material handling solutions that could forego the need for mining trucks. Thyssenkrupp Industrial Solutions, for instance, is looking at introducing continuous mining systems to the country. Miki Villar, business development and sales manager at Thyssenkrupp, explained that this technology is most suitable in mines that have distances of more than five km between the mine and the plant, and hauling volumes of at least 50,000 mt/d. So far, Thyssenkrupp's star product in Peru is the high pressure grinding roll (HPGR), of which there are 21 operating in Peru –more than in any other country where the company operates. Villar explained the advantage of this product versus other comminution solutions: "It creates micro-crevices and these make the grinding and crushing process more efficient, which helps to lower energy consumption."
STANDARD VS TAILOR-MADE
In the mining industry, like in many other aspects of life, it is horses for courses. Some companies want to control the engineering of every single piece, while others are happy with the use of standard models that can be shipped, assembled and installed within a shorter time frame, providing for easier access to spare parts as well. One of the main developments for Metso, one of the market's large OEMs, has been a push to standardize its product line. Fernando Samanez, VP sales at Metso, explained the rationale behind this move: "We are migrating toward the sale of standard equipment, which is easier for both parties. It is very similar to what Caterpillar or Komatsu already do. Probably 20% of our sales today are standard equipment, and we are willing to increase that figure to 50% over the next couple of years. This, however, requires an important change of culture."
For Villar of Thyssenkrupp, the shift towards standardization is driven by the bad experiences of projects during the boom: "Projects that started with a certain budget often ended up having huge cost overruns and significant project execution delays because of the excessive customization of the equipment. Standardized machines give the benefit of faster delivery times and lower-cost engineering."
WATER MANAGEMENT
The main technology companies are highly involved in solutions to increase water recovery and envision future mines that will have no tailings dams: "While many mining operators still see these solutions as being too expensive, the new regulations and the demands from local communities will increasingly push companies to go in this direction," assured Cabrera of FLSmidth.
Metso is investing in filter tailings, with a new prototype being developed in Sweden this year. "It is based on our current technology, but applying 10 times more pressure," said Samanez, who added: "Water recovery is the future of mining."
Water separation is an increasingly important business for Andritz, a multinational company that has been expanding its installed capacity of thickeners, filters and water treatment plants in Peru. As an example, Andritz is installing the largest filter press ever built by the company globally (140 plates of 2.5 by 2.5 meters each) at Buenaventura's Tambomayo mine. Andritz is also reinforcing its service capability by opening up a local shop in Peru, avoiding import delays for products. "Peru's mining industry only discovered the quality of our products relatively recently, so there is a lot of room for growth," declared Peter Gnos, general manager of Andritz.
Everaldo Abegg, country manager for Andritz' separation business, added: "We have recently invested US$5 million in our filter cloth production line in Brazil, and with this investment we are ready to serve the whole South American market. We already have some thickeners in operation in Tambomayo, and also 14 water treatment machines in Cerro Verde. Overall, in the separation business, mining represents 85% of our revenue."