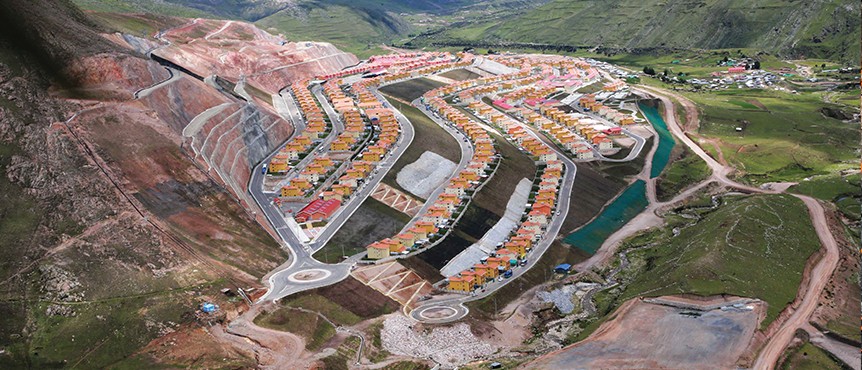 IMAGE: Courtesy of Minera Las Bambas
Since 2012, Peru has increased its copper production every year and 2017 was no different. After the spectacular increase of 2016, driven by the expansion of Cerro Verde and the addition of MMG's Las Bambas, output increased by a moderate 3.9% last year, with a total output of 2.45 million tonnes (mt) of fine copper. Cerro Verde is still the largest producer of copper with 501,800 mt/y, followed closely by Las Bambas, which achieved its first year of full production with 454,000 mt/y, a 37.5% increase from its 2016 figures. Peru's third giant copper unit is Antamina, which yielded 439,200 mt/y.
Suresh Vadnagra, president of Minera Las Bambas, commented on the mine's performance on its first year of full commercial production: "Our C1 cost of $0.99 positions us as one of the lowest cost producers. In 2017, we took some fairly aggressive steps to establish efficiency as the baseline of Las Bambas, which is something that does not normally happen in the first year of production."
Vadnagra anticipated that the copper operation, located in Apurimac, will yield between 410,000 and 420,000 metric tons of copper in 2018, at a C1 cost between $1/lb and $1.10/lb. "Our focus is very much on building on the success of 2017 into the future years," he continued. "Las Bambas has enormous potential for brownfield growth –this includes the development of further satellite pits and resource expansion. The Las Bambas tenement has 35,500 hectares, and so far we have explored less than 10% of it. These growth levers could underpin a large-scale expansion."
Other copper mines that produce more than 100,000 mt/y include Glencore's Antapaccay (206,500 mt/y), Chinalco's Toromocho (194,700), Southern Copper's two units (Cuajone at 161,100 mt/y and Toquepala at 145,000 mt/y) and Hudbay Minerals' Constancia (121,800 mt/y).
While the aforementioned mines account for the bigger chunk of Peru's copper production, there are also some interesting medium-sized underground operations. With the ongoing expansion at the Marcapunta mine, for instance, Buenaventura's El Brocal operation narrowly beat Nexa Resources' Cerro Lindo as the country's largest underground copper producer (both are in the 45,000 mt/y range). Meanwhile Condestable, operated by Southern Peaks Mining, yielded 22,000 mt of copper in 2017.
Víctor Gobitz, CEO of Buenaventura, was enthusiastic about El Brocal's future potential, as Buenaventura has eliminated the commercial restriction that El Brocal's arsenical copper used to have: "There is an opportunity to go from room and pillar to a different mining method that also extracts the ore from those pillars. If we are successful doing that, the Marcapunta mine could grow up to 20,000 mt/d," he affirmed. Marcapunta is already expanding from 8,000 mt/d to 13,000 mt/d by the end of this year.
Southern Peaks Mining has also introduced new mining methods as a way to improve both productivity and efficiency, with a focus on mechanization at Condestable, and is increasing its daily throughput from 7,000 mt/d to between 9,500 mt/d and 10,000 mt/d. Adolfo Vera, Southern Peaks Mining's CEO, said: "We started treating the previously known mantos as ore bodies and, for that, we needed to know the geometry in each particular ore block prior to mining. We then designed the drilling and blasting scope with the knowledge produced from the geology infill findings. That has given us incredible results as we have introduced long hole mining into 80% of our operation, and dilution has decreased by 75%."
The C1 cost at Condestable is $1.55/lb and, with the expansion, it can be reduced to $1.25/lb, according to Vera. Beyond productivity, one of Southern Peaks' main objectives last year was to double the reserve base and prepare for the company's future IPO. "The exploration is rendering great results as well, and we expect to be mining at Condestable for more than 20 years," Vera concluded.
Looking at the general picture, Peru's copper production continued to close the gap with Chile. The neighboring country saw its red metal output decrease slightly to 5.5 million mt/y. Record monthly production in Chile in December 2017 was not enough to compensate the effects of the strikes at Escondida earlier last year.
Following Chile and Peru, China is the third largest copper producer globally with output of approximately 1.9 million mt/y. The Peruvian government has set a goal of increasing copper production by 30% by 2021 to further cement Peru's position as the second largest producer of copper globally.
Other base metals
With respect to zinc, Antamina regained top spot in production with a 69% increase in output, representing 442,500 mt/y of zinc. The spectacular change is probably explained by the erratic nature of the geology in skarn deposits, as well as a conscious decision by the company to boost zinc output and take advantage of the current high prices. Antamina's exceptional performance helped Peru's overall zinc production increase by more than 10%, to a total of 1.47 million mt/y.
Antamina is 33.75%-owned by Glencore, that also recently took over a controlling stake in Volcan, Peru's second largest zinc producer with around 288,600 mt produced last year. Finally, Nexa Resources of Brazil (formerly Milpo-Votorantim Metais) produced 229,600 mt/y, the majority of which came from Cerro Lindo, Peru's largest underground operation.
In other base metals, Peru's lead production decreased by 2.4% to 306,800 mt, and tin production also decreased by 5.3% (total output was 17,800 mt/y), while production of molybdenum increased to 28,100 mt/y. According to the United States Geological Survey (USGS), Peru ranks as the world's second largest zinc producer, the fourth largest lead producer and the fourth largest molybdenum producer globally.
Finally, iron ore production saw a 15% increase to 8.8 million mt, driven mainly by Shougang's ongoing expansion at Marcona, while a new player, Shouxin, produced 138,000 mt of iron ore through the reprocessing of Shougang's tailings, a process that also yielded some copper.