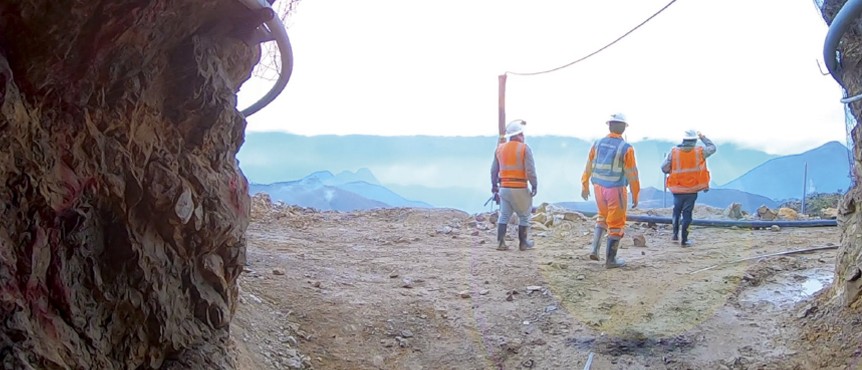 Image: Courtesy of PPX Mining
The mining industry has entered a positive cycle with more stable commodity prices, and this has promoted an increase in global exploration expenditure, which is expected to break the US$10-billion barrier during 2019. This consolidates the upward trend since 2017, yet this year's figure represents barely half the US$21.5 billion invested globally in exploration at the peak of the 2012 supercycle (S&P Global data). Peru, however, is moving against the current: according to official data, investment in exploration fell by 15% in 2018 at US$412 million, as opposed to US$484 million in 2017. Unlike statistics from S&P Global, these figures do not include most of the early exploration work prior to drilling, yet the trend is worrying: the country recorded a further 20% decrease year-on-year between January and May 2019.
In Peru, most industry leaders agree that the main problem is permitting: "Today, companies have to wait between six months and two years to obtain the drilling permits," lamented Jorge Granda, general manager of AK Drilling International, a contractor.
While the authorities need to make sure companies operate in a responsible way, such delays affect not only the juniors' cash position, but also their market perception. If the Peruvian administration is to be successful in reaching its goal of attracting 8% of the world's exploration budget, it needs to make life easier for explorers; both institutional and retail investors in mining are being lured by other options like marijuana and cryptocurrencies, which presents an additional challenge for the industry.
Nevertheless, some good news is coming from a variety of fronts in Peru's junior segment. Beyond the progress made across different exploration and development projects, Peru has strengthened its ties to Canadian financial markets, thanks to the TMX's opening of a Lima office this year. This is certainly a positive development at a time where financing for juniors continues to be difficult. Dean McPherson, head of Global Mining at TMX Group, affirmed: "We see Peru as a leading country in Latin America for mining. Peru has great governance and transparency, which continues to improve and is bringing more confidence for investors."
Gold
Between December 2018 and February 2019, PPX Mining completed its pre-feasibility study for the Igor gold-silver project and obtained the final permits to build the processing facilities. "The initial underground mining development is already completed, therefore the capex outstanding to put the project into full production is less than US$4 million," explained Brian Maher, president and CEO of PPX Mining. "At Callanquitas [part of the Igor project] the underground mine is already working at 120 to 130 tonnes per day (mt/d) and has produced around 8,000 ounces (oz) of gold since we started our test mining and bulk sampling program in 2017. Now, for a modest capital contribution, we are buying a crushing plant, an agglomerator and a Merril Crowe plant, all of which can take production to 1,200 mt/d in the future," he said.
The initial production rate at the Igor project will be 350 mt/d, which will allow for an eight-year mine life and total production of 120,000 oz gold equivalent. The company envisions expanding both tonnage and mine life through exploration, based on the potential at both the Callanquitas and Portachuelos areas within the Igor project.
Maher explained that the focus of the subsequent exploration campaign (17,000 m drilling planned during 2019 and 2020) will be threefold: drill in and around Callanquitas to drive plant expansions; further drilling in Portachuelos; and target the Tesoros area, on the southern side. "Portachuelos has the potential to be a game-changer for us. The sheer size of that system requires us to start defining the limits of the deposit," he said.
Meanwhile, Palamina, an exploration company, is focusing on the Puno orogenic gold belt, and more specifically on the Coasa gold project, which includes the Veta discovery zone where the company plans to drill 2,500 m this year.
Andrew Thomson, president and CEO of Palamina, affirmed that the project also hosts the Phusca shear zone – potentially an extension of the Ucanuma shear zone that hosts Goldmining Inc.'s 1 million oz Crucero gold deposit. "In Coasa's Veta zone, surface gold assay results are much higher than those of Crucero and we cover a much larger area, so we are very excited to carry out our initial drill program. We see potential for open pit mining, but drilling is definitely required to determine a third dimension," he said.
Another gold-focused company is Pucara Resources, a private entity that is looking at a public listing sometime this year. The company has a portfolio of 14 projects following the project generator model but is also funded to carry out its own exploration programs. In this respect, the company is focusing on its Lourdes and Pacaska gold projects in Ayacucho. Pucara's CEO, Steve Zuker, said: "Lourdes is located in a belt of Miocene volcanic rocks, host to other gold deposits. The texture and clasts of rocks are indicative of multiple hydrothermal events occurring, increasing the chances of one or more of them carrying significant amounts of gold. The first phase of drilling will be 3,000 m in 10 to 15 drill holes."
Meanwhile in Pacaska, Pucara is planning to carry out an IP geophysical survey. So far, the project shows significant gold values at surface (7 g/mt Au) in hydrothermal breccias and vuggy silica, according to Zuker.
Copper
The last 12 months have been eventful for some of the juniors active in copper, such as Chakana Copper (in which Gold Fields recently acquired a 16% stake), and also Regulus Resources. Last year, the latter company spun out its Argentinean assets into a new vehicle called Aldebaran Resources, and just before PDAC Regulus published an updated resource estimate at its flagship AntaKori project located in Cajamarca.
AntaKori's new resource contains 250 million mt with 0.48% Cu, 0.29 g/mt Au and 7.5 g/mt Ag (indicated) plus 267 million mt with 0.41% Cu, 0.26 g/mt Au and 7.8 g/mt Ag (inferred). John Black, CEO of Regulus Resources, gave more details about these results: "We have seen an increase of approximately 75% in the size of the deposit while maintaining similar grades. There has thus been a substantial increase in the total amount of contained copper and gold, and we have very good combined grades, with an average of 0.7% copper equivalent."
With respect to metal content, AntaKori contains approximately 8 billion pounds of copper equivalent (Cu equivalent), versus 5 billion pounds Cu equivalent in the previous resource estimate. "From a gold perspective, this equates to 17 million oz gold equivalent," said Black, who added that there is potential for the resource to continue growing: "We are still a long way from the edge of the system, and the Phase 2 drilling program is underway with more than 25,000 m planned. We hope to encounter porphyry-style mineralization as drilling progresses to the north."
AntaKori is located right next to the Tantahuatay gold mine, owned by Coimolache (a joint venture of Buenaventura and Southern Copper). Currently a gold oxide mine, Tantahuatay will transition into a sulphide copper-gold operation at some point. Regulus has collaborative agreements with Coimolache and Buenaventura for exploration, yet Black indicated that it is still early to define how the district will evolve.
With regards to Chakana Copper and its Soledad project in Ancash, the company has already completed over 25,000 m of drilling and is processing permits for a further 20,000 m. Soledad is a breccia-type system, where Chakana is focusing on having multiple deposits in a single cluster. To date, 23 outcropping pipes have been identified; while the company has outlined 12 additional areas that are strongly altered, Chakana wants to start proving economic mineralization in four or five pipes with an initial inferred resource, and then increase that with the remainder of the known pipes.
David Kelley, president and CEO of Chakana, highlighted the importance of gold and silver for the project, with 65% of the value in breccia pipe 1 coming from precious metals. He also emphasized the importance of Gold Fields' C$8 million strategic investment in Chakana: "This is a great endorsement and validation of the exploration work we have completed thus far. It also brings Gold Fields' technical and operational capabilities in Peru together with our team."
Highlighting the advantages of Soledad, Kelley added: "Mineralization goes at depth within a very small footprint. There is also 500 m of relief from the bottom to the top of the project, so you can access mineralization at various elevations early on in the mine life. After that, the infrastructure can be developed to access multiple pipes simultaneously, using standard underground methods."
Auryn Resources has also entered the country to tap into Peru's copper and gold potential. The company, 11.8%-owned by Newmont, expects to replicate its team's previous success stories with Keegan Resources (now Asanko Gold) and Cayden Resources (sold to Agnico-Eagle). With the assistance of Miguel Cardozo, a well-known local geologist, Auryn has obtained access to a number gold projects in southern Peru including Sombrero, Baños del Indio, Huilacollo and Curibaya.
Ivan Bebek, executive chairman of Auryn, affirmed that finding good projects is increasingly challenging: "Replacing ounces of gold and pounds of copper has become much more difficult. The easy, high-quality projects in Canada and South America have already been found, so it is going to take a considerable amount of perseverance, luck and thinking outside the box to find something new."
In Peru, the initial focus is on the Sombrero property, where Auryn has expanded its initial land position to the current 120,000 hectares. "Sombrero has the same types of rocks and mineralized intrusions that we see in the Las Bambas-Tintaya belt," said Bebek. "Other companies likely missed this opportunity because of the volcanic cover in this part of the belt. Also, we have found significant sulphide mineralization outcropping that carries as high-grade – or even higher grade – as the oxide zones," he added. Auryn expects to undertake a maiden drill program at Sombrero in Q3 or Q4 2019, for a total of 15,000 m.
Copper exploration is also being targeted by privately held companies, such as Latin America Resource Group (LARG) and Element 29 Resources. LARG is focused on the Jasperoide copper project in Cusco, located between the Las Bambas and Constancia copper mines. The project's land package includes 1,200 hectares that LARG acquired from Hochschild (with an internal resource of 50 million mt at 0.8% copper equivalent) and 7,100 additional hectares in the same district. The company re-logged all core previously drilled, which helped define five different styles of mineralization, ranging from lower grade skarn to high-grade copper-gold mantos.
Kimberly Ann, president and CEO of LARG, elaborated on the company's subsequent steps at Jasperoide: "We moved on to metallurgical testing and we had very good recoveries of 93% in gold and 73% in copper. Utilizing this data, we updated the economic model for the project, that could support a robust open-pit mine."
LARG is awaiting its water permits to start drilling at Jasperoide for an initial 3,000 m to 5,000 m campaign. The intention is to verify the historic resource and follow up on previous drilling to the north. Kimberly Ann added: "If we compare ourselves with the mines around us we have good grades. Our system is unique, with stacked high-grade mantos underneath disseminated, lower-grade copper that extends to the surface. The mantos grade is between 2% and 3.5% copper with high gold grades as well, in addition to being very thick. So we want to drill out a number of samples and have those results support the transaction to go public."
Finally, Element 29 Resources is a new junior company recently created as the vehicle to advance exploration efforts at Elida and Flor de Cobre, two projects coming out of Globetrotters Resource Group's portfolio. Brian Booth, until recently at Pembrook Copper, another private copper-focused junior, is Element 29's president and CEO. While Elida is located in central Peru, Flor de Cobre sits on the trend between Cerro Verde and Nexa Rexources' Chapi asset in the south of the country.
Like many other juniors, Element 29 is currently undergoing the permitting process. Booth commented: "Permitting processes are often too slow, and we are supportive of the steps that the government is taking in order to improve the system. At the same time, we have significant experience working in Peru, and we have always obtained the permits that we needed, so we do not foresee any obstacles."
Zinc
Following the strong performance of the zinc price over the last couple of years, the market is seeing a renewed interest in the metal. In Peru, the largest junior-held undeveloped zinc deposit is Tinka Resources' Ayawilca, located in central Peru. Following a recent resource expansion, Ayawilca now has 11.7 million mt at 6.9% zinc (indicated) and 45 million mt at 5.6% zinc (inferred). Including the indium, silver and lead content, the zinc equivalent grades are 8.1% and 6.7%, respectively. Additionally, Ayawilca has a separate tin resource of 14.5 milion mt at 0.70% tin equivalent (inferred).
In July 2019, Tinka published its preliminary economic assessment (PEA) for Ayawilca, that contemplates a mid-sized underground mining case of 5,000 mt/d, with expected production of 101,000 mt/y Zn and 906,000 oz/y Ag over a 21-year mine-life. Initial capital would be US$262 million, and the after-tax NPV is estimated at US$363 million, using an 8% discount rate.
In parallel to this, the company has resumed drilling activities at the project with a new 10,000 m campaign. The objective is to test new zones, find more ore and complete some in-fill drilling in support of the future pre-feasibility study at Ayawilca, according to Graham Carman, president and CEO of Tinka: "There are still open areas at depth and on the edges of the deposit. Last year we found that zinc grade increased significantly with depth. We had one hole that intersected 10 m at 44% zinc underneath the previous resource, which is basically direct shipping ore in terms of grade," he said.
To move the project forward with this new focus on economic studies and exploration, the company has hired Ken Engquist, who was formerly involved in Arizona Mining (one of the latest success cases of M&A in this segment, having been acquired by South32 last year for US$1.3 billion). Also, in June 2019, Tinka published its latest metallurgical tests, showing 92% zinc recoveries. Speaking of the next steps for Ayawilca, Carman added: "We believe that Ayawilca still has the potential to contain 80 to 100 million mt of mineable zinc mineralization […] With the PEA completed, we may consider bringing in a strategic partner, if it makes sense to do so."
Lithium and Uranium
For years, Plateau Energy Metals (previously Plateau Uranium) worked on the consolidation of extensive uranium resources in the Macusani district in Puno, south-eastern Peru, until the Falchani lithium discovery changed the company's focus. The lithium resource built up very quickly so that the recent resource update announced in March 2019 reported a 90% increase in tonnage for a total of 4.7 million mt of lithium carbonate equivalent (LCE). According to Alex Holmes, CEO of Plateau Energy Metals, this is the world's sixth largest hard rock lithium project. However, Holmes understands that the company still needs to educate investors on the particularities of Falchani, considering South America is mostly known for brine-type lithium deposits: "The host rocks at our lithium project are volcanic mostly as a lithium-rich tuff (hardened volcanic ash), which is believed to be similar to the lithium source rocks (volcanic rocks) for brine projects […] Thus, we refer to our lithium project as a 'solid brine.'"
Plateau has been testing different methods of recovery, including tank/vat leaching, roasting, baking and heap leaching, and the company will now start to focus on the engineering aspect of the project while also looking at potentially expanding the resource toward the west and the north.
With regard to Plateau's uranium project, the company is waiting for the legal framework for uranium exploitation to develop in Peru, as well as for better uranium prices. In either case, the uranium project could be placed into a different investment vehicle, said Holmes: "Even though both uranium and lithium fit well into the green energy market, the equity investors on our two projects are very different. We are thus considering strategic options including a potential spin-off, joint venture with the right strategic partner as well as other alternatives."