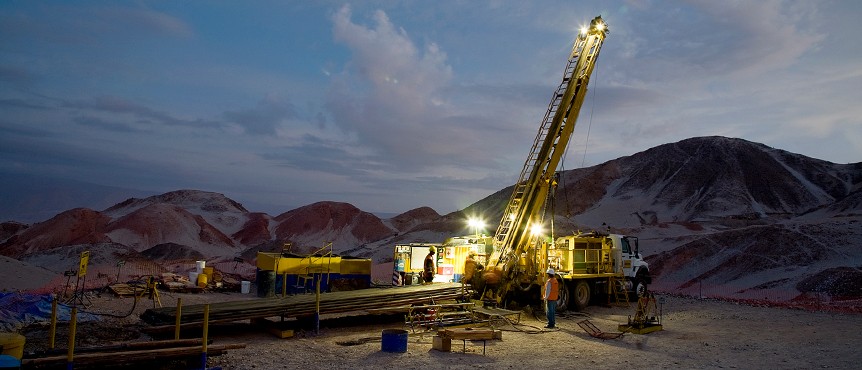 Photo courtesy of Geotec
During the crisis, cost-cutting initiatives across mining operations became commonplace, and these moves created enormous pressure on providers to reduce costs. While this had the positive effect of making the industry lose some fat, some of these initiatives were counter to overall efficiency, such as shortening service contracts too much. The rationale was that, with a short contract, the provider would not rest on its laurels, or it could lose the upcoming bid to a cheaper competitor.
Particularly in drilling, the crisis caused a collapse of the price per meter. When the market touched bottom, miners started to offer long-term contracts to contractors, probably anticipating that prices would go up as soon as the mining cycle picked up.
A less Machiavellian reading of this trend suggests that mining companies wanted providers to incorporate the latest technology for productivity and safety. Take Geotec, for example: the company spent US$12 million in 2018 on new equipment, with the support of three-year drilling contracts with both Las Bambas and Yanacocha, amounting to 12 rigs each. With 240 people, the Las Bambas contract is probably one of the largest drilling contracts worldwide, said Miguel Ángel Arenas, general manager of Geotec: "Long term contracts allow us to renew our fleets and to invest in hands-free technology, following the industry trends. Today, the market is moving toward smaller rigs, as well as automation," he explained.
These investments in technology have not caused the rate per meter drilled to go up, however. Arenas said: "The market is not ready to pay a big difference to incorporate this technology, although automation brings higher levels of safety and productivity, which pays off the initial investment."
Avoiding Price Wars
Jorge Granda, general manager AK Drilling International, a contractor with operations in five countries, lamented that during the crisis the market was heavily driven by price. "A number of companies have looked for market positioning based on a low-price strategy. We had to adjust our rates in some instances, but overall we focused on service quality." As part of this, Granda added, AK Drilling expanded its diamond and RC drilling fleet, while it renewed its triple certification for the water well drilling service.
Speaking of the introduction of new technologies, Granda said that the ball is largely in the client's court: "These technologies demand large expenditures, so if you have a market that is just looking for cheap drilling, it is risky to invest in them. The client must understand the value of quality service and the investment the contractor needs to make for this, rather than just considering the lowest price possible. In the long run, you get what you pay for."
To add value, many contractors are doing their own technology development. Geotec not only uses standardized third-party rod handlers, like Epiroc's Christensen models, but is also developing its own rigs, together with Safedrill of Chile. As an example, for Las Bambas, they have developed a modular rig with a smaller footprint of just 15x10 m. The rig is 100% hands-free, has its own mud treatment plant that eliminates the need for excavating mud ponds and can drill holes of 2,000 m in depth.
Laboratories
Key players in laboratory analysis also need to up their game in order to avoid the commoditization of their service. In Peru, both local players, like Certimin, and international companies, like SGS, are implementing different strategies to add value, notably the incorporation of new technologies and a stronger focus on geo-metallurgy, which involves the integration of geology and metallurgy by undertaking metallurgical tests from the moment exploration samples are sent to the lab.
Miguel Caillaux, managing director of Certimin, lamented that the industry has been focusing just on obtaining the lowest rates, in a time when some global labs are engaging in price wars to gain market share in Peru: "In recent years, we have reached predatory rates that do not even cover the cost of good quality service. We see ourselves as a boutique lab that offers personalized service, yet clients make you feel that price is what matters, with logistics managers replacing technical personnel and taking the final decisions solely based on price."
To offset that trend, Certimin has been offering clients a more comprehensive approach to cover the full cycle of geology and metallurgy. Caillaux added: "Every metallurgical project is a mystery, a true research project. We offer flotation, leaching, gravimetry and magnetic separation tests, among others. We have an automated 24-cell pilot flotation plant where we can work with very small volumes of just 10 to 15 kilograms per hour. This means that 1.5 mt is more than enough to carry out a representative test."
Meanwhile, SGS is also pushing for the geo-metallurgical approach. According to Ernesto Labarthe, manager of the Minerals division at SGS in Peru, the country has a long way to go in this respect: "In Chile and North America, clients see geology and metallurgy as a package; it is unconceivable to work these aspects separately. In Peru, we are organizing seminars to push for this trend and to show how clients can save extra drill holes by implementing an integrated approach toward core samples."
Labarthe related that SGS is working on new software in Peru that would allow the client to follow up the status of their samples on real time. "Through a smartphone app, we can set up alerts when the sample is picked up in the field, or when the laboratory test starts. This is an in-country development, and the app will be ready during 2019," affirmed Labarthe.
Blasting
As in the drilling segment, pressure on rates and shorter contracts were also seen in the explosives market during the crisis. For Mario Matuk, general manager of Exsa, a blasting solutions company, this had negative consequences: "The problem with short contracts lies in the learning curve. We are talking about remote deposits and complex facilities, and if the timeframes are too short, the process will not be optimized."
Today, the trend in blasting is to have at least three-year contracts, but the market continues to be very competitive, including large players such as Exsa, Orica, Famesa, Enaex and Maxam, while EPC Groupe of France is also setting up shop in Peru. For Matuk, the key component for blasting solutions players is to demonstrate value: "While explosives consumption is very high in Peru and mining projects continue to develop, the clients need to perceive value in aspects such as the mine-to-mill performance and the overall impact of the explosive on their bottom line."
For Exsa, open pit mining represents 60% of its revenue. In this segment, its Quantex technology has played a key role in helping the company grab a 40% market share, and recently Exsa was awarded its first contract in Chile using Quantex. Meanwhile, underground mining accounts for 30% of the company's revenue; the latest development in this sector is the introduction of Quantex SUB, a pumpable gasifiable emulsion that offers better progress per blast, less overbreak and lower dilution, while also requiring less ventilation, according to Matuk. Finally, initiation systems represent the remaining 10%.
Looking at the future, Matuk of Exsa gave an indication of how the blasting market may grow in Peru: "New projects require explosives for early works – we estimate that Quellaveco and Mina Justa are already generating 3% to 4% growth in 2019. Once they enter production, we should reach double-digit growth."
In light of this expansion, it is no surprise that Peru's mining industry is attracting new players into the blasting segment. As previously noted, multinational company EPC Groupe recently decided to enter Peru, and it is setting up a local facility to produce explosive products. However, the company's initial strategy is to attack the market through a services company – a 50-50 joint venture with underground contractor IESA, called EPC Servicios Perú.
EPC Servicios Perú wants to capitalize on the opportunity generated by the mechanization of processes in underground mining, said its business development manager, Armando Picoy: "90% of processes in underground mining are already mechanized, yet blasting is still done using manual methods. Our vision, together with IESA, is to adapt our technologies in explosives and blasting engineering to mechanize 100% of underground processes."
For this, EPC Groupe has developed smart modules for the charging of pumpable gasifiable emulsions, with the idea of improving productivity, safety and environmental performance. "Looking back one decade ago, dynamite accounted for 70% of the underground market; today, the market has migrated toward packaged emulsions, yet these still require manual work. We are going to offer our technology to mechanize charging and blasting processes."
EPC has operations in 40 countries and has its own software for blasting engineering in open pit mines called Expertir. The focus of the Peru operation will be underground to start, and the company is already working on an underground version, under the name of Smart UG.