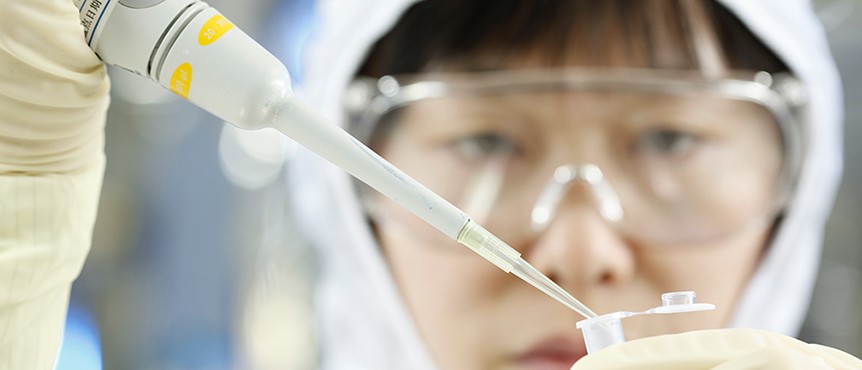 IMAGE: Courtesy of 3SBio
In 2015, Tu Youyou became the first Chinese scientist to win a Nobel Prize for research conducted in China for her efforts that led to the discovery of the anti-malarial active ingredient artemisinin, which steered to the development of the injectable drug called Artesunate by Guilin Pharma in 1978. Inspired by Traditional Chinese Medicine (TMC) and characterized by low toxicity, fast action, and high efficacy, the Artesunate tablet was later introduced and would became the first innovative finished Chinese pharmaceutical product to pass the onsite inspection of the WHO pre qualification program in 2010 following its acquisition by Fosun Pharma in 2005. Guided by Fosun Pharma's innovation and internationalization approach, Artesunate gained international recognition as "China's No. 1 New Medicine" and has saved an estimated 20 million lives.
However, since the Artesunate phenomenon, China has yet to introduce another blockbuster drug with such commercial-relevance to the globe. The country's push to innovate has captured the attention of the world as its pharmaceutical market rocketed up to the number two spot, but the question everyone wants to know is, is it, or isn't it about to make important discoveries?
Generally speaking, the US has long been the global leader in research and development (R&D), producing over half of the world's new molecules in the past decade. Conversely, China has traditionally been recognized as a "me too" and "me better" market, emphasizing low profit margins rather than high-risk drug discovery. Many argue that, despite the government's intense focus on becoming a worldwide powerhouse in the science and technology fields, China's R&D sector remains underwhelming and underperforming on the global stage.
However, drug discovery does not happen overnight, and China's innovation shift is relatively recent. If the average drug development life cycle takes 10-15 years, and China has spent the better part of the past decade making much needed improvements to the necessary foundational elements for innovation to occur, it is only logical that innovative pipelines will need a few more years before we begin to glimpse the fruits of the industry's efforts.
Furthermore, there is evidence to support the notion that innovation is indeed a-buzz within China. China's National New Drug Innovation program saw, during the period from 2011to 2015, a total of 323 innovative drugs approved for clinical research, 16 innovative drugs approved for production, and 139 new chemical generic drugs entering the market. In 2017, Chinese pharmaceuticals obtained FDA approvals for 38 generic drugs, which was up from 22 in the previous year, and China's new CFDA classification system reveals a promising focus on innovative drugs. The number of class 1.1 innovative drugs has grown from 22 drugs five years ago to over six times that number today. Looking at all of the drugs under development in China presently, including those in phases one, two and three of clinical trials and pre-clinical, there are roughly 800, with an approximate 50/50 split between clinical and pre-clinical. This number is up from 240 in 2012, and globally, 800 represents around 6% of drugs worldwide, which was previously at 3%.
The shift in innovation may initially originate from a best-in-class start as companies leverage their capabilities to improve existing innovations, before beginning to shift towards first-in-class compounds. Nonetheless, some movement in this space is already on the rise. "In the past, there was a lot of emphasis on the "me too" model in the project pipelines. Now many have best or first in class projects. There is a new sentiment felt among the Chinese pharmaceutical community that if you want to survive, you must innovate," said Dr. Jijun Yuan, vice president of Genechem, a CRO with drug discovery ambitions and a potentially first-in-class target. "Many companies are looking to list on NASDAQ or Hong Kong, which is a further testament to the high level of innovation we are seeing in China," he added.
International companies tell conflicting accounts of China's ascendance to an innovation-focused market. Indian law firm LexOrbis specializes in IP protection, and has spent several years scouring China's pharma market for potential clients that may benefit from their legal expertise when bringing their innovations to India, but to date has been unimpressed. "Most Chinese companies that are filing applications in China have not taken full advantage of international markets, and many of our peers in the US have expressed the same opinion that while there is some buzz in the area of biologics and biosimilars, not much is happening in the small molecule segment," said Dipak Mundra, partner at LexOrbis. "Many of the patent applications have been focused in areas of technology such as telecommunications, software and mechanical. This suggests that the biopharmaceuticals industry is still very early stage, and it will take time before tangible results begin to emerge."
As Mundra highlighted, it is indeed time that may be the relevant factor in these observations. In contrast, the international clinical trials sector has seen encouraging movement in their business from Chinese companies, particularly those in nearby Australia. "We saw an opportunity in China about 18 months ago based on clients coming to Australia for trials… China clientele now represent over a 1/3 of our business with the US being the other key market. Our US clients are growing rapidly, but China is far exceeding its pace," noted Jayden Rogers, VP global partnering for Linear Clinical Research, a Perth-based specialist phase one clinic. "The interesting trend we have observed is the type of work that is coming from China. Previously, you would not have called what we saw from China particularly novel; it was bioequivalency studies and more generic focused. We are now seeing some of the most cutting-edge innovations coming from China, and we are in a fortunate position to witness the forefront of this innovation through our clients."
The case study of Artesunate is a undoubtedly a watershed moment in Chinese pharmaceutical history, representing a move from "Made in China" to "Created in China." However, the case also well-demonstrates that it will take some time for new innovations to take the market by storm. Nonetheless, China's pharmaceutical industry, from biotechs to small molecule and multinationals to China's big pharm companies, are all intently focused on contributing to the government's vision for a healthier China that plays a leading role global R&D efforts. As Wu Yifang, CEO of Fosun Pharma, pointed out when asked about the company's many CSR initiatives: "As a pharmaceutical company, our most important social responsibility is innovation. There are so many unaddressed medical needs, and we must work hard to solve these problems."
Biopharmaceuticals: The Future of Innovation
Around the world, the pharma industry is increasingly oriented around large molecule research. China is no different, and while TCM and small molecules will remain important to the market for many decades to come, much of the innovation in the country is centered around the potential in the biopharma space. "Every industry experiences a peak and then a dying period, and we have witnessed many of those. Pharma has been traditionally focused on small molecule research, but I believe this area is already over the top because we have discovered that proteins are more precise and typically easier to handle. Biopharma is the area where we are seeing many of the current breakthroughs," explained Dr. Zhi Yang, founder and managing partner of investment firm BVCF.
Big multinational pharma companies have largely been scaling down investments in their in-country capacity, including GSK, Novartis, and Eli Lilly, which all shut-down or cut resources for their respective R&D projects in China according to Bloomberg. However, this is not necessarily an indication that these giants do not see potential in China's R&D sector, but are rather following the global trend towards buying up innovations, with a particular interest and focus on China's fledgling biotechs.
Cross-border deals curated by ChinaBio demonstrate the buzz from multinationals and US-based companies in China's biopharmaceutical industry. Notably, BeiGene and Celgene in-licensed and out-licensed several drugs in a record-breaking U$1.4 billion deal. Janssen Biotech, a J&J subsidiary, in-licensed a CAR-T candidate from Nanjing-based Legend Biotech, a subsidiary of GenScript, with the intention of developing cell therapy for multiple myeloma. In September 2017, Amgen partnered with Simcere to develop four biosimilars. HitGen agreed to a collaboration with Boehringer Ingelheim to identify novel leads, while Xynomic in-licensed a RAF inhibitor from Boehringer Ingelheim in a US$502 million transaction. Many Chinese companies are also looking overseas to bring innovative technologies into China for development of its biopharma space. Zai Labs, a leading Chinese biopharmaceutical company, has a stated commitment to forging alliances with global partners with the objective of developing an innovative biopharmaceutical pipeline in China. Currently, the company has relationships with names including Tesaro, Sanofi, GSK, Paratek and Bristol-Myers Squibb. Zai Labs' near term focus will be to develop and commercialize an innovative biopharma pipeline, and the company intends to further expand its own drug discovery capabilities.
While many companies are currently taking the approach of sending their S&E teams to explore the different opportunities in China's biotech space, many others are taking a step further by investing in its development. For example, in 2019, J&J will introduce its JLABS incubator platform, representing the company's first overseas expansion of this model outside the US. The program in Shanghai will host up to 50 different start-ups and will provide participants with the facilities, network and expertise offered by the J&J enterprise. "JLABS @ Shanghai will help build on and catalyze the region's current culture of innovation and entrepreneurism to ultimately deliver novel therapies for the world's patient population," said Mingde Xia, senior director for J&J Innovation Asia Pacific's New Ventures Greater China program. "We are confident that JLABS @ Shanghai will support a vibrant ecosystem of startups and entrepreneurs with access to the world-class expertise and technology within our global network."
Pushing to compete with multinationals, China's pharmaceutical companies, like giants Shanghai Pharmaceutical Holdings (SPH) and Jiangsu Hengrui Medicine, have been quick to join the biopharmaceutical game as key to their innovation strategies. 3SBio, a Chinese biotechnology company founded in 1993 with a broad focus on biopharmaceutical products, highlights the advantage of its large molecule emphasis: "The policy of "Healthy China" accelerates the development of the biopharmaceutical industry. 3SBio sees the opportunities that innovative drugs are expected to receive more government support and drugs with proven efficacy and superior clinical benefits at competitive costs are more likely to be covered by reimbursement," said Lou Jing, CEO of the company, which already has seven approved biologics on the market.
3SBio has support from the National Important New Drug R&D program under the 13th 5-Year Plan and, as of late 2017, had 16 out of the 31 assets in its pipeline classified as National Class 1 Drugs across areas including oncology, immunology, nephrology, metabolic diseases and dermatology.
Fosun Pharma, a top five Chinese pharma company founded in 1994, has R&D platforms that include 131 assets in the pipeline across innovative chemical drugs, biologics (biosimilars and innovative projects), generic drugs, and cell therapy. Although Fosun operates across the entire health care value chain, with ventures extending from the joint-founding of China's largest distributor Sinopharm to an interest in energy-based aesthetic medical and minimally invasive treatment systems through its successful Sisram Medical subsidiary, the company has also maintained a critical focus on broadening its attention towards biopharmaceuticals: "In 2009, when most Chinese pharmaceutical companies were focused on the generics business, we placed our emphasis on innovation," said Wu Yifang, CEO of Fosun Pharma. "At the time, Fosun Pharma founded Shanghai Henlius Biotech with scientists returning from the US, and the company has grown into a unicorn that has been leading the way in biosimilars and innovative biologics, especially in monoclonal antibodies."
In early 2018, Henlius signed a license agreement with American company Galaxy Biotech for novel monoclonal antibodies (mAbs) targeting the Death Receptor (DR) pathway, authorizing Henlius the excessive rights to the products in the greater China region, with the option to extend the licensed territory to the entire world. Additionally, Henlius' first three novel mAbs have received approval from the CFDA for clinical trials.
Driven largely by the returnees, China's booming biotechnology sector is quickly filling with exciting projects, many of which will begin to come to market in the next three to four years. Several of these companies have already listed, included Zai Labs, BeiGene, Hutchison, and WuXi Biologics, while several others are very close to taking their companies public. Innovent Biologics, a leading biotech company with currently 16 molecules in research, is meant to launch an IPO later this year as well as Hua Medicine, which is focused on diabetes drugs and expected to list at US$400 million in Hong Kong. In the next section, we will introduce some of the key areas of focus in China's rapidly growing biotech space.
Hot Themes in China's R&D Pipelines: Cutting-Edge Approaches and Technologies
Several key factors are driving interest in different areas of research. Meeting unmet medical needs is of course a critical focus throughout the pharmaceutical industry, but in China's increasingly competitive R&D sector, there is also a need to differentiate and distinguish pipelines, whether through a novel approach, target, or technology platform.
Precision Medicine is an approach of growing importance, particularly in oncology as targeted treatments for patients become more popular and better-understood. 3D Med, a leader in China's precision care space, has developed a kind of PD-L1 by subcutaneous administration that is the only one of its kind worldwide. Dr. John Gong, CEO of the company, elaborated on why precision medicine has begun to garner so much attention: "In 2015, former President Obama addressed congress to announce an initiative to emphasize precision medicine. China reacted very quickly, announcing just four months later the Chinese version. However, the investment in the US was only US$5 billion, whereas in China the government dedicated around double that amount. Since then, precision medicine has been very popular in China and many companies in this area have received government funding," he said.
The increase in the popularity of precision medicine correlates with better diagnostic capabilities, which have specifically aided in better defining cancer markets. With between 4-5 million new cancer patients in China each year, oncology remains a critical area of therapeutic focus. Within China's biotech space immunotherapies, and particularly immuno-oncology, have been hot areas for research in line with global clinical trial data that says 44% of trials on immunotherapies are in the oncology space.
Together with precision medicine principles, the potential for CAR-T cell therapies is of particular interest in the immuno-oncology segment. According to PharmExec, in March 2018, Nanjing Legend was the first to be granted clinical trial approval for CAR-T, and Bloomberg reports that globally 1/3 of trials in this space are in China. However, while CAR-T is a hot area that will continue to garner investor interest, the high-risk nature of this early stage research area will also present challenges. "CAR-T is a personalized treatment that works for some tumors, but it is very expensive per person per treatment," added Gong.
3D Med is currently colobarating with Alphamab to develop a PDL antibody that will come in injectable form, the first of its kind in the world.
Leveraging its proprietary Fabs-In-Tandem (FIT-Ig) technology, EpimAb Biotherapeutics has a pipeline focusing on three key areas: second generation target therapy, the next generation of molecules in immuno-oncology that addresses patient response and resistance mechanisms, and T cell engager mechanisms, which is similar to CAR-T, but uses a bi-specific approach as well as the new generation of CD3 and NK-based engagement mechanisms. The company's CEO, Dr. Chengbin Wu, highlighted the difference between CAR-T: "They are based on the same mechanisms of action but with very different approaches. For bi-specific, the T-cell engaging mechanism is one of the many mechanisms of actions that bi-specific can do but CAR-T is only doing the T-Cell engaging mechanism. In terms of areas of application there is a huge difference. With this particular mechanism the advantage of bi-specific is that you can develop a common pharmaceutical drug that can easily be given to patients without retrieving T-cells, allowing for more general application. In China in the current stage, the commercial outlook for developing CAR-T therapy is still in its early stage because you have to rely more heavily on healthcare institutions. The bispecific approach will also need to overcome several hurdles to develop longer lasting, more effective therapies with a better safety profile," he said.
While cancer will remain a focus for the foreseeable future, organ degenerative disorders are another important focus that aligns with the need to address China's aging population. Neurodegenerative and cardiovascular disease areas are hot topics of research and a focus for China biotech Zensun. The company recently raised US$76 million with the objective of taking its lead candidate through the final stages; Neucardin, a heart failure drug, reverses the myofibril disarray to increase heart function.
In addressing organ failure-released diseases, the opportunity to pioneer into the uncharted waters of stem cell therapy has been traditionally under explored. "The nervous and cardiovascular systems are the only two that will never regenerate alone, and this is where therapeutic treatments have a real opportunity to make a difference," said Dr. Jiaxian Wang, CEO of Help, a company focused on Stem Cell-based regenerative therapies that is currently developing regenerated clinical-grade human heart muscles.
However, it is in these newer areas of research focus, like stem cell therapy, that China is well-positioned to make an impact and maybe even surpass the US in the research process. "The US and China are both racing to introduce new developments in technology, but their respective regulatory environments are very different," explained James Irwin, life sciences managing director for Accenture China. "China has a lot less red tape in certain areas such as stem cell research, and limited regulations in place when it comes to AI, which presents an opportunity for them to take the lead."
China's strength at the moment is more on the development side of R&D, however, its discovery capabilities are only growing stronger. In progressive areas like stem cell research, as well as gene therapy, where there has been little emphasis globally, China has the opportunity to take advantage of an even playing field. With an ever-increasing stockpile of innovative technologies and a growing network of talented scientists intently focused on innovation, it will merely be a matter of time before China begins to produce some of the most cutting-edge drugs. Until then, we discuss in the next section of this publication the importance of boosting the capacity of its innovation ecosystem towards accelerating this objective.