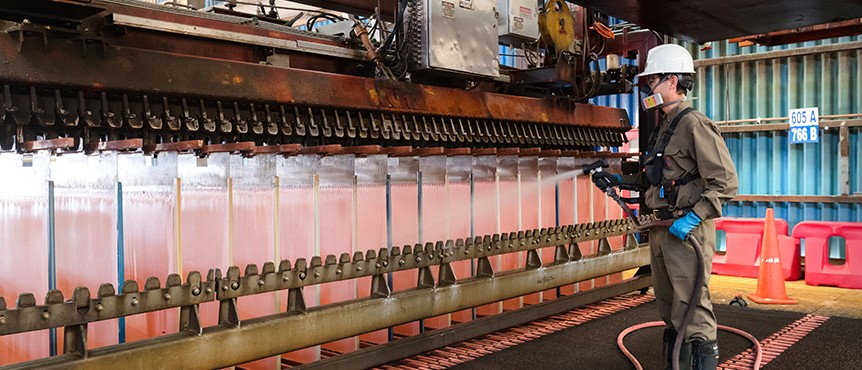 Image courtesy of Freeport McMoRan
Is copper the new oil? The red metal has traditionally been a bellwether for the global economy, but in the last two years a combination of dwindling physical stock, medium-term supply deficit, and bullish long-term demand fundamentals have driven copper prices to all-time-highs.
The downward trend in copper inventories at Comex, Shanghai and LME warehouses since 2018 is threatening supply. Although new production coming online in 2022 from projects such as Teck Resources' Quebrada Blanca 2 (QB2) in Chile and Anglo American's Quellaveco in Peru should see 2023 levels increase, a deficit is expected from 2025 onwards.
It is not uncommon to face supply gaps, but what is different now is the challenge the industry is facing to swiftly bring projects into production. Speaking at the 2022 World Copper Conference in Santiago, Erik Heimlich, head of base metals supply at CRU, suggested that the global copper industry needs to spend more than US$100 billion on new developments in order to close an annual supply deficit forecast to be 4.7 million tonnes (t) by 2030. In other words, building eight projects the size of BHP's Escondida in Chile, the world's largest copper mine, over the next eight years. To say this is unlikely would be generous at best.
On April 7th, a report from Goldman Sachs stated the world is "sleepwalking towards a stockout", pointing to an extreme fundamental turn for copper, as for the first time in a decade stocks on exchanges declined through March instead of rising during what is the metal's main seasonal surplus phase.
All of the above, and in particular copper's integral role in the energy transition, points to higher copper prices. "The world will need twice as much copper in the next 30 years as it has used in the last 30 years," stated Ragnar Udd, BHP's president – minerals Americas.
As the world's biggest producer, Chile has a generational opportunity to leverage its endowment for the benefit of its population and all stakeholders involved in the country's copper value chain. However, to capitalize on this, vast investment and streamlined development is needed.
Chile, which accounts for over a quarter of global copper output, saw a production decrease of over 7% in both January and February 2022, compared to the corresponding months in 2021, according to the State Chilean Copper Commission (Cochilco). While production is set rise in 2023 on the back of QB2 seeing its first full year of production, a dearth of major near-term projects in Chile's copper pipeline underlines the urgency for action. The inertia brought about by the current discussions surrounding the new constitution, while understandable, is causing delays to investment decisions.
For investments currently underway there is no shortage of capital available. State-run Codelco, the world's largest copper producer, announced pre-tax profits of US$7.4 billion in 2021 compared to US$2.1 billion a year earlier. The company produced 1.728 million t of copper in 2021, combining its own production of 1.618 million t with its stake in Freeport's El Abra and Anglo American's Sur. Codelco's current investments include the Rajo Inca expansion, which will extend life at the company's Salvador operations to 2070.
Iván Arriagada, CEO of Antofagasta plc, discussed the Phase 1 expansion of the company's Los Pelambres project, which is due to be completed in 2022: "As mining progresses at Los Pelambres, ore hardness will increase. The Phase 1 expansion is designed to compensate for this, increasing plant throughput from the current capacity of 175,000 t/day of ore to an average of 190,000 t/day."
Arriagada revealed that the expansion will increase annual copper production by an average of 60,000 t/y over 15 years, helping optimize throughput within the limits of the existing operating, environmental and water extraction permits, and creating up to 2,000 new jobs during construction.
Freeport McMoRan, the world's third largest copper producer behind Codelco and BHP, is working on ramping up production at its El Abra mine in Chile to pre-pandemic levels, which it expects to achieve later in 2022, according to Joshua Olmsted, Freeport's president and COO – Americas. Olmsted commented that Freeport is in the process of constructing a new leach pad to stack material on at El Abra and aiming for production in the range of 200 million to 250 million lb/y. He added: "The focus of the ramp-up process now is to revert back to a 24/7 way of operating, which is all about planning and scheduling rather than overcoming any technical hurdles."
When asked about the company's strategy for expansion in the Americas, Olmsted emphasized Freeport's focus on organic growth through expansion projects such as an extension of the open pit and the transition to sulfides at El Abra. "El Abra is a world-class resource that we have been drilling for many years to gain a better understanding of the ore body. It is a significant opportunity for us long term on the sulfide side," he added, noting that there has been a lot of work historically on the engineering side, but in 2022, the focus is on being prepared to submit an EIS for the mill sulfide project, as well as ongoing stakeholder engagement.

Monetizing an environmental liability
Both the demand for copper and the timeline it takes to move projects from exploration to production are increasing. To meet demand, the traditional means of production are insufficient and innovation is required. Clayton Walker, Rio Tinto's COO of copper, remarked that 100 million t of copper is estimated to be trapped in tailings deposits globally, which represents an opportunity for incremental production through reprocessing.
This is an opportunity that Amerigo Resources (TSX: ARG), through its Chilean subsidiary Minera Valle Central (MVC), has been working on since 2003. "We used to produce around 25 million lb/y Cu, but have grown this figure to 63 million lb Cu in 2021. This was achieved by investing US$300 million into the facility, doubling the capacity of our concentrator plant, and incorporating the rights to process historical tailings," explained Aurora Davidson, Amerigo's president and CEO.
Amerigo gets its material through a contractual relationship with Codelco's El Teniente division, the largest underground mining operation in the world, where MVC has the rights to process fresh tailings and a series of historical tailings deposits. "Essentially, Amerigo works with an environmental liability – tailings – and extracts further economic value from that by producing copper concentrates," said Davidson, noting that MVC is by no means a small operation, as a tremendous amount of material has to be processed given the low grade that by definition is contained in tailings. "In many ways, we are more of a copper factory than a mining operation."
Under the leadership of Davidson, Amerigo has focused on improving margins and has overcome critical water supply issues through investments such as thickeners that increase water circulation efficiencies. In February 2022, the company announced record revenue, which poses the question of what potential there is to replicate this business model at other mines in Chile?
"I think that when the decision makers at mining companies start adjudicating the potential value of their existing tailings and see them as an opportunity to top up production, rather than just a liability, there could be tremendous opportunities for Amerigo given its existing operational experience," said Davidson.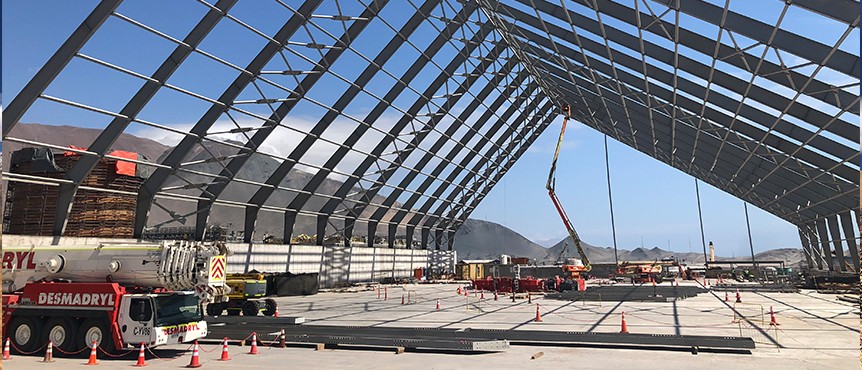 Image courtesy of Teck Resources
Chile's development pipeline
The importance of large mining development projects goes beyond production figures. Interviewing companies throughout the whole value chain for this report, the opportunities that projects such as Teck Resources' Quebrada Blanca Phase 2 (QB2) or Antofagasta's INCO development represent to Chile's vast ecosystem of suppliers and the thousands of families that live from this income cannot be understated.
QB2, one of the world's largest undeveloped copper resources, is currently under construction and set to start production in the second half of 2022, according to Don Lindsay, Teck's president and CEO, who described the project as the first step in Teck's copper growth strategy that will be transformational for the company. "Once in production, QB2 will double our consolidated copper production by 2023 and significantly reweight our portfolio more towards copper at a time when we see significant rising demand fueled by the transition to the low-carbon economy," said Lindsay.
Lindsay also provided details of the Quebrada Blanca Mill Expansion (QBME) prefeasibility study and potential for Phase 3 expansion, which would add another 150,000-plus t/y of copper equivalent production as early as 2026—increasing throughput by at least 50% and leveraging existing QB2 project infrastructure to its fullest. "The pre-feasibility study (for QBME) is expected to be complete by the end of this year," affirmed Lindsay, noting that QB2 only uses around 18% of the 2021 reserve and resource tonnage and the vast, long-life deposit is large enough to support multiple expansions, which we will be looked at moving forward.
Another of Chile's standout development assets is Capstone Copper's Santo Domingo copper-iron-gold project. In 2021, Vancouver-based precious metals streaming company, Wheaton Precious Metals (WPM), acquired a gold stream at Santo Domingo for US$290 million. Randy Smallwood, president and CEO of WPM, referenced the company's long-term relationship with Capstone's executive chair Darren Pylot, having optioned him his first property in 2002/2003 when he started building Capstone, and suggested that the Santo Domingo transition is an example of WPM's philosophy of maintaining strong relationships with its partners beyond the financing agreement. He concluded: "We were honored to be selected to again work with Capstone and see the Santo Domingo project as very exciting, especially considering the potential scale of the project and variety of metals it contains."