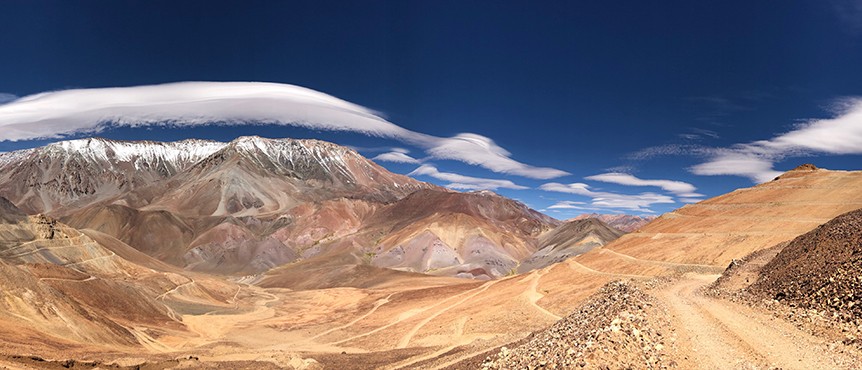 Image courtesy of Atex Resources
The world is hungry for copper and its appetite looks set to increase. A February 2022 report from Bank of America global research analysts forecast that the copper market will flip back to a deficit from 2025 onwards following the completion of the current wave of project buildouts. Vanessa Davidson, head of copper research at CRU, also sees as supply gap from 2025, with the majority of demand set to come from outside China, particularly in Southeast Asia and India, but also North America and Europe as green technologies and the transition to electric vehicles really start to take off.
Even in the near term, sluggish financial markets in China in April 2022 failed to dim copper's shine as the price of the red metal hovered around the US$4.50/lb mark after reaching record highs in early March. In addition to the expected supply gap and future demand being baked into the price, one of the reasons for copper's performance has been the lack of exploration success in recent years and the timeline to move projects into production.
Two of the three standout junior success stories in the last two years have been South American copper plays. In 2021 Solaris Resources' market cap rose above C$1.5 billion on the back of sustained, near-surface high-grade drilling results at its Warintza project in Ecuador. In April 2022 Filo Mining's market cap reached C$2.5 billion as it continued to advance its Filo del Sol high-sulphidation epithermal copper-gold-silver deposit on the border of Argentina's San Juan province and Chile's Maricunga belt.
Speaking at the World Copper Conference in Santiago, Ragnar Udd, BHP's president of minerals – Americas, cited the company's recent C$100 million investment in Filo Mining as the type of early-stage entry BHP is willing to make to grow its copper pipeline. However, the pertinent point about assets such as Filo del Sol and the reason they hold such a premium is their scarcity.
"There is a huge amount of appetite for exposure to copper but the playing field of potential companies for the market to talk to is small. Investors cannot find many projects that have a short timeline to production as well as the ability to be financed without partnering with a major mining company," reflected Hayden Locke, president and CEO of Marimaca Copper (TSX: MARI).
Marimaca is currently advancing its namesake copper oxide project near Antofagasta with a heap leach SX/EW approach that means it does not need to desalinate water and will be able to process a refined grade A copper cathode, lowering project capex and putting Marimaca in the first quartile of global copper mine site emissions intensity. Due to the company's exploration success in 2021, management has had to adapt timelines to what it believes is likely a materially larger deposit, according to Locke. "The original depth of the Marimaca oxide deposit (MOD) was approximately 250 m to 300 m, but the MAMIX drilling has potentially more than doubled the depth of the project, with leachable material at the bottom of the open pit," detailed Locke, adding that it is an obvious focus to get into a resource that the company can then use in the DFS, which is expected in the second half of 2022. "This will allow us to both increase the scale of the project in terms of copper production and also the life of mine."
Another of Chile's more advanced juniors is Hot Chili Limited (TSXV: HCH), which reported a resource upgrade for its Costa Fuego copper-gold project headlined by a 67% increase in the total indicated resource and a 53% increase in the high grade indicated resource. Costa Fuego comprises the Cortadera, Productora and San Antonio deposits, all of which have updated mineral resource estimates and are close to one another at low-altitude elevations, 600 km north of Santiago. The updated resource totals 927 million tonnes @0.45 Cu Eq., and the company intends to deliver a combined PFS in Q3 2022.
Project financing is expected to kick off in Q1 2023, and to that end, Hot Chili appointed Nicole Adshead-Bell to its board of directors in March 2022. Adshead-Bell brings over 25 years of capital markets experience, including time at Haywood and Dundee Securities, and is currently a non-executive director of base metals royalty and streaming firm Altius Minerals Corp.
Christian Easterday, Hot Chili's managing director, spoke of how new meaningful copper supply is "fast becoming a mirage," adding: "Hot Chili is well positioned to deliver into the forecast supply gap and contribute to the decarbonization super cycle, particularly due to Costa Fuego's lower economic hurdle resulting from its low elevation location and proximity to existing infrastructure, including abundant grid power with high renewables contributions."
One of the newer study-stage juniors active in Chile is World Copper (TSXV: WCU), which listed in January 2021 and owns the Escalones and Cristal projects in Chile, as well as the Zonia project in Arizona. The company released a PEA for Escalones in February 2022 showing a US$1.5 billion post-tax NPV and a 46.2% IRR at a US$3.60/lb copper price, with a payback of 2.18 years. Escalones is an SX-EW oxide heap leach operation, located 97 km southeast of Santiago and 35 km east of El Teniente, with an estimated US$438.4 million capex from construction decision.
Nolan Peterson, World Copper's CEO, remarked that the resource included in the PEA for Escalones is only half of what the company believes to be the overall resource. He elaborated: "The other half has seen no historical drilling, but geologically it is clear that it is an extension of the main resource. There is also deep sulphide potential as well as three other copper porphyry skarn targets to the northeast that have never been drilled."
Marcelo Awad, World Copper's executive director, explained that most of the companies that held Escalones in the past were drilling very deep in search of a sulfide deposit, without paying sufficient attention to the oxide layer. He discussed the company's exploration targets for 2022: "We also discovered an area of yellow color, our primary target called Mancha Amarilla, which we believe to be part of the main oxide deposit that has tremendous potential."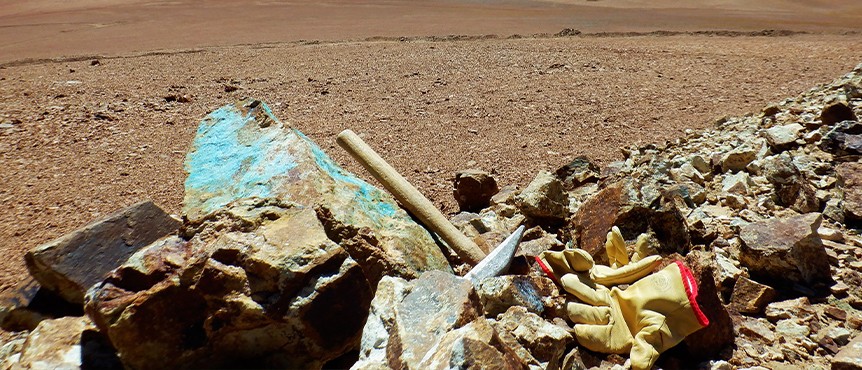 Image courtesy of Pampa Metals
Early-stage copper gold porphyry opportunities
For investors with a bigger risk tolerance and those hunting for the elusive multi-baggers, the early-stage end of the junior market is where the best returns can be found. These companies are also the lifeblood of an industry in dire need of new discoveries, particularly after a period where majors have preferred to extend brownfield operations rather than allocate budget for greenfield exploration.
"The biggest value-add moment for investors is the transition from exploration to discovery," stated Timothy Beale, director of Pampa Metals (CSE: PM), the Canadian junior with a portfolio of eight projects in northern Chile, with a focus on porphyry copper gold targets. "There are not many junior companies like us currently doing grassroots exploration," he added.
Austral Gold (TSXV: AGLD), Pampa's JV partner at its Morros Blancos and Cerro Blanco projects, started its first drill test at Morros Blancos in January 2022 and is drilling five diamond core holes totalling 2,000 m at the Rosario del Alto high-sulphidation gold-silver target. Pampa Metals will be drilling its Cerro Buenos Aires project later in 2022 and has been trenching to expose more of the porphyry intrusion and quartz-veinlet stockwork at its Block 4 project, which Beale suggested could be a significant drill target in the near future. Pampa's Block 3 project, like Block 4, lies along the Domeyko Cordillera copper belt – host to three of the world's top five copper mining districts, and is currently undergoing early-stage exploration work.
When asked about the future of the gold industry, Tom Palmer, president and CEO of Newmont, pointed to the importance of deposits that contain both copper and gold: "When it comes to decarbonization, as gold operations are developed you will see more copper-gold mines coming online, such as Yanacocha."
High-sulfidation oxide gold deposits with a large copper porphyry layer underneath are a feature of Andean geology and can host the scale to attract major companies. ATEX Resources (TSXV: ATX) was formed in 2019 and immediately acquired its flagship Valeriano copper gold project, which is located in a new emerging belt, the Link Belt, between the famous Maricunga and El Indio districts. Raymond Jannas, president and CEO, explained that from historic results, ATEX's exploration work and complete relogging of all the drill holes, the company believes that Valeriano has many similarities to Filo Mining's Filo del Sol project. He elaborated: "Both have high sulphidation copper mineralization progressing in depth into hypogene porphyry mineralization hosted in Permo-Triassic rhyolites as the host rock."
The company also has significant backing. Craig Nelson, ATEX's chairman, previously established Metallica Resources with Pierre Lassonde, who was the lead investor in a private placement that raised C$8.5 million for ATEX in December 2021. ATEX's share price rose from C$0.10 in October 2021 to over C$0.75 in April 2022 as the market anticipates results from three holes being drilled into extensions of the known high-grade mineralization zone. Looking to the year ahead, Nelsen summarized: "We hope to have successfully hit on our three exploration holes and will be able to demonstrate the makings of a significant deposit."
Shawn Wallace, executive chair of Torq Resources (TSXV: TORQ), revealed that the company acquired its Margarita IOCG and Andrea copper porphyry assets as entry projects into Chile, but the main reason they came to the country was for the acquisition of the Santa Cecilia project, which was completed in November 2021 and is expected to become Torq's flagship asset.
Santa Cecilia is located approximately 100 km east of Copiapó, in the southern region of the Maricunga belt, immediately adjacent to the Norte Abierto project which compromises of the Caspiche and Cerro Casale gold-copper porphyry deposits, collectively containing proven and probable reserves of 23.2 million oz Au and 5.8 billion lbs of copper. "Results from two historical drill holes and additional surface and geophysical work support the logic that the project has a similar mineral system to Norte Abierto, and we believe we can make a discovery that will be attractive to a major mining company," said Wallace.
The real potential that Torq is trying to unearth is whether Santa Cecelia, sandwiched between two major projects that are currently suspended, can tip the economic scale for the entire complex. "There are technical attributes to the project which suggest this could be the case," stated Wallace, explaining that on top of the porphyry system discovered through the two historic drill holes there is an oxide gold cap that was uncovered through a small drill program by a major mining company in the late eighties. He added: "Our next steps are to drill off the porphyry to establish economic viability, while also outlining the potential of the gold system on top. We also believe there is another potential porphyry on the boundary between Caspiche and Santa Cecilia, and will identify targets to make this discovery."
Another copper-focused junior active in northern Chile is Solis Minerals (TSXV: SLMN), which has undergone a restructuring over the past 12 months to focus on Latin America, disposing of some non-core assets in Canada and Mexico and rebuilding the team around a focus on exploration and development projects in Chile and Peru, according to Jason Cubitt, president and CEO.
Solis has a 100% option on the Mostazal copper project, which hosts an undrilled classic copper porphyry target along with significant high-grade copper-silver mineralization at surface. "We see great opportunity to develop both of these targets and plan to prioritize the interpreted porphyry target, but will also advance the identified stratabound mantos-style mineralization, which is reported as a historical drill-indicated resource," detailed Cubitt.
In February 2022 the company reported widespread copper sulfides logged in the first two holes of its maiden drill program at Mostazal from its initial phase of the campaign comprising four holes for an estimated 2,000 m of drilling.