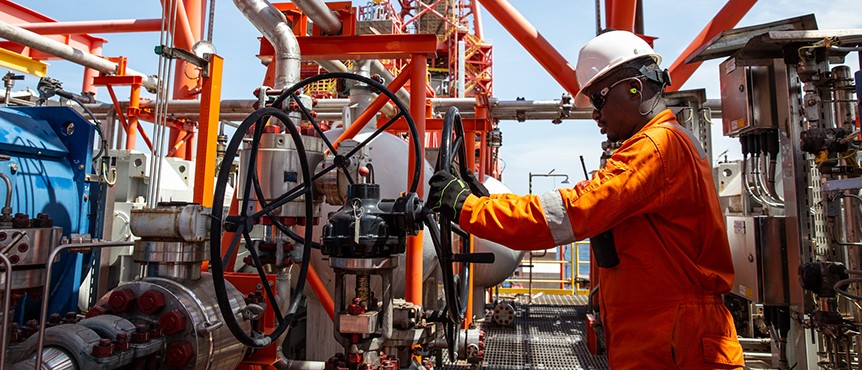 Image courtesy of ENI
If ever a nation deserved a change of fortune, it was Mozambique. The US$2 billion Tuna Bonds scandal in 2016 plunged the Southeast African republic into its worst financial crisis since independence in 1975; in 2019, tropical cyclones Idai and Kenneth destroyed large parts of the city of Beira and the province of Cabo Delgado; and 2020 needs no explanation.
However, the development of vast deposits of non-associated gas in the Rovuma Basin has positioned Mozambique for a brighter future of economic growth. Having an asset is no guarantee of success, as illustrated by Tanzania, which found a minimum of 30 tcf (trillion cubic feet) of gas months after the Rovuma discovery in 2010 – a project that remains undeveloped. Indeed, Rovuma was not built in a day, but the July 2020 announcement that Total had secured US$15.8 billion to fund development at Area 1 is a tangible landmark.
To put the scale of Mozambique's LNG development into perspective, the funding secured by Total in July represents the biggest foreign direct investment in Africa to date, which is larger than the entire GDP of Mozambique (US$14.93 billion in 2019, as per the World Bank). Furthermore, when factoring in Exxon's Area 4 FID, which is expected to arrive in 2021, and Eni's investment into the Coral South project, a total figure more than triple the nation's GDP is a conservative estimate.
Total's project includes the development of the Golfinho and Atum fields in the offshore Area 1 concession, containing more than 60 tcf of gas, and the construction of a liquefaction plant with a capacity of 13.1 million tons per annum. Initial production is expected by 2024.
In July, Standard Bank announced it had invested US$485 million in the Mozambique LNG project. Paul Eardley-Taylor, responsible for oil and gas coverage for Standard Bank in the Southern Africa region, detailed that the bank is lending money in two tranches: the ECIC (Export Credit Insurance Corporation of South Africa) facility for South African content that will be used in the project, and the overall commercial lending facility. "We hope this sort of financing will be the template for Rovuma LNG in the next 12 months and future projects going forward," he revealed.
Despite the obvious challenges 2020 has brought to the development of Rovuma LNG, including a lack of demand that has caused gas prices to fall and investment capital across the industry to be reduced, Eardley-Taylor believes the outlook started to improve from July. "Some big green shoots of recovery have emerged. If you cut global capex out of the industry, which has happened, EPC prices drop for both onshore and offshore work. Therefore, we expect the target prices for both elements to be reevaluated and requoted during the course of 2020, before FID in the second half of 2021."
Lorenzo Fiorillo, Eni's EVP for West Africa, provided an update on the company's activities at Rovuma LNG, where Eni will operate the offshore part of the project, which comprises of 24 subsea wells. "At the moment we are optimizing the development plan to create synergies with Area 1," he said, adding that the updated project and a new FID date will be selected based on the result of the optimization phase.
Regarding Coral South, Lorenzo related that the project is progressing steadily, with the construction of the CoralSul FLNG 70% complete by March 2020. "By Q4 2021, the FLNG will be ready to leave the port, with planned start-up in H1 2022 and first cargo by H2 2022. At 3.4 million tpa LNG over a period of 25 years, it is a significant project and the first one to put in production Mozambique's gas resources."
Militants threaten LNG development
On August 12th, 2020, Ahlu Sunnah Wal Jammah (ASWJ) militants captured the port of Mocimboa da Praia, according to a report from Moz24Horas. This was the third time militants had seized the port, situated 60 km south of the Afungi peninsula, and a key logistical piece for the development of Mozambique LNG. The seizure was indicative of a rising extremist insurgency in the north of the country, where the sophistication and resilience of ASWJ continues to stifle an ill-equipped and under-funded Mozambican military. "The momentum is firmly with ASWJ and without significant regional assistance, substantial financial commitments and major structural reform it is unlikely that the Mozambican army will manage to substantially turn the tide in their favor in the next six months," stated Alexandre Raymakers, senior Africa analyst at Verisk Maplecroft.
Having claimed over 1,000 lives since 2017, ASWJ have grown in strength in 2020, with opportunistic attacks on operators and suppliers at Mozambique LNG now becoming a distinct possibility. To what extent has this impacted project development? "There has been a huge increase in terrorism in the Northern region, but even with this, work has continued," said Chivambo Mamadhusen, CEO of Mozambican firm Grupo Videre, observing the ramping up of activities at Area 1, with Total chartering multiple Solenta flights in July to take workers from Maputo to Pemba and Pemba to site.
Although work has continued, terrorism in Northern Mozambique has become the elephant in the room that should concern all stakeholders involved in the project. Considering the scale of the investment and its importance to the region, a more coordinated effort between the government and private industry is required to stamp out an insurgency that is threatening to derail progress at Mozambique LNG. In a statement, Minister of Mineral Resources and Energy, Ernesto Max Tonela, affirmed that security measures will be bolstered to create a safe operating environment for partners like Total, enabling ongoing investment into Mozambican industry. The hope now is that rhetoric will be backed up with action so that the tide can turn against the increasing terrorist threat.
Creating a US$5 billion service ecosystem
With Area 1 FID in place and Area 4 expected in the next 12 months, it is no longer in doubt that a robust value chain able to support gas development in Mozambique will be required. The question now is what type of ecosystem will be created and what will it look like once its finished?
"We have been very clear that there will be a Qatari style value chain created in Mozambique in the coming years. It is public domain that there is US$5 billion of local content as an opportunity from the first two onshore projects alone," stated Standard Bank's Eardley-Taylor, with reference to Qatar's industry-leading Ras Laffan gas complex.
According to Chivambo Mamadhusen, CEO of Mozambican firm Grupo Videre, the commitment to local content is sincere: "At least for the preliminary works so far, the IOCs have been taking local content into account. For Area 1, all the aggregate has been awarded and is coming from Mozambique, a lot of the logistics will be provided by local companies, and at least 90% of the preliminary employment (such as drivers and security) is Mozambican."
Indeed, the sudden disruption to international logistics in March underlined the importance of being able to rely on suppliers in the local value chain. However, there have been and will be business casualties because of the pandemic and market weakness: "Many local companies will have lost contracts in 2020, but I do not believe this is through bad faith or a lack of commitment," related Jacinto Mutemba, CEO of Mozambican company Belutécnica, which is due to complete its new workshop in Maputo in 2020.
Rather than hand out contracts on the basis of a simple local content quota, Mutemba thinks the government needs to focus on building a robust platform and climate for local players to grow: "The central bank's role on monetary policy must ensure you do not have small companies sourcing financing at 20% interest rates in Mozambique, competing in the same market as US or European companies working with 0% interest rates," he said.
Mamadhusen related how in March, Grupo Videre had been negotiating to confirm partnerships for Area 1 where Total is the main operator, and Area 4, where Exxon is the main operator. However, delays were incurred due to the coronavirus. "We are now expecting an FID in late 2021," he said, adding: "Regarding the delays at Area 4 on the Exxon side, most of the expats did not leave because of COVID-19, but because they were fired."
Even Area 1, which has continued, will likely be less profitable for suppliers than first thought: "The issue for many services providers now is that everybody seems to be coming back to the table for repricing and hopes for a good margin are getting lost," concluded Mamadhusen.
During our 2020 research and interviews in Nigeria and Angola, nothing pricked up the ears of service providers as much as the mention of Mozambique LNG development. For a nation starting from scratch, the opportunity for experienced service companies from abroad to open up entities with Mozambican partners and share industry expertise with local knowledge offers a tantalizing opportunity. Considering its proximity and trade ties with Mozambique, South Africa has the most to gain, but taking into account cultural ties and oil and gas know-how, Angola is perhaps the best fit to assist the burgeoning service sector in northern Mozambique.
One of the Angolan players making headway in Mozambique is maritime services company Octomar, which is taking an aggressive approach to developing the Mozambican arm of its business, called M-Octo, according to general manager, Ri. "M-Octo has pre-qualified with various companies with the objective of participating in oil and gas tenders that are due to be launched in the next three months," elaborated Ricardo do Amaral, general manager of M-Octo, adding that the company has established a partnership with a Mozambican company to penetrate the market more efficiently, and is in the process of shipping some assets from Angola to Maputo, with the potential of moving them to Pemba. "Octomar wants to replicate its Angolan business in Mozambique and we see it as a key area for growth," concluded Amaral, commenting that Mozambique is easier to operate in than Angola from an oil and gas standpoint, as it is currently less regulated as a new player in the industry.
Foreign service companies can also rely on the support of a banking system keen to get involved with the highest potential regional development, as Eardley-Taylor illustrates: "Standard Bank would encourage global companies with experience in LNG projects to move to Mozambique. We would be happy to help you and believe there is an enormous prospect to build a very large industrial complex in Northeastern Mozambique along the lines of a Ras Laffan."
As both the African continent and the oil and gas industry look to recover from the impact of COVID-19, progress at the generational Mozambique LNG project offers a timely beacon of hope.