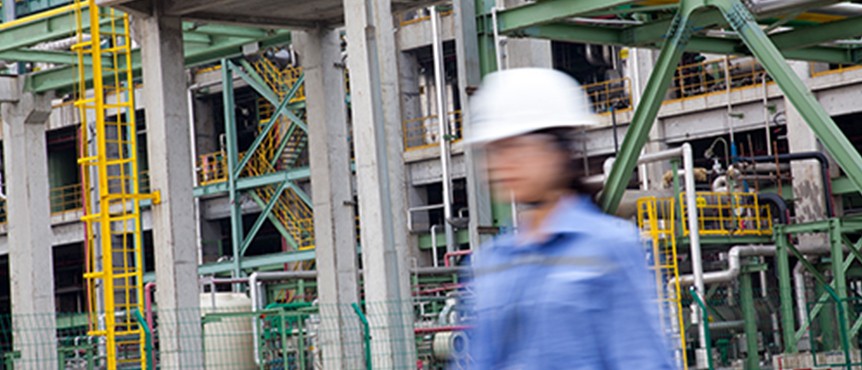 China's 6.7% growth rate is hardly a new topic of conversation; some refer to this as the superpower's "new normal". What is often referred to as China's chill, or the giant's slower growth, has spurred a ripple effect across the region and the world. The state's industrial overcapacity, coupled with lower demand, has stalled many players' success, including those serving the chemical and petrochemical industries. Falling external demand has resulted in fewer green field projects in Singapore and beyond, pushing more players across the world in new directions. According to the Ministry of Trade's (MTI) Economic Survey of Singapore 2015, external demand grew at a slower rate of 2.5%, compared to 4.3% in 2014. As an air of global economic uncertainty continued to weigh on investor confidence, total private gross fixed capital formation in the country also declined by 2.2% in 2015, extending the 5.2% contraction in 2014.
In an era characterized by falling demand, fewer new builds, increasing investment costs and heightened competition, chemical majors are curbing capital expenditure and focusing on operational excellence. New economics have profoundly impacted members of Singapore's engineering, procurement, construction, management (EPCM) and services ecosystem who are diversifying their offerings to remain competitive, and fighting hard to improve productivity and stay in the game.
"Some Association of Process Industry (ASPRI) members might have experienced a decline in their business as a result of the current economic situation. As oil prices are lower, a significant amount of plants have put their projects on hold and work volumes have declined significantly, resulting in a very competitive market," said general manager of ASPRI, Chantal Quek.
To combat these external challenges, industrialists are looking outside the scope of their traditional business models and pursuing opportunities in other geographies. Global EPCM firms such as WorleyParsons, for example, are catering to new demands by being nimble and adding services to their existing suite. In July of 2015, the Australian engineering firm launched its Advisian business line in Singapore, which targets asset intensive businesses operating within the hydrocarbons, minerals and metals, chemicals, power and infrastructure sectors with niche technical and management consulting services. Advisian enables WorleyParsons to guide its customers through their entire project life cycles, by addressing their permitting, quantitative risk assessment (QRA) and environmental risk assessment needs, and helping them maximize production, reduce operating costs and generate maximum profit.
Providing an enhanced integrated offering is popular, as players seek to fill gaps and reduce risk for their customers. In June of 2016, another global player AECOM brought its famed construction services line to Southeast Asia to offer customers a complete service and a different delivery model. The construction services line enhances AECOM's existing environmental and design offering, and allows the firm to provide their customers with a fully integrated delivery. Instead of engaging multiple players, clients in Southeast Asia can now turn to a single entity, resulting in less risk and cost savings.
"More clients are requesting fuller services, as they do not want just one piece of advice; they prefer an integrated service offering instead. AECOM's strategy behind piecing everything together is that traditionally there have been many cracks between contracts, for example between design and build, whereas in an integrated offering, there is nowhere to hide," explained senior vice president and managing director of AECOM's Asia Pacific Environment business line, Bengt von Schwerin.
A single delivery model allows companies to generate savings internally as project managers can administer fewer developments. It also allows clients the flexibility to remove layers of overheads within the supply chain and manage risk more actively.
Today, newer ways of packaging are not limited to services, but also extend to the physical parceling parts of the plant. Firms such as McConnell Dowell are utilizing smart construction techniques to reduce costs for clients and boost productivity, a key focus area for the local government. As an example, modularization allows companies to leverage lower cost centers by building parcels in other countries, to reduce costs and circumvent manpower shortages in the city-state. "As part of the engineering solutions we offer to our clients, McConnell Dowell also utilizes modularization as frequently as possible. Modularization takes place off-site or in fabrication facilities outside of Singapore, reducing man-hours in Singapore and improving both productivity and efficiency. For example, we have recently shipped large modules to Singapore from one of our facilities in Australia," said managing director at McConnell Dowell, Murray Dundas.
But with only two major projects in progress on Jurong Island at present, other firms are turning their attention towards maintenance provision. Dutch heavy lifting company Mammoet is now offering its maintenance expertise to the chemical industry in Southeast Asia, as the firm increases assistance with plant shutdowns and turnarounds. Mammoet is investing in smaller cranes to serve a more diverse selection of clients. "There is currently a need to refocus our business and diversify away from oil and gas and expand upon our competitive advantage. We have diversified our crane range for instance, to address evolving customer demands," said managing director of Mammoet Asia Pacific, Robin Koenis.
However, as companies look to delay maintenance projects and shut down cycles, demand for maintenance services has also contracted by roughly 30% since 2015, putting downward pressure on service rates. Competition is fierce and the lack of work volume is compounded by Singapore's tight labor market. Firm efforts on the part of the government to reduce Singapore's dependency on foreign workers have left many contractors without a sufficient workforce. "With limited capabilities, resources, land and manpower, smaller firms find it difficult to increase facility utilization and service efficiency," said CEO of Huationg Holdings, Jimmy Chua.
Instead of permitting companies to rely on cheap labor, policymakers have put forth incentives to encourage innovation and productivity. Notwithstanding a strong drive from the top to increase productivity growth—which until last year has been flat or negative—companies across the process, construction and management sector continue to struggle without sufficient human resources. Heightened competition for work packages, coupled with a lack of manpower are forcing companies to think differently.
Fortunately, the resilient city-state and its stakeholders are taking steps to ride out the economic downturn. Firstly, with regards to labor, specialized foreign worker accommodation facilities are being built proximate to Jurong Island, specifically for the struggling process industry. "ASPRI-Westlite Papan stems from the Association of Process Industry (ASPRI)'s vision and initiative to build Singapore's first dedicated workers accommodation with an integrated training center to contribute to the sustainable growth and productivity of the Process, Construction and Maintenance (PCM) industry," explained group chief executive officer of accommodation provider Centurion, Kong Chee Min.
Workers housed within ASPRI-Westlite Papan will receive 48 hours of heavily subsidized training each year, as well as functional and specialized on-site training, incur reduced travel time to work on the Island, and potentially clear security within the dormitory itself. This initiative, combined with those spearheaded by the Process, Construction and Maintenance Management Committee's (PCMMC) Productivity Council, have been fired up to improve the process industry's productivity through the introduction of best practices, mechanization and benchmarking.
"Mun Siong Engineering is involved in the ASPRI-Westlite Papan project as well as the Process, Construction and Maintenance Management Committee (PCMMC) initiatives, which successfully address labor issues in Singapore. As a testament, our workers are among the first batch to move into the dormitory upon its opening in June," said executive director of Mun Siong Engineering, Quek Kian Hui.
The state is also working to mediate adverse effects of the economic slump. Cognizant of the challenges associated with a tight labor market, in the 2016 budget the government granted a reprieve from foreign worker levy hikes to the struggling process sector. The budget also addressed the need for Singapore's small and medium sized enterprises (SMEs) to scale up, and consequently included schemes to promote automation and internationalization. Notwithstanding policymakers and associations' valiant efforts to spur recovery, the reality is that until external demand picks up and rebalances supply, competition will remain squeezed. "As Southeast Asian neighbors present investors with lower cost alternatives, Singapore needs to innovate and enhance cost competitiveness with its high quality and efficiency-driven service offering," emphasized Quek.
And Singapore is doing just that. By tirelessly leveraging and enhancing its strengths, the island nation has continued to attract fixed asset investment (FAI) to its shores. According to the MTI's Economic Survey of Singapore 2015, manufacturing garnered the most FAI commitments relative to other sectors despite the challenging external environment. Within the sector, the chemicals cluster attracted the largest amount of investment—$3.6 billion, or 32% of total FAI.
"We are still seeing investment in areas where customers are able to leverage existing assets into producing differentiated products, or where customers are looking for security of intellectual property. Customers are looking to build on existing investments as opposed to building new greenfield projects," said director of hydrocarbons and chemicals Southeast Asia at WorleyParsons, Matthew Spalding.
As Singapore continues along its higher value added production journey and weathers the economic storm, EPCM contractors and service providers will have to continue to adapt, innovate, and vie for a smaller piece of the pie.