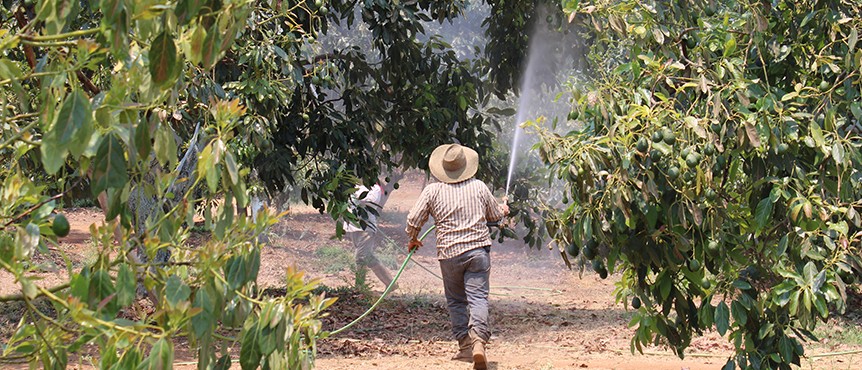 Image courtesy of AMVAC
Pick up an avocado in a North American or European grocery store and the chances are that the sticker will reveal its Mexican origins. This is no coincidence – Mexico's agricultural companies spent years investing in campaigns to market the high-value crop to foreign consumers, ultimately quadrupling the country's total export volume of avocados from 1990 to 2016. Across a plethora of products, the Mexican agriculture industry continues to grow to satiate the appetite of a rising global population.
Mexico, currently the world's seventh largest producer of agricultural products, has the benefit of plentiful labor and relatively low production costs. Perhaps more importantly, the country enjoys a diversified climate that supports year-round growth. Plentiful high-quality harvests have led to a surge in foreign demand for high-margin Mexican produce like avocados, tomatoes and berries. The country is now the third-largest agricultural trading partner with the US, having increased the amount of exports to its northern neighbor by over 400% over the past twenty years and totaling US$33 billion in 2020.
In contrast to Mexico's petrochemical industry, which has become a net importer, Mexican food exports achieved a US$12.3 billion surplus in 2020, exporting US$40 billion compared to US$27 billion in imports.
"Besides Mexican agriculture aimed at the national market, which consistently increases proportionately to the population, high-tech production aimed for the export market, which is so important for the country's GDP, has been very dynamic and increased yearly," observed Fernando Vera Hernández, director general of Grupo Versa, noting how investment has greatly professionalized Mexico's agriculture industry.
Empowering farmers to tackle food security
Technology and training have been the pillars of Mexico's agricultural evolution. Javier Valdes, managing director of Syngenta Mexico, reflected on how innovation has revolutionized the sector: "When I started in this industry, farmers weeded corn crops manually with a hoe, which was laborious work that took up weeks. Syngenta made a technological transformation by changing manual control to herbicides. Now, with a sprinkler backpack the farmer can control one hectare in a day without help."
Valdes pointed out that this transformation means farmers can spend more time on other economic activities, and also highlighted its positive ecological impact. He compared the minimal impact of current processes to the previous manual control which moved the soil, and with the rains, that loosened soil ended up in a river or the sea.
Indeed, as well as being the unseen agents that make Mexico's agro-export economy scalable, agrochemical technologies play a key role in the sustainability of farming. With the same amount of land, producers are tasked with increasing their yields in a way that will not deplete the environment for future harvests.
"By 2050, we need to increase our crop productivity by 70% in the field. We do not have enough additional land to do that, so we need to think about how to increase productivity," said Marco Salcedo, director general of AMVAC in Mexico.
AMVAC is reviewing its portfolio to see which products can be replaced in the future with new technologies: "For example, we just launched an initiative called Smart Soil, which combines chemical and biological concepts to help prevent soil depletion and improve control of specific problems, such as Fusarium in agave."
Carlos Jurado, Latin American North business director at FMC, revealed that the company aims to have completely sustainable products by 2025, and intends to double its current US$9 million per year sales in biologicals in the next three years. He underlined the importance of making synthetic chemistry and biologicals work in unison: "Nowadays all farmers are combining both technologies, and that is something we need to take advantage of."
Citing some of the products FMC plans to launch in Mexico in 2022, Jurado gave the example of Arc, a technology that predicts insect pressure, which won the best farm intelligence platform at the Crop Science Forum & Awards in 2021. "It is an app that brings together different technologies for the farmer, including weather, satellite monitoring and monitoring with traps, to help produce better harvests and make better decisions in the rational use of agrochemicals. For example, it has heat maps that indicate when the biggest larvae explosion of cotton bollworm in corn will occur."
The Arc platform is already being used in Brazil, and testing in Mexico began in Sinaloa in November 2021 with the Mexican launch due in 2022.
Ana Claudia Cerasoli, president of the Meso-Andean region for Corteva Agriscience, an NYSE-listed company formed as a result of the merger between DuPont Crop Protection, DuPont Pioneer, and Dow AgroSciences, spoke about Corteva's mission to "empower farmers to tackle food security". The Global Food Security Index (GFSI), developed by Economist Impact and sponsored by Corteva, measures the level of food affordability, availability, quality, safety, and more recently, natural resources and resilience across various countries. Research by the GFSI found that during the past 10 years, Mexico has improved its availability of food significantly, but there has been a decrease in accessibility, mainly due to the average cost of food and farming in the country.
"Corteva understands that its innovation should be focused on understanding the challenges farmers face in the field," stated Cerasoli, explaining that the company's Latin America HQ in Guadalajara and five R&D centers in Mexico look to develop products that are best adapted to agricultural conditions in the region.
She gave the example of Salibro, a new nematicide Corteva is planning to launch in 2022: "Salibro controls parasitic plant nematodes and helps support a healthy crop root system. This is critical to maximize water and nutrient utilization and provide the opportunity of realizing yield potential in the crop."
Nery Echeverría, Bayer Crop Science's head of sales for Mexico, noted that a great deal of the company's research generated in Mexico is exported to other countries. Explaining how Bayer Crop Science's global research on seeds creates applications based on each country's needs, Echeverría gave the example of Short Stature Corn, known in Mexico as Vitala System: "It is a hybrid with a specialized architecture that provides more lodging resistance and higher optimization of ground and water use. This contributes to sustainability by producing more tons per hectare, while other technologies provide more efficient water use."
In addition to producing more tons per hectare, Bayer Crop Science's agrochemical and biological products follow the trend of looking to reduce the chemical load necessary. Echeverría summarized: "Less chemicals per hectare makes for more sustainable production."
"The use of nutrients and plant growth regulators have been developed and researched a lot more these past few years by plant physiology researchers," commented César Parada, director general of Valent de México, the subsidiary of Valent USA, which was formed through a joint venture between Sumitomo Chemical Company and Chevron Chemical Company.
Parada explained that Valent's Plant Intelligence concept develops the potential of crop production using nutrition and bio-stimulation products. "It has allowed us to offer distributors and the people who take care of the crops additional tools like amino-acids and nutrients to help fight the stress a plant suffers and achieve a better yield."
The development of new technologies would be obsolete without successful adoption in the field, and to this end, collaboration throughout the agricultural value chain is necessary. Jorge Alfredo Casas García, director general of commercialization and marketing at distributor Agri Star México, spoke of the role distributors can play to facilitate technology transfers in the industry. Agri Star has been providing farmers in the less developed southeast of Mexico with access to technologies and training for corn, beans, sugar cane and vegetables so they can produce more from their land. "One of the challenges we faced is that farmers tend to be older folk who manage their production with their own traditional parameters and have a limited acceptance of new technologies. With this in mind, we looked for projects with more short-term impact to display benefit quickly, which are more likely then to be adopted," explained Casas.
He gave the example of corn seeds; to go from a creole seed to a high-performance seed for a reasonable cost Agri Star gathers evidence for the farmer to compare and understand that if they invest more they can get a higher profit. "We are seeing regions making progress on this front, as is the case of Oaxaca, that is moving from corn to agave for the production of mezcal."
Cumbersome government regulations
Having conducted interviews with many of the leading agrochemicals producers, distributors and associations for this report, the consensus amongst interviewees is that the industry has been growing in spite of government regulations – one of the largest factors slowing the growth of Mexico's agribusiness. Within the AMLO administration, various governing bodies direct agrochemical policy. While the Federal Commission for the Prevention of Health Risks (COFEPRIS) authorizes the use of particular substances within the country, it is the role of the Agriculture and Rural Development Secretariat (SADER) to design agricultural policies that influence the use of these agrochemicals.
Within Mexico's agribusiness, the prevailing sentiment is that these bodies operate with considerable delay in processing registrations for the use of new chemicals. Grupo Lucava's president, Manuel Gurrola, pointed to the inefficiencies within COFEPRIS' operations in particular. Grupo Lucava has over 40 submitted applications awaiting COFEPRIS approval, and Gurrola voiced his frustration: "This slows down the whole industry and plays to the detriment of the Mexican field because products like glyphosate are not allowed in, even with all the permits in order."
Cristian García, executive director of the Association of Crop Protection, Science and Technology (PROCCYT), an organization that represents 70% of the crop protection industry in Mexico, commented that glyphosate is an agricultural tool that has been used in Mexico for over 40 years. "Like other crop protection products, it was subjected to many years of investigation and rigorous analysis from authorities in human health, environment health, and agricultural health," he said, noting that even agencies with very strict requirements, like the FDA (Food and Drug Administration) and EPA (Environmental Protection Agency), have tested glyphosate without finding any harmful side effects.
The only other country that prohibits the use of glyphosate is Vietnam, which does so on religious grounds, and García lamented misinformation being spread by activists who started a campaign against this molecule and other pesticides. "These activists are acting in favor of what they call 'agro-ecology,' meaning the use of only organic and biological products, which are not bad in themselves but fail to present the only solution for the agricultural industry."
Luis Eduardo González, president of the Mexican Union of Agrochemicals Manufacturers and Formulators (UMFFAAC), weighed in on the subject, commenting that the industry lacks clearly defined laws and guidelines that allow agrochemical players to access new molecules internationally, which would offer farmers more sustainable alternatives and more economically viable products: "The federal government has limited the budget, but this would not be a problem if private industry had the access to the tools for pest and disease control verified, certified and regulated faster and with clearer norms."
A common theme amongst chemical manufacturers is that the AMLO administration bases its policies more on ideology than on research-driven findings. Fernando Hernández of Grupo Versa feels the government fails to understand the value of agrochemicals within the overall food chain: "I like to compare our industry with the pharmaceutical industry. If you are not sick, you do not need medicines, but when you have some illness or condition, you need to find a solution. It is the same with plants. However, medicines are widely approved while agrochemicals are not."
Combating the use of illegal pesticides
For the Mexican government to more effectively regulate its agrochemicals industry, a greater emphasis on combating the widespread use of illegal pesticides is necessary. Luis González of UMFFAAC articulated his concern on the serious damage illegal agrochemicals are causing the country: "Authorities are not taking it as the national security issue it is because their priorities are Covid and other political issues. Regarding the vigilance and prosecution of the illegality of plant protection products – they have done nothing."
González warned that the government's neglect of the subject could risk Mexico's position as an agriculture exporter, giving the example of Costa Rica's previous problems with cantaloupe melons that stopped them trading that product for several years.
To illustrate the prevalence of the issue, Nery Echeverría of Bayer Crop Science detailed that over 15% of the agrochemicals used in Mexico are estimated to be illegal, representing over US$200 million per year. He reflected: "This seriously harms the farmers' productivity, the whole industry chain, the environment and the consumer."
Francisco Ortiz, general manager of Altiara, a Mexican producer of adjuvants and bio stimulators, explained how government actions have actually contributed to an increased use of illegal agrochemicals in recent years: "The government halted its operations against companies that sell without a COFEPRIS authorization around three years ago. As a result, this market has multiplied. Each year we hold a census at Amocali to legally and ethically collect containers; we have discovered around 500 companies selling unregistered products, which represents a real health risk."
While acknowledging that government inaction is partly responsible for the spread of illegal pesticides, Arturo Quijano, operations director of ANAJALSA, also pointed out that suppliers from foreign countries like China and even consumer behavior also play a role. "The final consumer knows perfectly well when they are buying an illegal product because the price is much lower than an alternative product that complies with regulations."
Quijano believes that the problem stems from a lack of education, as many people do not realize that this behavior hurts everybody. "At the end of the day, we all consume food. The food we eat could be produced with these illegal products. Culturally, we do not acknowledge the consequences," he said.
Rising fertilizer prices highlight the need for feedstock development
The scarcity of raw materials for the chemical industry is widespread, but perhaps the most concerning lack of feedstock relates to fertilizers – a global issue already causing food shortages, which has showed no signs of abating in 2022. The World Bank's Fertilizer Price Index saw an increase of 163.9% from January to December 2021, reaching its highest level since 2008.
Fertilizers are a means to multiply the production of grains, oleaginous plants, and ultimately livestock and derivates. The breadth of food production enabled by such fertilizers – from crops, fruit and vegetables to plants, meat and dairy – illustrates the importance of maintaining a solid supply of feedstock. When events cause global supply chains to falter, this importance is magnified.
"30 years ago, Pemex used to produce a surplus of sulfur, a basic raw material, and ammonia. Unfortunately, nowadays we have a deficit in both raw materials," lamented Nicolás Xacur, director general of Mexican fertilizer producer Agrogen.
To paint the current picture, Xacur recalled the days he started the business when Mexico produced 1.1 million mt/y of sulfur; half a million tonnes of which were destined for the local market, with the rest being exported. "As for ammonia, in the petrochemical complex in Cosoleacaque, Veracruz, enough ammonia was produced, and some surplus was exported."
Today, Mexican production of sulfur has dropped to between 250,000 to 280,000 mt/y. For ammonia, Cosoleacaque produces intermittently and in very small amounts, which forces companies to import from the gulf coast of the US, increasing the costs of production. "If raw materials have to be imported to later export the finished product, profits are marginal".
Rocío Gaytán, commercial director of Fefermex, another of Mexico's fertilizer producers, analyzed the fundamentals that have caused fertilizer prices to skyrocket. She explained that in 2021, natural gas contracts in Europe and the US that were not covered caused the closure of several factories that produce some highly necessary fertilizers, resulting in higher prices for new agreements. Other products like phosphor and potassium chloride also suffered shortages and sharp price increases.
Gaytán voiced her concern that most Mexican farmers do not have the liquidity to buy the fertilizers at these prices. "Although grain prices skyrocketed in the US during the second quarter of 2021, the Mexican farmers were not so lucky. If they buy supplies at these prices and the market changes before they sell their products, they could go broke."
Unlike US competitors that can borrow at 3% interest, Mexican banks are far more cautious, especially during the pandemic, and the result is a lack of available credit. Looking ahead, Gaytán warned of consequences that seem difficult to avoid: "This is a global situation, and it is clear that a lack of fertilizer production and high prices will result in a shortage of food products."
To conclude, Luis González of UMFFAAC stated that better education is needed regarding where food comes from, with real, scientific basis: "The pandemic made it clear that the food industry is far more important than any other. For instance, oil will eventually lose importance and run out, but people will never stop eating."