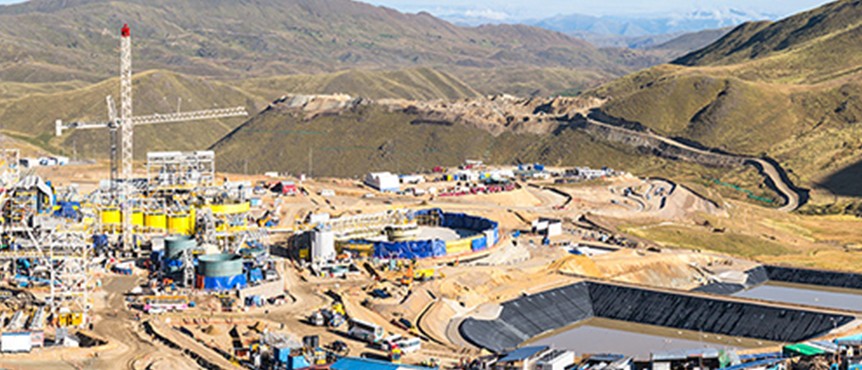 Copper and Gold Projects
If there is any indication that the majors have regained their interest in investing in exploration, it begins with Goldcorp's recent acquisition of Exeter Resource Corporation, which was completed in August 2017. Chilean Metals is also one of the early beneficiaries of the majors' attention, having sold its Copaquire project to Teck in exchange for a 3% NSR royalty. The company still has five properties, the priority being the Zulema copper-gold project, which they believe to be analogous to Lundin Mining's Candelaria mine.
TriMetals Mining is expected to begin a 20,000-meter drilling program by mid-2018 on their Escalones copper project, for which they have already published a 43-101 resource. The company was waiting for a more favorable market to begin drilling, but the 2018 campaign is expected to bring the project to the pre-feasibility stage. "At the moment, Escalones, which is located near El Teniente, has 6.5 billion pounds (lb) of copper equivalent at a grade of 0.38%," said Felipe Malbran, TriMetals' vice president of exploration. "Our aim is to take the project through the development process, likely with an equity partner or as a joint venture, if it makes the most sense at the time."
Hot Chili has already completed a pre-feasibility study on its Productora copper-gold project, and the company has spent a total of US$100 million on the project's development. In May 2017, Hot Chili, along with joint venture partner Compañía Minera del Pacífico, a subsidiary of CAP Mining, began a drilling program with the aim of expanding the mine life before beginning a definitive feasibility study. "Productora is currently at a resource base of 1.5 million tonnes (mt) of contained copper and 1 million ounces (oz) of contained gold," said Christian Easterday, managing director of Hot Chili. "The project will be a large-scale, open pit, sulfide and oxide operation producing approximately 70,000 mt of copper and possibly up to 30,000 oz of gold per year."
Also nearing production are Altiplano Minerals's Farellon and Maria Luisa projects, which the company earned into via a joint venture with Comet Exploration. While the joint venture was only announced in 2017, both projects are close to production because the artisanal miners who previously owned them had already completed a significant amount of permitting and drilling. According to Altiplano's CEO, John Williamson: "At Farellon, we have now completed 320 meters at a 15% decline, and we have drilled 18 holes along the copper-gold vein structure. Our goal is to get to 400 meters by the end of August 2017. At Maria Luisa, we will be conducting underground and surface drilling programs by the end of September 2017. The underground program is expected to be up to 650 meters underground development. We are hoping to get both projects into production by the end of 2017."
Prospect Generators
Two copper-gold exploration companies in particular, Mirasol Resources and Revelo Resources, decided to take advantage of recent economic conditions by staking significant land claims in Chile at relatively inexpensive costs following the prospect generator model. Mirasol currently has an active joint venture in Chile with Yamana Gold, known as the Gorbea joint venture, as well as a number of non-joint venture projects in northern Chile that are potential epithermal precious metal properties. Between the company's Gorbea joint venture and Ocean Gold joint venture in Argentina, Mirasol plans to have approximately 6,000 meters drilled by the end of 2017. According to Stephen Nano, CEO of Mirasol Resources: "In Chile we are actively seeking joint venture partners for a number of our projects that include the Rubi and Odin copper projects. Both of these projects are very prospective and are receiving strong interest from copper producers."
Similarly, Revelo Resources has recently signed letters of agreement with two precious metals producers. In June 2017, the company signed an agreement with Hochschild for the option and eventual sale of 100% of the Loro property, and in July 2017, it signed a letter agreement to sell two projects, San Guillermo and Reprado, to Austral Gold. Revelo's complete portfolio includes 26 projects totaling 300,000 hectares and 40 drill targets. "Our Montezuma copper-gold project is probably our flagship project, but we are also particularly excited about Loro, as it has all the characteristics of an epithermal precious metal vein prospect similar to Yamana Gold's El Peñón mine," said Tim Beale, CEO of Revelo Resources. "Regarding other copper projects, we are very excited about Morros Blancos, which is very close to our San Guillermo project. Morros Blancos has two very large hydrothermal alteration zones with very strong characteristics of the upper parts of porphyry copper systems."
International Majors
Another indication that Chile's exploration potential is alive and well is the presence of companies that are producers in other countries. Gold Fields, which has mines in Peru, Ghana, South Africa and Australia, is in the process of completing the pre-feasibility study for their Salares Norte gold project. "Gold Fields started working on Salares Norte in 2009, and the first gold discovery was made in 2011. Since then, we have been progressively increasing our efforts and we have thus far drilled about 100,000 meters," said Max Combes, Gold Field's country manager in Chile. "As of now, and should we proceed, our strategy is to take the project into production ourselves."
Orosur Mining, the operator of the only producing mine in Uruguay, also acquired an early-stage gold asset, Anillo, through an earn-in agreement with CODELCO. According to the terms of the deal, the company has until 2022 to complete a pre-feasibility study and they are being funded by Asset Chile, which is covering most of the financing up to US$3.5 million. "Asset Chile has until December to decide whether to move into phase two. They must get to the end of the second phase to consolidate an earning, which gives them a significant incentive to go onto the next phase," said Ignacio Salazar, CEO or Orosur. "Our long-term goal is to eventually bring the asset into production, but if it makes more sense for somebody else to do so, then we are open to it."
Lithium Projects
While it is understandable that Chile has been historically known as a "copper country," it would be a mistake to not also consider Chile a "lithium country." Chile is the world's largest lithium producer and the Salar de Atacama region alone contains 27% of the world's total lithium reserves. SQM, however, is no longer the only company in on the secret. Lithium exploration company LiCo Energy Metals has recently completed a geophysical survey on the Purickuta project and plans to drill to a depth of 300 meters before the end of 2017. "What is unique about our plan at Salar de Atacama is that we are looking to implement direct extraction technology instead of the traditional evaporation pond model," said Malcolm Bell, LiCo's vice president of exploration. "Our hope is to see if the property can support about 4,000 mt of lithium carbonate per year using this technology."
Wealth Minerals is also a new arrival to Salar de Atacama, having acquired a land position there of 46,000 hectares in 2016. In less than two years, Wealth Minerals has acquired five projects, including Salar de Atacama, Laguna Verde, Trinity, Five Salars and, most recently, Seven Salars, which includes Salar de la Isla, where the company in a 50/50 partnership with Talison, which is operated by Albemarle.
Salar de Maricunga is home to the largest pre-production lithium project in Chile. Bearing Lithium, formerly known as Bearing Resources, signed an agreement to acquire Li3 Energy and its 17.7% stake in the Maricunga lithium project in January 2017. The project, which is 50% owned by Lithium Power International and 32.3% owned by Minera Salar Blanco, has already had US$30 million spent on its exploration over the past five years, and the joint venture plans to complete a definitive feasibility study in 2018. "In the most recent resource update, the resource increased nearly four-fold from 600,000 to 2.2 million mt, while maintaining exceptionally high grades," said Jeremy Poirier, CEO of Bearing Lithium. "It is the highest-grade undeveloped lithium brine project in the world."
Private Equity
Private equity is a less common path to funding in the mining industry than standard private placements, joint venturing, or an IPO. Given that risk mitigation is a priority in this type of business model, however, it should be no surprise that some private equity investments in mining exist in politically stable jurisdictions, such as Chile. International private equity firm Denham Capital, a nearly $9 billion fund, has invested in Santiago Metals, whose flagship project, Delirio, is a copper porphyry system that is currently going through the permitting process.
Mandalay Resources has also followed the private equity model since it was set up by Plinian Capital in 2009. Mandalay's Cerro Bayo mine in southern Chile was in care and maintenance when it was acquired in 2010, and Mandalay spent US$23 million on its acquisition and reopening. The mine life was quickly extended from three years to ten, and Cerro Bayo was in production from 2010 until mid-2017, when one of the veins flooded and the project was put on temporary suspension.
Minera Activa, a local Chilean private equity firm, has taken a more domestic approach, focusing only on Chilean mining projects. The company's first fund in 2008 was well known for its successful exit of the Dominga mine, which is now owned by Andes Iron. Minera Activa is currently on their third fund, which includes the Pampa Camarones copper project. The company purchased 90% the project in October 2016 for US$18 million, and they recently received the results of their latest drilling campaign. "With mid-sized projects like Pampa Camarones, you can increase reserves without significant expenditures," said Minera Activa director Ignacio Del Rio. "Through selective mining, we are able to mine with twice the grade while maintaining total cathode production."
As the copper price continues to surge, having recently reached a three-year high of $3.11 per lb as of September 6, 2017, and lithium remains in high demand, Chile's exploration portfolio should receive the influx in investment capital required to move many of these projects forward. As the quality of Chile's deposits have already been proven by the more mature mines, now is as good a time as any to invest in what could be the next major mine in Chile.