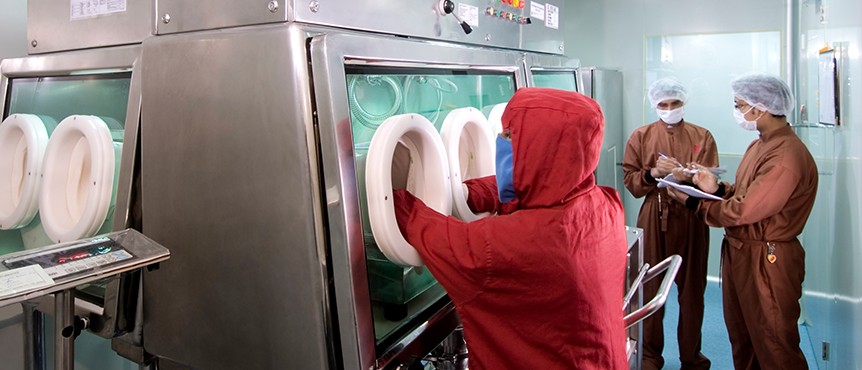 Image courtesy of Naprod Life Sciences
The generic drugs industry continues to strengthen itself as a key pillar of India's burgeoning economy. As the largest provider of generics in the world, the sector contributes to 40% of the United States' generic demand with Indian companies receiving 304 Abbreviated New Drug Application approvals from the United States Food and Drug Administration (USFDA) in 2017. Moreover, the industry exports to almost every nation, and has significant footprints in all the highly-regulated developed markets.
The pharmaceutical industry in India, unlike the country's chemicals, petrochemicals, oil & gas and mining industries, is one of the most fragmented comprising of well over 10,000 companies. This is testament to the size of the market and country, as well as a pharma ecosystem that has collaborated very well over many years. "It is a matter of pride that many of the SMEs of yester years have become large-scale national companies now," underlined Daara B. Patel, Secretary General of Indian Drug Manufacturing Association (IDMA). "We regularly coordinate with the Government to support progress in our SME sector, and today, there are over 2,000 WHO GMP approved plants. It is estimated that another 1,000 SMEs will be WHO-GMP compliant in the next 3 to 4 years, which will add to the growing strength of the industry. Indian firms accounted for 35-40% of the global USFDA 971 approvals in 2018."
The reign of India's large national players
Although the market continues to diversify with new players springing up from within India as well as internationally, a handful of national players continue to have a sizeable footprint in the domestic and international generics industry. Piramal, Torrent, Cipla, Sun Pharma, Aurobindo, Dr. Reddy's and Glenmark, to name a few, represent a number of the success stories in India's pharma industry landscape. With the biopharmaceutical industry rapidly evolving across the globe, inorganic growth has been an important part of company strategy for expanding footprints, retaining market share and moving into new areas of the value chain. For example, Torrent acquired Bio-Pharma Inc. (BPI) in early 2018 – its first acquisition of a manufacturing site outside of India – to diversify and strengthen its product pipeline. "Established in 1992, BPI has a proven track record in the research & development and manufacturing of oral solutions, suspensions and suppositories," underlined Jinesh Shah, director at Torrent Pharma.
Aurobindo has been particularly focused on cementing its global positioning in the market by preparing the acquisition of Sandoz's dermatology business and three manufacturing units in the United States for US$1 billion – the largest deal of its kind for an Indian pharma company if all goes through. "In terms of inorganic growth, this year we expect to complete two major acquisitions, Apotex's Europe business acquired in February 2019, and one involving Sandoz which may happen by the end of 2019," said Sanjeev Dani, COO and head of formulations at Aurobindo. "These acquisitions will help us not only to scale up, but also to expand into therapeutic areas (dermatology), access new markets (Eastern Europe) and sustain our future growth."
Indeed, a number of the larger players are looking at acquisitions in key markets across the globe. The generic landscape is rapidly changing with cost pressures slowing down domestic offtake, pricing pressures in developed markets such as the United States and Europe, as well as pricing pressures being introduced in India. Moreover, regulatory bodies are demanding stricter compliance, pushing up compliance costs. All these factors are making the larger Indian players conscious of how best to evolve from their current offering. "In the current market, there is opportunity in specialty drugs, and companies that are willing to set up contract research or manufacturing for specialties rather than pre-existing high-volume drugs would be more likely to benefit," underlined Naresh T. Raisinghani, CEO and executive director of BMGI India, a global consulting company that sees about 15% of revenue from its India operations coming from the pharmaceuticals industry. "I would also advise to focus strongly on reliable quality and being ahead of the curve on FDA requirements, to rapidly establish yourself," he continued.
A number of the pharma multinationals continue to increase their footprint in the Indian market as well. With a growing population and middle-class, as well as a rapidly increasing population of elderly people, the Indian market is full of opportunities for MNCs. GlaxoSmithKline, Roche, Bristol-Myers Squibb and Novartis are just a few of the international companies that bring their expertise to the Indian market. "Bringing global expertise and innovation to India assures the availability of innovative treatments and options for better disease management and a better standard of care that would not be available otherwise," remarked Lara Yumi Tsuji Bezerra, managing director of Roche Pharma India. "With our local strategy in India we are able to focus on access to medicine and are able to bring diverse knowledge to support local stakeholders. This approach has helped us go beyond the traditional approach and helped impact more lives."
Slowing of global avenues: India's exporters change tactics
While India's pharma exports grew by 11% in FY 2019 and appear to be promising, the industry is increasingly facing problems across its export markets. This has been underpinned by several changing global market dynamics as well as pressures faced at home in the domestic arena. Price erosion has made it more difficult for low-cost manufacturers in India to justify their margins as the price of generics formulations falls globally. Furthermore, efforts by Governments to promote the development of their own national pharmaceutical industries in key markets across Latin America, Sub-Saharan Africa and Southeast Asia have made the playing field more challenging as exporters encounter increasingly rigid regulatory policies. "The two major reasons for the cost pressures are slowing down of the domestic offtake and pricing pressures in developed markets such as the United States and Europe, in addition to some of the pricing pressures also being introduced in India in the domestic markets," commented Raisinghani. "This is further compounded by regulatory bodies demanding stricter compliance, which are leading to higher compliance costs," he added.
Indeed, the United States – a key destination for India's generic exports – has made it increasingly costly and time-consuming for generic producers across the globe. This is in part due to the prescription drug user fee act (PDUFA), which requires pharmaceutical companies to pay fees ranging from US$1.5 million to US$2.7 million when submitting a candidate for approval. The bottom line is that India's manufacturers are seeing slimmer margins and losing their global cost-competitiveness. Further to that, the challenges faced by Indian pharma companies in the United States are growing in other aspects as well. The United States recently ended India's Generalized System of Preferences Status (GSP) – a tariff reduction on imports – after President Trump determined that India did not adequately meet his trade demands.
The USFDA has been more critical whilst carrying out inspections of manufacturing facilities, giving warnings to a number of Indian national players. Moreover, companies exporting to the United States and Europe will need to become fully compliant with the track and trace requirements being imposed by various regulatory agencies to ensure quality pharmaceutical imports by preventing counterfeiting. Whilst the U.S. Drug Supply Chain Security Act (DSCSA) was enacted in Congress on November 27th 2013 with the aim of making drug products safer by creating a framework for enabling pharmaceutical product traceability, its implementation has been far slower than expected. Even though serialization has not been completely enforced yet, Indian players should be prepared for it in both the European and U.S. markets.
Despite the changing dynamics across the global industry, there is a lot to be positive about. India's export growth for FY 2019 was one of its highest growth rates in the last decade. While margins may be reducing due to the extra costs and regulatory fees, on average, Indian drugs cost 33% less in comparison to their U.S. counterparts, bringing much needed relief to the notoriously high healthcare prices in the United States and elsewhere. Moreover, the margins that Indian suppliers can earn in the United States are higher than those they can achieve in the more saturated Indian market. There are also ample opportunities presenting themselves across Asia for India's pharma players, especially as talks of a free-trade agreement (FTA) with the Eurasian Economic Union and Regional Comprehensive Economic Partnership in Asia progress.
As a protectionist tide sweeps across the globe, the Indian pharmaceutical industry needs to continue evolving. For the industry to retain its position as the largest generic drug supplier, it must continue improving regulatory compliance of manufacturing sites, as well as developing cost-effective and high-quality manufacturing processes. Reducing the industry's dependence on the imports of APIs, key intermediates and starting materials will be key to sustaining its global leadership position.