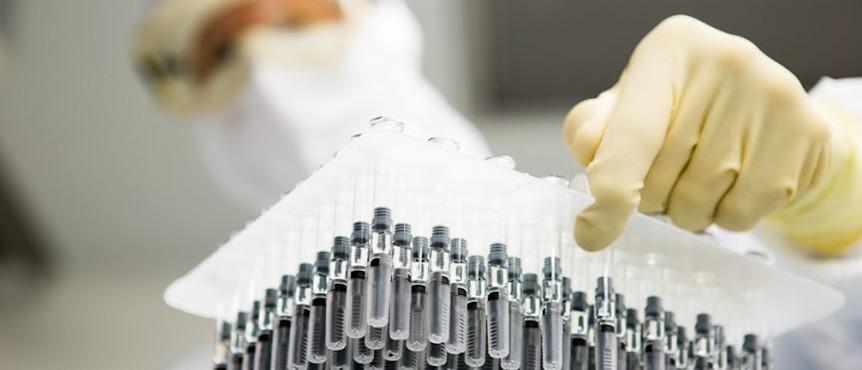 Image courtesy of Ajinomoto Bio-Pharma Services
The CDMO industry has been continuing on its path of exponential growth. Fueled by the redundancies of large pharma's manufacturing lines when drugs have failed before reaching the commercial stage, and the increased costs of developing and manufacturing new drugs, outsourcing manufacturing capabilities to CDMOs increasingly becomes the norm. In fact, the global contract manufacturing market is expected to grow at a CAGR of 7.2% between 2017 to 2023, according to Market Research Future, outpacing the overall growth of the pharmaceutical sector. Moreover, outsourcing penetration is set to increase from 30% in 2018 to 40% by 2020, according to Kurmann Partners.
There is a growing trend of CDMOs and CMOs looking to offer a one-stop-shop for the development and commercialization of drugs. In recent years, the CDMO space has consolidated as a result of large pharma wanting to work with fewer suppliers. As of late-2018, the top five CDMOS – Lonza, Catalent, Patheon (acquired by Thermo Scientific in August 2017 for US$7.2 billion), Recipharm and Siegfried – accounted for 15% of overall market share. However, this is far less than the top five CROs, which control 70% of market share, according to Kurmann Partners. Medium to large CDMOs are acquiring smaller companies to either complement their strengths, increase market access or fill any gaps they may have within their service offering. For example, Argonaut Manufacturing Services – a contract manufacturing provider based in San Diego – recently acquired LyoGen to expand its reagent lyophilization capabilities. Moreover, PCI Pharma Services acquired three companies – Millmount Healthcare, Pharmaceutical Packaging Professionals (PPP) and Sherpa Clinical Packaging – in three different geographies – Dublin, Ireland; Melbourne, Australia; and San Diego, California respectively – to gain more market access and strengthen its market position. "PCI has long desired to be geographically present in the West Coast of the United States, and Sherpa Clinical Packaging proved to be a very attractive opportunity," highlighted Justin Schroeder, senior executive director for global market and design at PCI Pharma Services. "Sherpa is a provider of clinical trial supply services and with efforts including supporting small and emerging clients. Our relationship with Sherpa strengthens the company's position as a leader in outsourced clinical support services and further offers our clients a rapid pathway to execute their early stage studies."
Acquisitions are not the only path CDMOs are taking to enhance their service offering. CordenPharma has complemented its cGMP facilities in Europe and the United States with a new US$20 million commercial aseptic fill and finishing injectable plant in Caponago, Italy. Whilst some continue to grow organically, others are using this time to rebrand. The company formerly known as AGC Asahi Glass has integrated itself under the single AGC Biologics brand, following the acquisitions of CMC Biologics and Biomeva. Also following this trend is Ajinomoto Bio-Pharma Services, a CDMO headquartered in San Diego, which has rebranded itself to provide its large and small molecule clients access to a broader range of services. "Today, we offer small molecule API manufacturing in Europe, later-life-cycle small molecule API manufacturing through a 50/50 joint venture with Granules India, and large molecule biologic production in San Diego, California," highlighted David Enloe, president and CEO of Ajinomoto Bio-Pharma Services. "We have also added highly potent bio-conjugation and final fill and finish services in San Diego as this space is significantly growing. Moreover, in 2019, Ajinomoto aims to combine its oligonucleotide manufacturing entity – GeneDesign - with Ajinomoto Bio-Pharma Services."
One of the key shifts in the CRO and CDMO landscape is how contract service companies are offering more of a holistic service to biotechs and integrating themselves at earlier stages of their development timelines. With hundreds of biotechs looking to outsource their development and manufacturing in the key hubs of San Diego, San Francisco and Cambridge-Boston, contract service companies are looking at how best to serve them. More and more, contract service companies are offering quasi-consulting services and guidance in areas such as regulation and commercialization. Although there is a long-standing trend of contract service providers diversifying their service offering, CDMOs, and especially CROs, need to make sure they are not spreading themselves too thinly. For example, ProSciento, since inception in 2003, has solely focused on NASH and other related metabolic disease, believing that a science driven, deep expertise approach, is the most attractive to biotechs. AGC Biologics has found a niche in orphan drugs and biologics with small patient populations. CordenPharma, whose portfolio is split between biotech and pharma, has strengths in a number of therapeutic areas but particularly in oncology. "We have extensive manufacturing capacities combined with strong capabilities in highly potent and oncology manufacturing, both for Drug Substance and Drug Product, within four cGMP facilities – two in Boulder, Colorado for Drug Substance and two in Europe (Germany and Italy) focusing on Drug Product manufacturing for oral solid dosage and injectable sterile fill and finish respectively," remarked Michael Quirmbach, chief business officer at CordenPharma.
Although opportunities continue to come for contract service providers, their role is becoming more complex as well. They are increasingly having to deal with high-potency active pharmaceutical ingredients (HPAPIs) at their facilities, which is leading to greater risk assessments being carried out by their clients. SafeBridge Consultants - provider of the Potent Compound Safety Triangle™ of services in industrial hygiene, toxicology and industrial hygiene laboratory services – has evolved over time to become a product safety company due to the increasing need for toxicological risk assessments of contaminants. "We conduct assessments of capabilities of CMOs and pharma companies including due diligence assessments as part of M&A activities for companies to help them decipher between the 'contenders' and the 'pretenders' and our services have increased in relevance as compounds have become more potent," highlighted Allan Ader, co-managing director at SafeBridge Consultants. "Additionally, we have become a vital resource to quality programs in pharma and biotech to assess the potential for cross-contamination and we have become the experts in product safety and cross-contamination by developing Permitted Daily Exposure (PDE) values for determining cleaning limits."
As small biotechs, which will not have the capacity to upscale, and large pharma, which is tending to concentrate on its core expertise, continue to outsource their development and manufacturing, greater demands and expectations will be put on contract service providers. Despite this, the opportunities being afforded to them are enticing, especially given that more international biotechs are looking to CDMOs as a gateway to commercialize their products in the U.S. market.