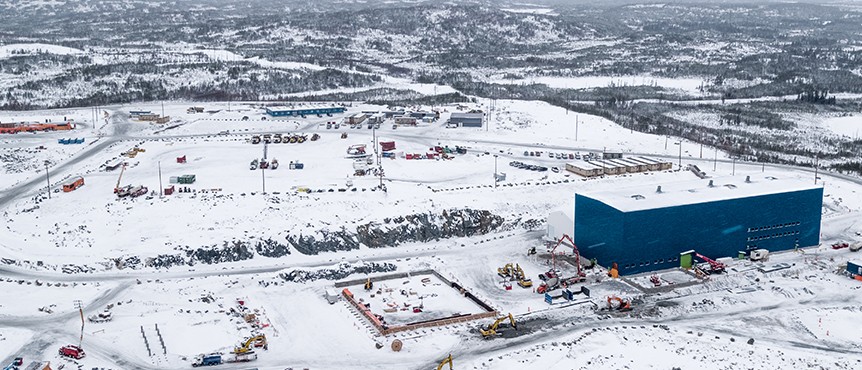 IMAGE: Courtesy of Nemaska Lithium
Québec's mining industry was built upon gold from the Abitibi Greenstone Belt, iron ore from the Labrador Trough, and nickel from the Ungava Belt. These metals remain bedrocks of today's industry, but it is the ones that can power and structure emerging technologies that are generating the most attention.
In Québec, it is metals for use in renewable energy and battery technologies – lithium, vanadium, and others – that are attracting significant investment. Nemaska Lithium has managed to raise C$1.1 billion, including Japan's SoftBank Group's first-ever resource investment, to advance construction at its Whabouchi mine and Shawnigan electrochemical plant to unearth long-term sources of lithium to power electric taxi fleets across Asia. In parallel to this, BlackRock Metals, owners of a vanadium and titanium-bearing magnetite (VTM) and ilmenite deposit, raised US$890 million to construct the mine and concentrator at its property in Chibougamau. Such vast sums of investment have been supported in part by institutional funds. For instance, Ressources Québec added renewable energy to its mandate and BMO Capital Markets created a new metals team. The global market gives sustenance to these projects, with ferro vanadium prices reaching a 13-year high of US$123 per kilogram in Europe in December 2018.
In January 2018, a report by Morgan Stanley speculated there would be an oversupply of lithium from low-cost brine producers SQM and Albemarle in Chile that would cause the lithium price to crash in the first half of the year. These forecasts have not, however, come to bear, and the fundamentals for battery metals such as lithium and cobalt appear solid, underpinned by a growing demand from vehicle manufacturers looking to electrify their fleets. "Volkswagen (VW) has committed to make 30% of their sales electric by 2025, and this alone would require five mines like Whabouchi," stated Guy Bourassa, president and CEO of Nemaska Lithium. "In 2016, less than 12,000 mt were needed for car batteries, but this figure will rise to 550,000 mt by 2025."
Another player in the lithium space is Critical Elements, which completed a feasibility study on its Rose Lithium-Tantalum project in September 2017, followed by an environmental impact study in December 2017. The feasibility study indicates a 17-year mine life, and the company is hoping to reach commercial production by 2021, according to CEO Jean-Sébastien Lavallée. It has completed two pilot plants, one to produce lithium carbonate and another lithium hydroxide: "It offers high conversion rates of spodumene to lithium carbonate or hydroxide," said Lavallée, continuing: "The new battery generation is leading towards lithium hydroxide."
Vanadium: the key to sustainable energy
Prospects for vanadium, the strategic metal used primarily as a strengthening alloy to steel and titanium, boomed in 2018. Vanadium has four oxidation states and can conduct electricity without generating heat. It represents approximately 80% of vanadium redox flow batteries (VRFB), of which the electrolyte within the flow battery is 100% reusable and lasts forever. Adriaan Bakker, president and CEO of VanadiumCorp, elaborated on the benefits of VRFBs: "VRFBs are a mature technology capable of storing an unlimited amount of energy. The batteries also have the unique ability to charge and discharge power at different rates, as vanadium is both the analyte and catholyte of the battery."
VanadiumCorp has had a transformational year. After evaluating production models worldwide, it came to the conclusion that the techniques used in the vanadium industry for 50 years and in the steel industry for 100 years were now obsolete. From this premise, VanadiumCorp decided to determine a new process technology, which led them to a partnership with Montréal-based Electrochem Technologies & Materials, that had tested bulk samples from VanadiumCorp's Lac Doré project. In August 2018, the jointly owned, patented VanadiumCorpElectrochem Processing Technology (VEPT) was announced, which allows users to process any material that contains vanadium and to recover vanadium, iron and titanium from magnetites of any shape or size. The process utilizes a sulfation technique similar to that used in the titanium pigment production industry, which digests rich vanadium feedstock into concentrated sulfuric acid in 100-cubic meter vessels, Bakker explained.
VanadiumCorp can now focus on VEPT rather than production and transition from a mining company to a technology one. This will also allow the company to become the discriminating customer of feedstock from around the world, according to Bakker. VanadiumCorp's goal is to lease out vanadium electrolytes (VE) that will provide people with free access to battery technology, significantly reducing the cost of energy storage. Bakker concluded: "With VEPT we have a disruptive technology that vastly supersedes any technology before it. We are confidant VEPT will revolutionize the cost and sustainable nature of energy storage as well as vanadium, titanium and iron production worldwide."
Another company realizing success in the vanadium space in 2018 was BlackRock Metals, whose project in Chibougamau neighbors VanadiumCorp's Lac Doré asset. Having raised a staggering US$890 million to fund construction, which is due to commence in 2019, president and CEO Jean Rainville remains bullish on vanadium's market fundamentals: "There is a global shortage of vanadium mines and not many projects going into development. Even if other existing facilities expand production and the VTM project comes into production, there will still be a global shortage," he stated.
BlackRock Metals is targeting first production in January 2021 and says that the project should create 500 jobs in the community of Chibougamau, according to Rainville.
Exploiting the niches: rare-earth elements and silicon
Québec is the second-largest niobium producer globally after Brazil and, with global demand appreciating at roughly 10% per annum, companies such as Commerce Resources and Saville Resources believe they are well positioned. Chris Grove, president of Commerce Resources, has observed a fundamental shift in the rare-earth elements (REE) market since 2016, as the global drive to find substitutes for REEs that are used for magnets in electric motors proved unsuccessful, and more recently in October 2018, as China announced that imported REE feedstock has now surpassed domestic production. "The Chinese government has been very active in shutting down illegal producers of commodities and projects that pollute heavily inside China. This may provide opportunities for companies such as Commerce Resources," reflected Grove.
Commerce Resources' sister company, Saville Resources, has a 75% earn-in agreement on the Niobium Claim group property, and will be responsible for drilling the niobium-rich areas. Meanwhile, Commerce Resources continues to focus on developing its Ashram REE project. The Niobium Claim group property is located within the central Labrador Trough, approximately 130 km south of Kuujjuaq, Québec, and covers several prospective niobium-tantalum targets. Mike Hodge, president and CEO of Saville Resources, expanded on the eye-catching exploration results at the property: "Saville Resources currently has the highest grades of ground samples globally. For instance, our grades are at 16%, while others are at 0.6%," he said.
GéoMéga Resources focuses on a lanthanide called neodymium, but has shifted attention from exploration to refining in recent years. Kiril Mugerman, president and CEO of GéoMéga, detailed the reasoning behind this shift in focus: "The biggest bottleneck in the mining industry is not actual mining or scarcity of resources, but rather lack of refining capacity," he explained.
When it comes to niche markets, Canadian Metals, as the only junior company in the silicon space, believes it can take advantage of the growing demand for silicon from the solar panel market, which is growing at 30% per year. Silicon does not exist in its pure state and must be extracted from quartz, one of the most abundant minerals of the earth's crust. René Boisvert, president of Canadian Metals, wants to educate the market on the benefits of a material that is not well known: "Without silicon, many of the technologies that we use today would not exist and, to date, no other material has been found that can replace silicon in its application," he revealed.