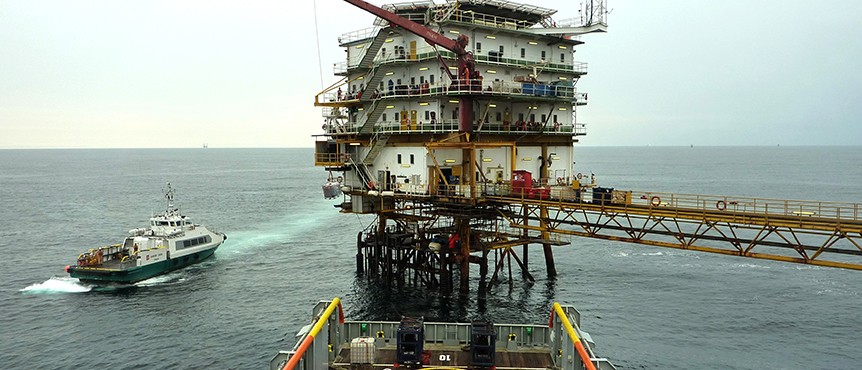 Image courtesy of Bourbon
Business cannot go on as usual: Restructuring in the sector
The E&Ps
The sharp drop in oil prices in 2014 represented a big shock for Gabon's economy as half of its GDP had depended on oil production for decades. From yielding around 10,000 direct jobs before the crisis, the oil sector now employs around 7,000 people directly, according to ONEP's general secretary, Sylvain Mayabi. Over 3,000 redundancies came as long-standing producers like Shell and Marathon Oil, as well as service providers like Halliburton, pulled out of the country. Others scaled back considerably, having to let go of people and rethink their operations.
The E&P sector underwent the most spectacular transformation. Large companies found no benefit in holding on to marginal fields in a low-price environment, and thus chose to either leave Gabon altogether or focus on selected assets. Shell sold all of its assets to Assala Energy in 2017, which took over Gabon's largest fields; Rabi Kounga and Gamba. Assala immediately became the second largest producer after Perenco. The independent Perenco, which has made aggressive acquisitions worldwide, bought the Gabonese Grondin and Coucal fields from Total in 2018, applying secondary recovery techniques to increase the life of the fields. Going against the trend in the sector, Perenco increased production from the modest 8,000 bopd in 1992, to reach 90,000 bopd in 2018, and invested over US$1 billion in infrastructure development during 2014 and 2015. The two biggest producers, Total and Shell, were thus replaced by Perenco and Assala.
Although it hasn't signed a new PSC in a long time, Total remains the third-largest producer, having downsized to a mid-tier after 85 years in the country. At present, Total's assets are all offshore and of smaller sizes, including Anguille, Torpille and multiple small fields in Mandji Island. Most recently, Total sold stakes in seven of its mature fields to Perenco for over US$290 million.
The retreat of the majors has allowed for newcomers to take a bigger share of the pie. The latest arrival in Gabon is BW Energy, the subsidiary of BW Offshore, a Norwegian FPSO. BW Energy bought the majority shares of the Dussafu field from Harvest Oil for US$32 million in 2017. Production for the Dussafu license is today at 11,000 bopd and results from the drilling campaign suggest this number will grow.
Replacing the monopoly of the majors, smaller, international companies including French oil company Maurel and Prom, Malaysian Petronas, Libyan OLA (Oil Libya Group) and Chinese Addax (a subsidiary of Sinopec) make up a more competitive and diverse market. By the end of the blocks' auction, it is hoped that more players will join.
The Service Providers
Mostly based in Port-Gentil, Gabon's oil and gas service sector went through a difficult period following the price crash, and is facing another crisis now. With only nine companies in production and 11 in exploration, the battle for contracts became fiercely competitive post 2014: many addresses are ghosted, left by companies that either moved location to reduce rent costs, or closed down operations entirely. Transocean, the world's largest offshore drilling contractor with operations in Gabon for 35 years, had to close its doors. For Benjamin Ewouba, who has been heading the Gabon office, sending off the remaining equipment to Houston and Congo was a hard task: "We couldn't do anything; the crisis was not coming from the country itself," he said.
For those that remain active, contracts are scarce. Sigma Offshore, the Aberdeen-based turret mooring and fluid transfer systems provider, has all activity on stand-by until April, when the company is commissioned to conduct maintenance work for Total.
Learning from the previous crisis, Bourbon completely recalibrated its offering from a vessel renter to an integrated service provider with three capabilities: mobility of personnel, maritime logistics and subsea services. "What we learned in 2014-2015 is that the crisis is different from any others we faced and that the market will never return to the pre-2014 numbers. Aware of this, Bourbon could not continue with the old model either," said Gildas Courau, managing director of Bourbon Gabon.
Bourbon sought to limit liabilities and make more cost-effective use of its assets. Rather than renting the full vessel with the crew at a premium price as they once had, Bourbon broke down its service into specialized units, as well as tailoring it to carry personnel from different oil platforms and different companies too, almost like a hop-on, hop-off service. Moreover, it implemented fuel incentives for the client, who is reimbursed half the value of the fuel savings.
Gabonaise de Chimie, a chemicals merchant in the oil industry, survived the previous crisis thanks to its wide portfolio in other industries. Besides the solvents for oil liquefication and other products provided to the oil industry, the remaining 75% of the business is represented by the agriculture and chemicals industry. This broad portfolio helped them buffer the downturn. "Business improved but the boom of 2010 has not returned; those four years were a bubble waiting to burst and what we see today is another downcycle episode," said Dominique Grimaldi, managing director of Gabonaise de Chimie, Libreville branch.
Besides competing against each other, service providers are also up against a very challenging business climate. Poor logistics and infrastructure favor those that have both a strong network outside the country, as well as deep roots in the country. The contractors that survived the difficult business climate over the past few years are those who could count on a global apparatus to overcome everyday challenges, such as equipment supply. Frederic Ceccaldi, managing director of Aeroflex, a hydraulic tubes merchant, highlighted how issues of equipment failure can stall projects more harshly than they would elsewhere because of the complexity of procurement chains: "It can take up to three weeks to source a replacement part," he said.
Companies with international affiliates are better prepared to overcome such challenges, helped by their international ties. At the same time, having a solid local footing is as important. If the E&P space favoured new entrants, in the services sector it is the well-known players with expertise and longevity in the country that are most likely to be contracted. As an example, Perenco's upcoming renewal of its fleet is likely to be awarded to a well-established contractor with a long reputation both inside and outside of Gabon.
Service providers play a pivotal role in helping producers navigate the logistical and business challenges. Théophile Mboumba, the founder of Gabonese Sigma Offshore, a diving services company based in Port-Gentil, expressed the importance of establishing local partnerships to ensure business continuity: "The ecosystem of service providers has been key in ironing out the creases of unpredictability and to ensure the smooth running of operations. A local partner with experience and a solid network in the country is an important asset for investors."
In need of fresh discoveries
Since Gabon's biggest discovery at Rabi-Kunga in 1986, and subsequent record production in 1996 of 365,000 bopd, production has declined significantly. Based on the most recently available sources, production is currently at 210,000 bopd, with expectation that this number will halve by 2025 should no new discoveries be made. Between 2014 to 2019, there were no exploration contracts signed in Gabon.
However, Gabon managed to increase its crude oil daily output by 11.9% in 2019, reversing years of production decline and considerably improving the fiscal stance in the country. Two significant offshore discoveries, namely BW Energy's Dussafu and Vaalco's South East Etame projects, have made the overturn possible: BW Energy also produced its first oil from Tortue Phase 2 field development this March, while Vaalco completed subsequent drilling at Etame, as part of its decade-long tenure to 2028. Besides this, French producer Maurel and Prom is planning a second exploration well on its Nyanga-Mayombe licence, after drilling at Kama-1 yielded disappointing results.
Funding exploration worldwide is an uphill battle in the current market, but Gabon has experienced an even more challenging investment climate, precisely because of its limited recent discoveries. FDI flows into the country fell from US$1.5 billion in 2017 to US$846 million in 2018. Furthermore, results from recent drilling campaigns do little to reanimate hope. Ophir spent over US$500 million on a drilling campaign before leaving the country. Marathon Oil also gave up on Gabon after coming across only one reservoir, which was not profitable. The notable exception is the BW Energy-operated Dussafu field, whose estimated reserves have tripled through development.
Fresh-in-office, Minister of Hydrocarbons Vincent de Paul Massassa believes that Gabon hides unexpected reserves: "What the history of oil discovery in Gabon taught us time and time again is that the level of reserves has been repeatedly underestimated and findings often exceeded expectations. When the first oil discoveries where made, people were thinking about small, non-commercial to very marginal fields, but decided to go into production anyway. More than 50 years after the first oil discovery, some of these fields are still producing and turned out to be the biggest fields south of sub-Sahara".
The Ministry hired international companies Spectrum and CGG to undertake a geo-seismic survey of the country to give a more concrete overview of the resource potential. Spectrum prognosed that the North Basin area might contain pre-salt reserves. Together with the extension of the 12th Offshore licencing round, and in a bid to further incentivise investors, Gabon recently expanded its 3D seismic access as part of a MegaSurvey coverage of 65,000 square km which allows investors to visualise the geology of the plays.
In 2019, all major producers ran drilling campaigns with few encouraging results, but the authorities believe Gabon has more up its sleeve. What gives the Minister and others confidence is that the exploration done so far has been onshore and in superficial waters only, and it is time to focus efforts on the offshore and deep waters where pre-salt discoveries might be made. However, offshore oil extraction comes with its own set of challenges, putting an end to the "easy oil" resulting from cheap extraction. So far, only Petronas has the capacity to operate offshore in deep water. In August 2019, Petronas signed an agreement for two exploration blocks, the country's first such contract in the past five years. Onshore exploration, on the other hand, is difficult due to swamp areas. To explore these areas, new players need to be brought into the country.
Some companies are also exploring avenues in gas. Gabon's gas reserves currently stand at 26 billion cubic meters. While companies have come across gas in their search for oil, the discoveries made were not deemed commercially viable. It is only Perenco that operates a 511 million-cubic metre gas reservoir, while Eni and CNOOC (China National Offshore Oil Corporation) are in the process of obtaining permits for their gas discoveries in shallow and deep pre-salt, respectively.
However, poor LNG infrastructure in the Sub-Saharan region, together with Gabon's lack of a legal and tax regime to incentivize gas exploration, makes gas production a far-fetched pursuit.