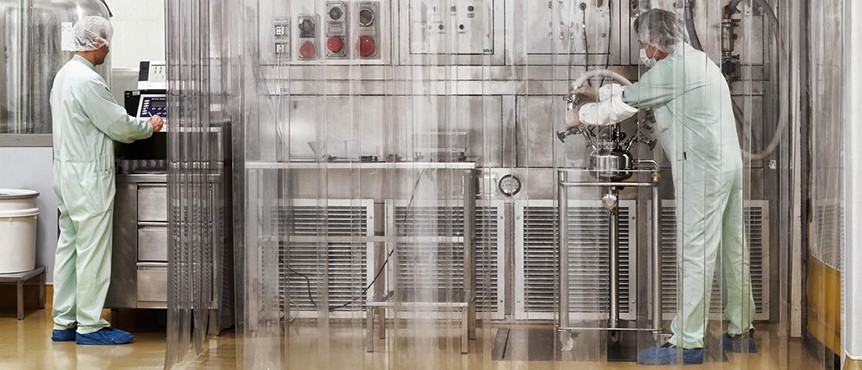 IMAGE: Courtesy of Corden Pharma
Through a deeper understanding of disease, coupled with novel technologies and approaches, the industry is moving towards more specialized treatments, stepping away from the blockbuster model that has long been the standard, and further towards the discovery of cures. The great overarching theme driving current approaches to drug discovery and development is precision medicine, which incorporates the understanding that every patient is different, both in terms of experiencing a disease, and reacting to a particular course of treatment. Biomarkers, for example, have become widely used to monitor and predict the effects of drugs in the human body. Mainly due to the large number of intervention points, oncology has become the poster child for precision medicine and, as the therapeutic area of highest investment, is experiencing a great deal of traction.
According to Clarivate Analytics, the top three areas of therapeutic focus combined represented 56% of investment into the industry in 2017, with cancer accounting for US$80.7 billion, mostly through grants and deals. Neurology/psychiatric treatment was second at US$17.2 billion, followed by immune therapies at US$15 billion. Infection accounted for US$14.3 billion in investment.
Concerns were voiced following a drop in drug approval rates in 2016 due to higher hurdles for approval and evidence of safety and efficacy. 2017, however, saw more than 50 novel drugs approved – more than any other year in the past two decades. Improving trial success rates also greatly reduces the average drug development timelines and cost as a result, which should enable reduced drug pricing in the longer run due to lower reimbursement costs.
Demonstrating clear clinical benefit in areas of high unmet need sits favorably with the FDA, which has shown greater flexibility in many instances as a result. New Jersey-based Rafael Pharmaceuticals (previously Cornerstone Pharmaceuticals), for example, is focused on areas of high unmet need in oncology and is allegedly the only oncology company with five orphan designations, held for its lead candidate, CPI-613, in the treatment of pancreatic cancer, AML and myelodysplastic syndromes (MDS) and more recently Burkitt lymphoma and T-cell lymphoma. "In Burkitt lymphoma, there are around 10,000 patients in the United States, of which 30% have relapsed," highlighted Sanjeev Luther, Rafael's CEO, by way of example. "There is no standard of care for these patients, and the median OS is only 90 days. Our drug has shown great activity; since the unmet need is so large, we managed to attain orphan designation within six weeks rather than the usual six months."
The program will be initiated soon at three sites as a small, single-agent trial. Its success will be measured according to an increase in patient life span by 25%, from 90 days to 120 days. The company's strategy is to bring a new indication to the market every year, and is currently developing another drug, CPI-618, as well as having recently acquired two further molecules within the realm of cancer metabolics.
On par with more effective and even curative treatments, a wider range of options and deeper understanding of the patient are paving the way towards greatly improved outcomes. "The likelihood of success with a known genetic target, a good molecule and the right patient population is very high," noted Barbara Weber, CEO at Tango Therapeutics, which is focused on identifying novel genetic drug targets for specific cancer subtypes. "I do not know of a situation in which a drug failed with this combination in place. In addition, we can get a good sense of the strength of the clinical signal to expect with pre-clinical models that closely match patient tumors. This approach also makes sense financially because by knowing which patients to address with drugs that have a large therapeutic index, we can expect clinical proof-of-concept in our in Phase 1 studies."
Tango is currently pursuing three areas of drug targets: tumor suppressor gene loss and classic synthetic lethal pairings to drug those tumors; context-dependant oncogenes; identifying drug targets following the development of in vivo systems to define which tumor suppressor genes are mediating immune evasion, leading to the ability to enhance activity of immune checkpoint inhibitors.
By targeting more specific patient populations and focusing on areas of greatest need rather than greatest volume, companies are finding more success through streamlined development timelines and faster market entry. While the financial reward following market entry may seem less attractive for a smaller patient population without adding a much higher price tag, saving time and cost over the development period means a significantly lower reimbursement burden and much faster returns for the company and its investors.
Enhancing outcomes
In addition to innovation in drug discovery, renewed focus on improving patient outcomes and favorable regulatory pathways have increased the attractiveness of drug redevelopment. Specialty pharmaceutical companies are taking advantage of the FDA's 505(b)(2) mechanism, focusing on aspects such as bioavailability and delivery methods to improve and enhance drugs that have previously entered the market.
As new molecules in development increase in complexity, many suffer from solubility and bioavailability challenges. However, upping the dose is not always possible due to associated side effect profiles and toxicity. "The dose burden in oncology in particular can be extremely high," noted Jim Huang, CEO at Ascendia Pharmaceuticals, a recent graduate from New Jersey's CCIT incubator and focused on advancing a pipeline of enhanced formulations of existing drug products. "Bioavailability is often very low, meaning a large dose is often required, and some PK variation may also be caused – this can translate into efficacy issues and toxicity issues. If we can boost bioavailability by a multiple of four, we can significantly reduce the dose burden and enhance the PK property."
Ascendia also offers contract services for pre-clinical and clinical stage drug candidates, and is exploring ways to facilitate controlled drug release as well as applications of its technology for oral delivery of large molecules.
Although oral solid dosage remains the prevalent form of delivery in the market, increasing focus on patient centricity is leading companies to consider the most optimal form of drug administration. In paediatric and geriatric patients, for example, there is a growing preference in topical and transdermal delivery, particularly in pain relief. One company pursuing this route is Grace Therapeutics, which is advancing its GTX-101 candidate for Postherpetic Neuralgia – shingles pain – for which the current treatment is the lidocaine patch. "Patients are generally treated by gabapentin and its analogs, a whole collection of antidepressants, plus the patch concurrently," outlined George Kottayil, Grace Therapeutics' co-founder and CEO. "Opioids are frequently used. There is a need for a better delivery system for relieving pain as a result of neuropathic pain."
Highlighting the shortcomings of the lidocaine patch in taking about two weeks to give adequate pain relief, Kottayil continued: "Grace Therapeutics came up with a first-in-class solution – a method dose spray delivery system, in essence a 'thin film in a can'. There are two phases to delivery of this product. The spray particle size is between 10 and 100 microns, so the smaller particles penetrate the skin and go to work right away. Once the spray has settled on the skin's surface, it forms a thin drug-imbedded film and the solvent evaporates. The drug is then delivered continuously over the next 24 hours. This gives both an immediate and sustained effect. Nothing like this has been created or approved before. It is packaged in a 30ml bottle that fits in a pocket or purse and can be self-administered easily. Due to increased concentration of permeation in the skin, there are no side effects, even if more than 20 sprays are applied."
Grace Therapeutics' pipeline is focused on orphan and rare diseases, with other candidates addressing ataxia-telangiectasia, aortic aneurysm, Subarachnoid Hemorrhage and trigeminal neuralgia. The company expects its first approval in 2018 and to generate revenue in 2019/2020.
Just as companies are driving medical progress through novel molecules, they are also paying increasing attention to the patient's experience with that drug. This translates to a greater focus on delivery of the drug, plus a more targeted approach.