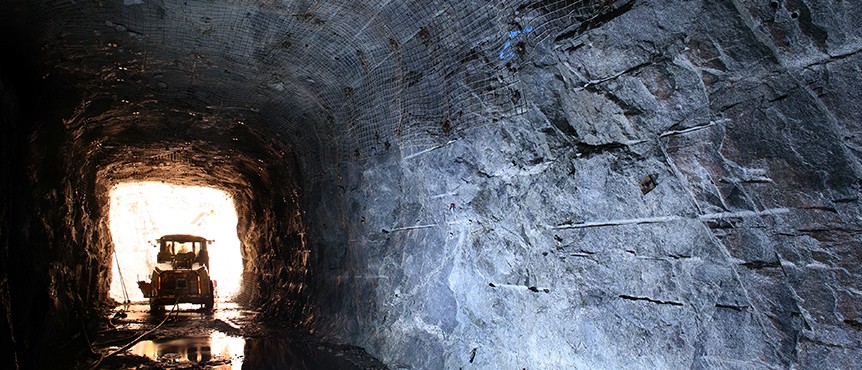 IMAGE: Courtesy of Cementation
As the global mining industry continues on its path of recovery after a downturn that spanned half a decade, Ontario, as Canada's largest producer of commodities with C$9.9 billion of mineral production in 2017, is primed to take advantage as optimism returns. However, the financing has not flooded back to all sectors of the industry, with cannabis, cryptocurrencies and blockchain dominating the attention of the Canadian stock exchanges as junior mining companies struggle to attract investment.
One of the juniors that has managed to buck the trend is Manitou Gold, whose 25% acquisition of the Goudreau-Lochalsh deformation zone (GLDZ belt) in 2017 was followed by the announcement of C$1.4 million equity financing in August 2018. Pat Dubreuil, president of Manitou Gold, believes it is a matter of time before investors come back to the commodity market, but is under no illusions as to where their attentions are currently focused: "During a recent TSX-course I attended, around 80% of the 250 people attending were from new cannabis companies to be listed on the stock exchange."
Dean McPherson, head of business development for global mining at the TSX, echoed this sentiment: "The uptick in mining financing has been slower for the junior sector given that new sectors, such as cannabis and blockchain, have caused a distraction and taken some of the risk capital out of the marketplace."
In the face of this new competition, and with commodity prices dipping in recent months, mining companies have had to look for innovative new methods to drive down costs and increase productivity. The epicenter of this wave of innovation can be found in the small mining town of Sudbury, Northern Ontario. World-renowned as the service and supply hub of Ontario mining, Sudbury is also home to a plethora of small/medium enterprises (SMEs) and organizations spearheading a technological revolution that is changing the way we mine.
A trip to the NORCAT Underground Centre at the Fecunis mine in Onaping, Ontario, allows visitors a snapshot of the future, nurturing a robust innovation ecosystem that supports approximately 60 mining tech projects per year. "NORCAT is the only non-profit regional innovation center in the world that has an operating mine designed to enable start-ups, SMEs, and international companies to develop, test, and showcase new and innovative technologies in an operating mine environment." commented Don Duval, CEO of NORCAT.
The unique facility anchors one of the world's leading advanced manufacturing and mining technology clusters and represents a "one-stop shop" ecosystem for the future technologies and innovations that are poised to transform the global mining industry.
One of the mining tech companies to have tested its products at the NORCAT Underground Centre is Maestro Digital Mine, who provide a complete automation network backbone and rugged IoT devices for underground mines. "Recognizing the industry's growing demand for data, and the challenges that many of our customers encountered with connecting ventilation solutions to their networks, we identified a gap in the market" said Michael Gribbons, co-founder of Maestro. Creators of the Plexus PowerNet, the world's first powered coaxial Gigabit network, Maestro Digital Mine have installed products in over 100 mines globally.
Acknowledging that it has taken time to educate the mining community, Michael has noticed an acceleration in the uptake of digital connectivity solutions in the last twelve months: "Five or six years ago, companies did not put gas sensors in the mines, whereas today it is commonplace" he stated, continuing: "this momentum will continue to gain traction with the growing need for mining companies to reduce costs and become more productive".
Vic Pakalnis, president & CEO of MIRARCO (Mining Innovation Rehabilitation and Applied Research Corporation), the largest non-profit applied research firm in North America, expressed the mood of renewed optimism: "The last five years in the industry were the worst I have ever witnessed in my 40-year career, but the times are finally turning. The sector is adopting sophisticated new technologies from alternate verticals to increase safety, productivity, and sustainability."
MIRARCO and Laurentian University recently signed a C$1 million Memorandum of Understanding (MOU) with nuclear energy giant Bruce Power for the development of small modular reactors (SMRs). Vik Pakalnis said that this initiative could provide a transformational solution to current power challenges, considering the cost of running diesel generators is C$0.32/kilowatt-hour, which can go up to C$0.78/kilowatt-hour in Arctic operations due to fuel supply unreliability. "SMRs will be able to produce energy lower than C$0.15/kilowatt-hour with zero greenhouse emissions," explained Pakalnis.
Another company investing in innovation to drive down costs is global consulting firm SRK, which recently merged with the Sudbury based mine simulation company, Labrecque Technologies. Gary Poxleitner, SRK's principal mining engineer, explained how this partnership can help customers visualize mining operations and plan accordingly: "Once a mine has been designed, Labrecque Technologies' software simulates processes that help clients accurately predict mine production and work out how best to equip their operations to maximize profitability."
Doug Morrison, CEO of CEMI, Centre for Excellence in Mining Innovation and UDMN, Ultra-Deep Mining Network, believes that for the industry to fulfill its potential, it must first change its approach: "The most valuable asset that we have is time and the mining industry squanders a great deal of it." he stated. "It is essential that we adopt a systems approach to innovation if we are to make the transition from batch processes to continuous processes".
Suggesting that an adoption of the Kaizen philosophy utilized by automotive companies such as Toyota would increase efficiency and productivity, Doug continued: "The current ore transport platform of LHDs means 80% of the diesel we burn goes to move the equipment, only 20% to move the ore. Our job is to move ore, not run equipment."
In the move away from diesel-powered machinery, Sudbury based equipment manufacturer, Marcotte Mining, and global technology powerhouse, Siemens, have teamed up to integrate electric drive technology into Marcotte's RAM40 carriers. Alicia Woods, GM of Marcotte, divulged: "We partnered with Siemens with over 900 electrical-drive trucks operating in open pit mines globally, to develop our first battery electric vehicle (BEV)." The first generation of Marcotte's BEV was trialed and tested in September 2018, and is due to hit the market in Q4 2018.
The Global OEM from Finland, Normet, will be launching their first BEV in Canada in early 2019. Normet intends to electrify its trademark wet shotcrete equipment: "Normet is developing products that will enable us to spray headings more robotically. Right now our machine sprays somewhat robotically, but this will be brought to a total robotic perspective." stated Randy Ouimet, director of Normet Canada.
Epiroc has already achieved over 50,000 hours of automation and interoperability – the ability of different information technology systems and software applications to communicate, exchange data, and use the information that has been exchanged – in Canada to date. Jason Smith, general manager of Epiroc Canada, hopes to see the introduction of Epiroc's second generation of BEVs in Canada in 2019. Regarding their development timeline, Jason commented: "The first prototypes of the generation 2.0 BEVs are expected to be coming off our production lines in Q4 2018, with trials beginning in Europe together with our development mining partner".
The innovation coming out of Ontario is not only increasing productivity and driving down costs, but also creating safer working conditions in historically hazardous environments. Cementation, recipients of the gold award in the Mining and Natural Resources category as one of Canada's Safest Employers for 2017, has developed a culture that permeates through the organization, assured Roy Slack, president of Cementation Canada.
Roy recognizes that innovation is more than just a cost saving measure: "When you talk about innovation, it is not necessarily automation, but different processes that take people away from the face or away from the greatest risk. Separating people from the hazards is the next step from a safety standpoint, through remote operation and the development of processes".
As remote, tele-operated technology helps remove workers from the dangers of underground mining, how much distance could feasibly be placed between the operator and the mine site? This question was posed to Gabriel Janakaraj, VP of special projects at Hard-Line: "We currently have a tele-op system set up between Australia and Canada, though we could essentially operate from the moon to Canada and vice versa".
Hard-Line's technology allows clients to control their operations remotely through an Operator Control System that can be placed anywhere in the world.
Another company that deals in teleoperations is Penguin ASI. Greg Baiden, co-founder and CTO of Penguin, has a track record in the industry for mining innovation projects having completed studies for NASA and the Canadian Space Agency (CSA) for mining on the moon. While noting that changing the conservative culture of the mining industry is a lengthy process, Dr. Baiden believes that when the technology is mature enough, the transition to fully tele-operated mines will not take long: "When one major company makes the investment to run in total tele-operation, they will make such a vast profit, other companies will have no choice but to follow," he said.
The wheels are in motion as the industry moves towards a more efficient, modern mining culture that breeds greater safety and productivity. As the march towards digitalized and autonomous mining gathers pace, Ontario has positioned itself at the forefront of mining innovation.