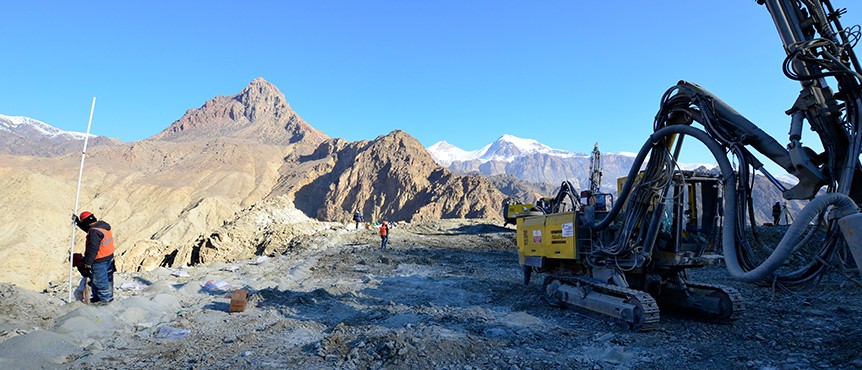 IMAGE: Courtesy of Epiroc
As Turkey moves along the path of development, every segment of its economy is striving to move up the value chain for the good of the country's competitiveness. Turkey is working towards meeting the highly ambitious goals set out by the government's Vision 2023, marking the centenary of the founding of the Turkish Republic. The government is aiming for US$15 billion in mineral exports by 2023, a significant element of the wider goal of reaching US$500 billion in exports by 2023. This is important not only for the general economic development of the country but also to reduce Turkey's current account deficit, a persistent structural economic weakness.
The recognition that Turkey's miners must add more value to what they produce also reflects a natural progression of Turkey's mining industry as it matures from a frontier to more established jurisdiction. As Arif Çankaya, sales and marketing manager at Gursan, which manufactures mineral processing machinery, remarked: "Ten years ago, Turkey was only doing easy processing and produced pre-processed materials to be sent to other countries. Now, companies understand that this is a non-profitable way to do business, and they are investing heavily in processing equipment to finish the whole process in one line."
Mineral processing is especially important in Turkey due to its unique geology, brought about by it being at the meeting point of four tectonic plates – the Anatolian, African, Arabian, and Eurasian. "The South American geological system is comparable," remarked T. Kemal Türeli, mineralogist and petrographer at Argetest Mineral Processing, R&D and Analysis Services. "Turkey has many different metal mineralizations but, because of the geological structures, the deposits are smaller. Therefore, it can be a problematic to recover minerals economically... This is especially the case as easy mining methods have finished in Turkey and now more complex deep drilling and underground mining is becoming more prominent."
Indeed, whilst Turkey has much to offer, from gold and base metals to coal, there are, as yet, no world-class mega deposits, and perhaps never will be due to the nature of Turkey's geology, which is why more value must be sought through mineral processing.
A Market to Keep an Eye-On: Mineral Processing Service Providers
All this means a growing trade for mineral processing service providers and opportunities for investors in this sector. Gursan, for example, has found success as a local provider of all types of crushers and screeners, such as jaw crushers, impact crushers, cone crushers and side crushers. Overall, there are around 200 providers of crushers and screeners in Turkey, of widely varying quality. Among such providers is the strong presence of international solutions providers such as Weir Minerals, Sandvik, Epiroc, FL Smidth and Metso, that also provide grinding mills, flotation cells, magnet separators, dewatering equipment and complete mineral processing plants.
There are no large greenfield projects currently ongoing that would require mineral processing solutions. Intriguingly, however, companies in this segment of the market are reporting robust sales volumes. According to Tuncay Ozeren, regional sales manager, Weir Minerals, the company made a good start in Q1 2018, beating its forecasts by 25%. "We have never missed our targets in Turkey and grow consistently by 30-40%," he said.
Weir and Metso also expect increased demand in 2019. "From the beginning of the year until now, the opportunities have mostly been in brownfield projects with greenfield ones coming at the end of Q4 2018 or due in Q1 2019," said Mert Katkay, sales manager, Metso. "We are now mostly dealing with optimization projects and spot sales, to help producers increase capacity or improve recovery, as well as two big projects in the development stage."
Concurrent with the mining industry's own goal of adding more value to minerals mined in Turkey, the mineral processing machinery industry is becoming more localized. "Turkey is like the China of Europe – it is possible to manufacture everything and with better quality," claimed Ozeren.
70% of Weir's cyclone clusters are produced in Turkey, as are parts like back plates, motors and motor supports for their pumps for which final assembly takes part in Turkey. Metso manufactures flotation cells, grinding mills, shells, magnet separators and other big items in Turkey. Gursan, on the other hand, manufactures all its crushers and screeners in Turkey, which are tailor-made to a client's specific needs. Turkey still has some way to go to move higher up the manufacturing value-chain, though. "It depends on the technical needs; if it is not too complex, it is very easy to do local manufacturing in Turkey," remarked Erdem Tüzünalp, regional general manager, Turkey & MENA, Epiroc, which faces no local competition for its premium products like tunneling machines, blasting machines and underground transport.
New technologies like internet of things (IoT), next-generation networks, automation and robotics, virtual simulation and artificial intelligence are revolutionizing the mineral processing industry worldwide, and Turkey, with its tougher geology, stands to gain from these trends. Advanced process control (APC) systems, for example, are generating interest for their ability to improve recovery rates and efficiency. "Our APC technology is mine to mill, as we can observe the mineralogy of the ore in each drill and, with instant chemical analysis through online stream analyzers, customers can change the parameters of flotation cells even before processing," explained Katkay.
Such value enhancing technologies will be critical in Turkey given its smaller deposits. Murat Us, Middle East and Turkey sales coordinator at FLSmidth remarked: "In countries like Australia, Canada, the United States or South America, they can build bigger capacity plants. In Turkey processing plants have smaller capacity. So, operating cost per tonne plays a more important role in in Turkey. Companies must invest in new technologies to survive."
As well as equipment providers, there is a burgeoning need for mineral processing consulting, sampling and engineering support. Argetest nicely fits into this niche and has seen growing demand for its services. "In Turkey there are no other companies doing all the things we do (testing and analysis, mineral processing laboratory services and consulting). Other companies only focus on one of these," commented Burak Köse, R&D manager, Argetest.
Pinpointing Opportunity in Turkey's Mineral Processing Needs
Most mineral processing service providers are targeting working with the gold industry as it remains Turkey's most prominent mineral and gold producers are usually able to afford a higher price point compared to other mineral producers. However, there are also many opportunities to be found elsewhere. "We are targeting gold, copper and base metals, and secondarily chromium and iron. In some parts of Turkey, we are also working on platinum groups," remarked Köse.
Indeed, one of the biggest projects announced recently is Acacia Mining's copper project in Hanönü, Kastamonu, which began production in 2018. The deposit represents the largest copper reserve found in the history of the Turkish Republic, which is expected to meet 10% of the country's copper demand, thereby driving mineral processing demand for copper.
According to Tolga Tunc, general manager of trading company First Mining Madencilik and one of the largest exporters of iron ore from Turkey, copper presents a huge opportunity: "There are not enough beneficiation facilities as it takes huge investments… We would like to provide more such facilities, specifically in the Giresun area. We have sent a letter to the Ministry of Energy to explain what we would like to do in Turkey in this regard but for which we need government support. Ten years ago, it was easy to obtain a license but now it is a big deal to get one, and then one must wait another year to get permissions."
Meyra, part of the Delta Group, has a proven deposit of 4 million mt of lead and zinc and has started to produce ROM sulfide lead and zinc ore which is sold to nearby flotation plants. "Now we are now awaiting permission for a flotation plant and have prepared a US$6-7 million CAPEX, with US$4 million investment into the plant itself," commented Sumeyra Esgun, founding partner and general manager, Meyra. "We hope the plant permissions will be completed by the end of 2018."
Furthermore, due to higher commodity prices, some minerals are now worth processing even at much lower grades. "Regarding zinc, there is not much of a challenge to recover the mineral in zinc sulfur deposits. However, in Turkey some zinc ores are oxidized so it is problematic to beneficiate these ores. Therefore, R&D needs to be done on how to recover minerals in such ores, as well as in mixed ores of zinc sulfide and oxide," explained Türeli.
This presents an opportunity for mineral processing experts to present innovative solutions to open this segment of the market and add further value to Turkey's mining industry.
Overall, demand for mineral processing looks set to remain strong across a wide-array of minerals in Turkey. Of course, as with the industry more broadly, service providers and producers alike will be hoping permitting and licensing challenges are eased so that mineral processing plants can be easily built. That way, Turkey's mining industry can reach its potential and thereby play its part in helping Turkey reach its ambitious economic development goals.